What's new
The gunsFederal investigators found three weapons at the U.S. Naval and Marine Reserve Center on Amnicola Highway that appear to have been Mohammad Youssef Abdulazeez, said Ed Reinhold, special agent in charge of the FBI's Knoxville division. Abdulazeez had a hand gun and assault rifle on him, and left a third gun in the Mustang he drove.Investigators also discovered two other guns inside the reserve that belonged to service members, Reinhold said. At least one of those guns had been fired, but it's unclear whether Abdulazeez was hit by those weapons. The military will investigate whether those service members were authorized to carry weapons.Reinhold said that preliminary reports suggest all the victims were killed by the same gun.The investigatorsThere are between 700 and 1,000 personnel working this case, Reinhold said, and 250 of those people are in Chattanooga. The FBI is investigating 400 leads.The funerals* Staff Sgt. David A. Wyatt, 35, will be remembered in a funeral at 1 p.m. Friday at Hixson United Methodist Church. He will be buried in the Chattanooga National Cemetery.* U.S. Navy Petty Officer 2nd Class Randall Smith, 26, will be remembered in a visitation at First Baptist Church of Fort Oglethorpe from 10 a.m. to 2 p.m. on Tuesday. The funeral will immediately follow at the same location and he will be buried in the Chattanooga National Cemetery.* Lance Cpl. Squire "Skip" Wells, 21, will remembered during a funeral Sunday 2 p.m. at First Baptist Church of Woodstock in Woodstock, Ga.Sources: FBI, Wells' family spokesman, Heritage Funeral Home, Chattanooga Funeral Home
Photo Gallery
Haunted House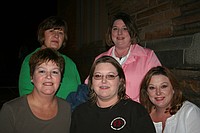 The annual EMOBA Haunted House is busy scaring people for 2 weeks out of the year...
Photo Gallery
'Nightmare for our city'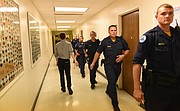 Mere minutes turned the course of Chattanooga on July 16.
In seven minutes, a lone gunman attacked two military sites in the city.
And in just three to five minutes, that gunman killed four service members and mortally wounded another.
On Wednesday, the FBI offered more details on the attack. Here, pieced together from federal information and witnesses, is a timeline of what happened the morning of Thursday, July 16.
10:51 a.m.
Gunman Mohammad Youssef Abdulazeez, 24, pulled up to the armed forces recruiting center on Lee Highway, just before 11 a.m. in a rented silver Mustang, and opened fire from the convertible.
The shots smashed through windows and sent members of the military running for cover. In the Army's recruiting office, Sgt. Robert Dodge and three other people took shelter in a back room and barricaded the door.
The first "shots-fired" call came in to the Hamilton County 911 Center at 10:51 a.m. Dispatchers created a computer-aided dispatch card (known as a CAD card) at that minute, according to the center's active incidents list, and that card started the emergency response.
The shooting lasted for about a minute, Dodge said.
In a store a few doors down, computer technician Nicholas Donahue was listening to Bastille's "Bad Blood" album when he heard what sounded like a volley of shots. But he wasn't sure what he'd heard, so he stopped working, and turned off the music.
About 10 or 15 seconds after the first volley, he heard another round. Definitely gunfire. He walked into an office and shut the door tight. Another witness described seeing Abdulazeez fire, then back up the Mustang, realign and fire again.
In the back room of the Army recruiting office, Dodge and his people stayed hidden for another five to seven minutes. No one from his group was injured.
But the gunfire did wound a Marine recruiter, one of five in the Marine's recruiting office, said U.S. Marine Corp. Maj. Gen. Paul Brier. The recruiter, who has not been identified, has since been treated and released from a local hospital.
Abdulazeez never stepped out of the Mustang at Lee Highway.
After pounding the building with rounds, he sped on to Highway 153 and made for the U.S. Naval and Marine Reserve Center, about 7 miles away on Amnicola Highway.
10:55-10:56 a.m.
Stephen Holloway was on his way to an 11 a.m. appointment and had just turned onto Amnicola Highway, headed south, when he noticed multiple police cars flying by, sirens wailing, headed north - toward Highway 153.
Traffic slowed as Holloway reached the part of Amnicola where Dupont Parkway bridges over the highway. There, sitting in nearly stopped traffic, Holloway spotted a silver Mustang coming up fast in his sideview mirror.
The Mustang flew by in the turn lane on Holloway's left. The driver had to be going 80 or 90 miles per hour, he said.
"We were like, 'Whoa, that must be the guy they're chasing,'" Holloway said. "But then after that, police cars were still passing us going the opposite direction."
The entrance to the military reserve was less than a half mile ahead, on the right. As Holloway drove by, he saw a patrol car, with lights on but no siren, driving slowly, slowly down the driveway of the reserve.
Holloway made it to his 11 a.m. appointment exactly on time. Soon after they arrived, a woman told them there was an active shooter situation down the road, and that they needed to lock the doors.
10:58 a.m.
At 10:58 a.m., a dispatcher at the Hamilton County 911 Center created the CAD card for a "shots-fired" call at 4210 Amnicola Highway - the reserve center - and sent police to the site.
Abdulazeez had crashed his Mustang through a gate and jumped out in front of the U.S. Naval and Marine Reserve Center's main building. He was armed with an assault rifle, a handgun and numerous rounds of ammunition, wearing a load-bearing vest so he could carry more.
The 24-year-old left a second rifle behind in the Mustang, said Ed Reinhold, special agent in charge of the FBI's Knoxville division. As Abdulazeez approached the building, a service member inside spotted Abdulazeez and fired several rounds at him, Reinhold said. It's unclear whether Abdulazeez was hit.
Abdulazeez fired back into the building. He stormed the door and made it inside, then shot and mortally wounded U.S. Navy Petty Officer 2nd Class Randall Smith, 26.
Marines inside the building ran from door-to-door and rushed people out as Abdulazeez approached, Brier said. Twenty Marines and two Navy corpsmen were in the building. Brier said the Marines made it to safety, then some "willingly ran back to the fight."
Meanwhile, Abdulazeez kept on through the building, firing at anyone he encountered, Reinhold said. He exited out the back of the building into a gated motorpool, where he killed two Marines.
Abdulazeez then shot and killed two more Marines who were trying to "provide cover" and help others escape the attack over a fence on the edge of the property. After gunning down the final two Marines, Abdulazeez tried to run back into the building and was stopped by Chattanooga police officers.
Chattanooga police officer Dennis Pedigo was wounded in the firefight. Abdulazeez was killed.
And while witnesses initially said the gun battle lasted 20 or 30 minutes, Reinhold said the entire encounter - from the moment Abdulazeez smashed through the fence until the moment he was killed - lasted just three to five minutes.
By the end of that window, Sgt. Carson Holmquist, 25; Gunnery Sgt. Thomas Sullivan, 40; Lance Cpl. Squire "Skip" Wells, 21; and Staff Sgt. David A. Wyatt, 35, were already gone.
Photo Gallery
Puzzling out answers, pouring out grief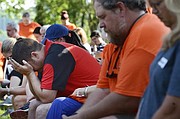 11:04 a.m.
Chip Baker and Mickey McCamish were coming down the ramp from Dupont Parkway to Amnicola as part of a funeral procession headed to the Chattanooga National Cemetery when the air exploded with gunshots.
Traffic on the ramp instantly slowed to a crawl. Baker looked right and saw officers, less than 100 yards away, crouched behind a car for cover. The police escort for the funeral procession peeled away.
"The shots were just going off left and right," Baker said. "I've never heard such a volley of bullets and explosions."
McCamish, a retired Navy captain, heard automatic gunfire for a few moments. Then the funeral procession reached the end of the ramp and did a U-turn, away from the attack. As it turned, McCamish made a call to the Chattanooga National Cemetery to let them know the procession would be late.
By the time he made that call at 11:04 a.m., he could no longer hear the automatic weapon fire.
Across town, Mayor Andy Berke was first alerted to the shooting at 11:04 a.m., but it'd be another 10 minutes or so before he'd hear of the men wounded and killed.
11:20 a.m.
The first ambulance arrived from the scene of the shooting at Erlanger.
11:27 a.m.
A second ambulance arrived at Erlanger.
3:01 p.m.
Berke opened the first news conference on the shooting, taking the podium in front of a handful of journalists whose numbers would triple in the coming days, as the nation centered on the attack.
"Today," he said, "is a nightmare for the city of Chattanooga."
Contact staff writer Shelly Bradbury at 423-757-6525 or sbradbury@timesfreepress.com with tips or story ideas.
Read more about the attacks on Chattanooga military facilities
DesJarlais' bill to allow military to carry firearms at recruiting centers passes Senate
Tennessee National Guard recruiters likely to reoccupy storefront locations next week after post-July attack upgrades
Memorial concert for fallen Marine Skip Wells this Saturday
Charleston, Chattanooga joined by tragedy, love
Instinct, basic training helped Marine save daughter during July 16 attack
Cooper: Marine Corps report revelations strengthen need for carry policy
Chattanooga Heroes Fund exceeds $1 million in donations
U.S. Women's World Cup team raises $60,000 to benefit the Chattanooga Heroes Fund
Chattanooga gunman test drove Lexus convertible before July 16 attack
Crowds pack Ross's Landing for tribute to five slain servicemen
Two months after July 16 attack, many questions remain unanswered
Jackson returns to hometown for today's tribute to five fallen heroes
Trace Adkins, Colt Ford, Aaron Lewis added to Chattanooga Unite benefit
Greeson: Chattanooga Unite offers all of us a chance to remember
July 16 shooter had no hard drugs in his system during April DUI arrest, lab results show
U.S. Marines will not arm recruiters in wake of July 16 attack
Photos: Run of Honor benefit race
Harry Connick Jr. added to Chattanooga United event
Kennedy: Angels of the flag garden
Tribute rises: Massive sculpture celebrates lives of Chattanooga's five fallen heroes
Greeson: UTC to honor five military heroes from July 16
Cook: Grief and the violence of July 16
Navy launches official investigation into Chattanooga attack
Bob Corker warns 'dramatically changing' lives in response to Chattanooga shootings sends wrong signal
New bill would grant immunity to armed TN National Guard members
Muslims lead donations to families in Chattanooga shooting at Nashville event
Samuel Jackson to emcee benefit concert for July 16 attack victims
Makeshift Lee Highway memorial to servicemen cleared
Permanent memorial to slain servicemen on Lee Highway
A gunman warped our history, now we must shape our future
Vice President Joe Biden honors Chattanooga shooting victim and promises: 'America never yields'
Chattanooga slayings prompt state, federal changes on military members being armed in U.S.
The moment the call comes in: responding to an active shooter
Berke: Moments of crisis revealed Chattanooga character
Chattanooga Can Build On Unity
Biden calls shooter 'perverted jihadist' at memorial in Chattanooga
Chattanooga holds memorial service for fallen service members
Biden to speak at Chattanooga memorial service, security heightened
Pam's Points: Weekend of tributes can lead to healing
Concert to benefit shooting victim's families Sept. 16
Details falling into place for Biden visit, memorial to Chattanooga's fallen heroes
Greeson: A weekend filled with reasons to forever remember all our heroes
Secret Service orders all Chattanooga traffic cameras to go dark Saturday
Photos: UTC retires flag that flew at half-staff in mourning for Chattanooga's fallen five
Vice president to attend ceremony honoring five fallen military servicemen
Sixty-five-foot-tall sculpture will commemorate victims of July 16 attack
Tennessee Senate Republicans: Radical Islam is the enemy
Cruz says if he becomes president he'll stop trend of 'radical Islamic terrorism'
Memorial for slain servicemen to be held Saturday
Tennessee National Guard has $18 million in needed security upgrades for armories, recruiting centers, motor pools
Top Pentagon brass to attend one-month anniversary of Chattanooga attacks
Wiedmer: World Cuppers' exhibition can still help our fallen heroes
Kimball approves assistance donations, including Chattanooga Heroes Fund
Chattanooga Sings for Hope concert raises money for victims' families
Motorcyclists go on charity ride to honor slain Marine
An open letter to Chattanooga from Adm. Jonathan W. Greenert
Healing but scarred: Marine wounded in July 16 attack back to recruiting
Hundreds in Arkansas gather to remember slain Marine Staff Sgt. David Wyatt
Permanent memorial will be dedicated on one-month anniversary of July 16 attacks
Navy plans to station armed guards at reserve centers across U.S.
Some recruiters will be packing 9 mm handguns under new Tennessee guidelines
Guardsmen with valid permits can now carry guns at facilities
FBI scales back its presence in Chattanooga following July 16 rampage
GOP pushes back on 'politically correct' labeling of extremist attacks
Wiedmer: Let U.S. Soccer be a Chattanooga hero
Local artist to paint mural honoring slain military servicemen
Chattanooga Sings For Hope concert remembers the fallen, honors first responders
Al-Qaida calls for more lone wolf attacks, praises Chattanooga shooter
Haslam: Most Americans wouldn't resent serviceman for shooting at Abdulazeez
Petition to honor servicemen who fired personal weapons at Chattanooga gunman hits 20,000 signatures
Navy: Officer has not been charged for firing personal weapon at Chattanooga gunman
An offering of art: Illinois artist responds to Chattanooga shootings
After July 16, tragedy became politics
What's in a name? The absence of terror label after attacks sparks national debate
Ali: Mentally disturbed, Muslim criminal
Tragedy brought out best of Chattanooga says an appreciative WWII, Korean War vet and other letters to the editors
Families of the five slain military servicemen receive donation of nearly $120,000
July 16 tragedy united community and brought out Chattanooga's best
Charitable cottage industry springs up in wake of shooting rampage
Navy officer confirms he shot at Abdulazeez with his personal weapon
Bond between Chattanooga, Port Angeles grows: 'It's almost like we're sister cities'
Business Bulletin: Fundraiser scams hit Chattanooga area in wake of tragedy
Insane Paintball/Airsoft game benefits Chattanooga shooting victims fund
Defense secretary calls for review of security policies in wake of Chattanooga shootings
Port Angeles woman presents Chattanooga mayor with 20 sympathy banners
White House petitioned to honor Chattanooga servicemen who fired back at gunman
Chattanooga Freedom Float planned to raise money for heroes in July 16 attack
FBI, NCIS search banks of Tennessee River off River Canyon Road
Chattanooga Marines return to work after attack
Port Angeles group hand-carries 16 signed sympathy banners to Chattanooga
Last of the five slain military servicemen is laid to rest at National Cemetery
The funerals are over, but closure is ongoing
Dropkick Murphys honor fallen Massachusetts Marine
See the DUI arrest of Chattanooga gunman Mohammad Abdulazeez
Hits 96 honoring slain service members with concert featuring MKTO and Karmin
Public lines up to honor Petty Officer 2nd Class Randall Smith
Gunnery Sgt. Thomas Sullivan is laid to rest in Massachusetts hometown
Fleischmann announces bill to award Purple Hearts to shooting victims
Are we helping extremists recruit our lost children?
No easy answers forthcoming when the mind's involved
Funeral procession for Navy Petty Officer Randall Smith announced
Funeral held for Chattanooga shooting victim Sgt. Thomas Sullivan
The youngest hero: Thousands gather for funeral of Skip Wells
Bravo Network star visits Chattanooga, lends some of her ample strength to wounded community
Smith: Beauty through Brokenness – Chattanooga's Choice
'His life made a difference,' Hundreds mourn Atlanta Marine slain in Chattanooga
After the vigils, the real work begins
Homegrown: The new threat to America comes from within
As threats to Muslims mount, Pentagon asks civilians to stand down
Mother of Sgt. David Allen Wyatt says thanks to Chattanooga
Gerber: A national tragedy in our backyard
Healing Chattanooga, one life and brick at a time
Chattanooga will prevail after tragedy and other letters to the editors
Visitation continues for Cpl. Squire 'Skip' Wells; 2nd Class Randall Smith's body in Nashville
Wisconsin town says goodbye to Marine slain in Chattanooga
Pentagon asks armed volunteers to stop guarding U.S. military recruiting centers
Multitudes gather to mourn and honor fallen Marine Staff Sgt. David Wyatt
Baptists show support by visiting local Mosque for Friday prayers
Greeson: Elected officials should start planning memorial
Body of slain Massachusetts Marine returns home
Mourners gather to pay respects to slain Georgia Marine
Tennessee River 600 to honor fallen servicemen on Sunday
Body of slain Marine being laid to rest at Chattanooga's National Cemetery
Funeral arrangements made for Navy Petty Officer Randall Smith
Military Times: Marine Corps confirms Purple Hearts prepared for Marines killed last week in Chattanooga
Mike Battery Marines recount heroic actions during rampage at Amnicola reserve center
'Run!' Quick response key to survival in first attack at recruitment office
Funeral for Staff Sgt. Wyatt is today; public invited to line roadside along procession route
Cook: Four poems about the last seven days shared to ease city's pain
Chattanooga's broad middle helps city bear tragedy
Gunning for safety? Military leaders say no
Peyton Manning adds muscle to fundraising for families of shooting victims
Tennessee ramps up handgun permitting for Guard, but can they bring firearms to work?
Friends rally around Hindu businessman subjected to nasty Facebook gossip
Moment of radio silence held in remembrance of service members killed
Mississippi National Guard recruiters returning to 10 sites
Civilian accidentally fires AR-15 rifle at Ohio military recruiting station
Navy has memorial in Virginia for Tennessee shooting victim
Marines moved citizens in the Riverpark away from shooter
Four misconceptions about the Chattanooga shooting
Tennessee lawmakers to meet next month to assess the state's security status after Haslam directives
Jordan releases uncle of Chattanooga gunman without filing any charges
Funeral plans set for all five slain service members
City Beat: I'm thankful cops sometimes go against human nature
Tunes for tragic times: Sad songs say so much
Hixson Flight Museum plans flight flight to salute fallen Marines and sailor
FBI searches woods at intersection of Highway 153 and Amnicola
Chattanooga declares shooting sites, funerals and memorials off-limits to protesters
Lance Cpl. Skip Wells' body to be escorted this afternoon
Peyton Manning launches Chattanooga Heroes Fund to honor shooting victims
Sgt. Thomas J. Sullivan to be buried in hometown
Minute by minute: A timeline of the Chattanooga attack revealed
Terrorist or extremist, was Abdulazeez a man with a plan?
Gov. Haslam moves National Guard recruiting offices to armories
Clipping and snipping, volunteers prepare donated flowers for Marine's last rites
'Best Town Ever' rival reaches out in sympathy to Chattanooga
Greeson: Reason why we are the Best Town Ever -- all of you
City's church bells to chime on one-week anniversary of shooting
Video: Five of the Marines who survived Chattanooga attack tell their story
Kentucky to enhance security at National Guard bases and recruitment offices
Ohio starts to arm recruiters in wake of Chattanooga attack
Tennessee moves recruiters to National Guard armories
Armed citizens flock to recruiting centers to stand guard
FBI explains how Chattanooga shooting played out, how Mohammad Abdulazeez was killed
Corker gets choked up, pauses in Senate while honoring slain servicemembers
Armed citizens flock to recruiting centers to stand guard
Port Angeles residents sign giant card for Chattanooga after deadly shootings
Pentagon rejects calls to arm all U.S.-based military personnel
FBI calls Chattanooga shooter a homegrown violent extremist
After Chattanooga shootings, armed citizens guard recruiters
How will last week's attack affect Chattanooga's brand?
'Mike Battery is here': After loss, Marines regroup, move forward
Fighting for our fighters: Erlanger trauma team called to front lines on day of shootings
'God bless these American heroes,' Obama says in day of tribute, remembrance for fallen
Marietta, Ga., residents honor hometown hero killed in tragic attack
Duke's basketball coach provides 'bright spot' for fallen sailor's family
Services set for two slain Marines
'I don't think they were involved,' neighbor says after FBI raids Mountain Creek Apartments residence
Cook: The universal wound of Lee Highway
The more we learn, the less we understand
Gov. Walker issues order to arm Wisconsin National Guard
In West Virginia, 2 armed men stand outside recruiting center
Virginia governor asks for more patrols at recruiting centers
Crowd gathers to mourn Georgia victim in Chattanooga attack
Navy officer, Marine shot at Chattanooga gunman, according to report
Council seeks to ban protesters from funerals of five slain servicemen
Flags at half-staff in South Carolina, again
Chattanooga mayor: we owe these five heroes and their families a deep debt of gratitude
FBI raids apartment of Muslim family at Mountain Creek Apartments
Shooter's family denies reports that Jordanian uncle is tied to Chattanooga attack
Obituary for Sgt. Carson Holmquist
Two slain servicemembers will be laid to rest in Chattanooga
Chattanooga shootings photo galleries
Supercuts stores in Chattanooga offer special haircut prices for military and police
Alabama sheriff urges citizens to take up arms to defend against lone wolf attacks
Marine Corps trainee sees man shot, pulls over and stops bleeding
Obama orders flags flown at half-staff
President, senators honor shooting victims
UPDATED: Lawyer says Chattanooga shooter's uncle detained
Abdulazeez followed a radical member of al Qaeda
Flags lowered at U.S. Capitol, Obama could lower White House flags today
Armed volunteers guard Murfreesboro recruiting center
Makeshift memorials grow as a city moves through waves of grief
Local gun sales spike after attacks on military sites in Chattanooga
Answers elusive as different sides of Mohammad Abdulazeez's life emerge
Because of his love for city, Marine's family wants him to be buried at Chattanooga National Cemetery
Public Defender Steve Smith stands by Facebook comments following attacks
Fleischmann 'disappointed' because White House hasn't lowered U.S. flag
Cook: The semantics of terrorism and the quest for peace
Looking for peace? Don't ask Steve Smith
Tweak gun policy for military installations
DesJarlais: Bill arming military personnel needed because Pentagon directive falls short
U.S. flag sales soar in Chattanooga after shooting
Two area legislators issue call for action on slaying of four Marines, sailor in Chattanooga
Military directs security upgrades at facilities after Chattanooga shootings
Gov. Bryant OKs Mississippi Guard to arm personnel
Chattanooga shooting prompts Nebraska Guard to arm personnel
Chattanooga attack was an act of terror, Rep. Chuck Fleischmann says
Republicans ask Missouri governor to arm National Guard
Shooter's diary paints a disturbing picture
Arkansas governor temporarily closes state's nine National Guard recruitment offices
South Carolina joins other states in arming National Guardsmen
Iowa to review security at National Guard facilities in wake of Chattanooga attacks
Madisonville man arrested at Lee Highway memorial
Muslim blogger quoted by gunman in yearbook speaks out
U.S. military tells recruiting centers to step up security by closing blinds
One of the Marines killed Thursday may have carried a privately owned Glock
Crowd awaits Westboro Baptist protesters at Chattanooga shooting memorial on Lee Hwy.
DesJarlais, Cohen co-introduce bipartisan 'Enhancing Safety at Military Installations Act''; other TN congressmen sign on
Tennessee representative calls gunman Mohammad Youssef Abdulazeez a 'jihadi'
Flags to remain at half-staff until sunset on Friday
Wiedmer: Peyton a welcome visitor for our town's finest
Honoring the dead: Rally, memorial, hearse motorcade pay respects to shooting victims
Homeland Security committee chairman: 'If it can happen in Chattanooga, it can happen anywhere, anytime, anyplace'
Gov. Bill Haslam orders Tennessee officials to provide more protections for state National Guard following Chattanooga shooting
Governor Haslam orders review of safety measures at Tennessee military facilities
FBI looking into shooter's possible involvement with ISIS
Hundreds rally in motorcade for the shooting victims
Family spokesman: Depression dogged Chattanooga gunman
Friends mourn U.S. Navy Petty Officer 2nd Class Randall Smith, shot to death in Chattanooga shooting
Cook: In the big heart of Chattanooga
Family of dead Chattanooga gunman breaks silence
Marine commander: 'Heroic acts by our Marines on that day'
Will the shooting change life for Chattanooga Muslims?
Tennessee pauses as other states quickly arm Guardsmen in wake of Chattanooga attacks
Friends say Chattanooga shooter was changed by trip to Middle East
Father of Chattanooga shooter says he was blindsided by son's actions
Westboro Baptist reportedly planning to protest funerals of slain servicemen, locals plan counter protest
Indiana, Florida, Texas, Arkansas, Oklahoma, Louisiana to arm Guardsmen in wake of Chattanooga shootings
Chattanooga Muslims anxious after shootings
Chattanoogans puzzling out answers, pouring out grief
Semper Fi: Remembering the fallen in the Chattanooga attacks
DesJarlais, others say gun restrictions should be lifted at military buildings
Groups raising funds for shooting victims, families
Greeson: Trying to comprehend incomprehensible acts
Chattanooga shock moves to soul-searching
Front lines collided in Thursday's horror
Wiedmer: Former Red Bank student's acts leave ex-wrestling teammates in shock
More than 1,000 attend interfaith memorial service for slain Marines
Remains of fallen Marines to be given same honors as those killed in action
Shooter worked at nuclear power plant before failing background check
U.S. House Chairman says Chattanooga slayings now officially a terrorism investigation
Shooter came from troubled family, divorce papers show
Slain Marine's last text to his girlfriend warned of gunman's assault
DesJarlais plans bill allowing qualified military personnel to carry sidearms at military installations
Fallen Heroes: What we know about the four men who gave all for their country
Who was Mohammad Youssef Abdulazeez?
UTC students, local community mourn at prayer vigil
Minute-by-minute coverage of the Chattanooga shooting that killed four Marines
Chattanoogans reach out on Instagram after tragic shooting
Timeline of terror in Chattanooga shootings
Community grieves, gathers for prayers in wake of tragedy
Nightmare for city: Federal investigation vowed after four Marines killed in shooting
Sympathy for victims pours in following Chattanooga shootings
Eyewitnesses recount moments of violent tragedy
Latest national news on Chattanooga shootings: authorities searching gunman's computer
Cook: On a normal Thursday morning, everything changed
Tragedy will not define us, our city will heal