Our family has enjoyed a long-standing relationship with the great city of Chattanooga, and it has a very special place in our hearts
Photo Gallery
A day of tribute, remembrance for the fallen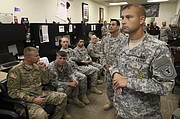 Pete Cooper was already having a couple of busy days. Then Peyton Manning called.
Manning visited Chattanooga after the shootings at two military sites that left five service members dead and was very moved, Cooper said.
On Monday, the former Tennessee Volunteers quarterback and current Denver Broncos QB contacted Cooper, president of the Community Foundation of Greater Chattanooga, offering to do anything he could to help the families of the victims.
On