Photo Gallery
Big Dam Bridge Walk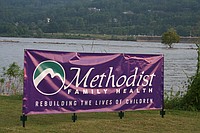 A walk benefiting Methodist Family Health held at the Big Dam Bridge on Friday, August 3.
Middle-of-the-road might be what it takes to win best-in-the-nation.
But Chattanooga was middling in just one respect: population -- small enough for residents to care about a community-glorification contest and big enough for their mobilization to translate to soaring vote counts.
In other words, a good size to win, according to Jonah Ogles, senior editor at Outside magazine, which for the past five weeks hosted an outsized online tournament to name the country's "Best Town Ever."
"Clearly, every time we put Chattanooga in, you're right on top of it," Ogles said Friday, about a dozen hours after the final vote was cast. "It's not a short contest. And every round you guys were just coming out early and staying on, and it became clear, very early, that you guys were going to become a contender at the very least."
The final score showed Chattanooga with 67,432 votes and Port Angeles, Wash., with 62,130, the peak of a competition that started with 64 towns. Towns advanced through bracketed races divided by geographic region. Chattanooga has about 170,000 residents, Port Angeles about 20,000.
Votes came from around the nation, even around the world. But they were blips compared with "two giant dots" hovering over Chattanooga and Port Angeles for the past month, Ogles said.
Both finalist towns -- and neighboring towns -- called their people to action through social media: friends posting to friends, who reposted to friends. That bore out in big ways, too: a Seattle Seahawks player tweeting for Port Angeles, Launch Tennessee in Nashville tweeting for Chattanooga.
Rock/Creek Outfitters, the Chattanooga-based specialty outdoor retailer, rallied crowds in almost every medium: digital (by creating an hour-by-hour results and trends web page), paper (signs in stores) and in the flesh (conversations with customers).
Chattanooga startup RootsRated, the outdoor-experience-based media platform, funneled readers to the magazine's voting page through its own microsite, where it partnered with contest sponsor Toad&Co. The page, titled "Best of Chattanooga," is an "insider's guide to enjoying Chattanooga's outdoor lifestyle in good company," and features write-ups on Velo Coffee, Lula Lake, the Nightfall Concert Series -- in essence, a centralized and deep information set on why Chattanooga is deserving of the best town title, RootsRated CEO Fynn Glover said.
Tourist organizations, no surprise, got into the game, too. The Chattanooga Convention and Visitors Bureau sent out 400,000 emails from the contest's May 4 start to its June 4 end.
"We were fully prepared for this campaign," CVB President Bob Doak said Friday after three hours of sleep.
"It's a superlative we look for in our business," he said. "Anything that ends with 'est' is what we're striving for. It just makes it so much easier to attract a group, convention, sporting activity."
Other Scenic City folks found out about the contest the classic way: word of mouth.
Tony Levy, who moved to Chattanooga from Florida in March, heard about it at High Point, the downtown climbing gym where he works. The new 'Noogan wasn't surprised Chattown was in the running -- "Why do you think I moved here?" -- or that it won -- "Of course it's a best town."
Levy came here for the rock climbing, but that's not what he likes best.
"Everybody is just really friendly and willing to help each other," the 25-year-old said. "There's a sense of a Chattanooga community. It's a place which inspires you to be ambitious."
But not everyone wanted to publicize Chattanooga's awesomeness, for fear of drawing the masses.
"I want us to lose!" joked Levy's roommate Sean Cooper, 28, who moved from Florida in March. "Keep Chattanooga a secret."
Outside plans to send a writer from the region here soon to pen the tale of a "perfect weekend," Ogles said. "They will ... climb and paddle and ride and eat at good restaurants and go to bars and all that."
The magazine, which has circulation of almost 700,000, will feature 16 towns in the September issue, the final four winners for each region.
"Without a doubt, Chattanooga will be the first town we talk about and the one that gets the most space," Ogles said. It also will be on the cover, though that will likely showcase two towns, he said.
To reach the peak, Chattanooga beat Roanoke, Va.; Raleigh-Durham, N.C.; Beaufort, S.C.; Boone, N.C., and Eau Claire, Wis. Since Outside started the contest in 2011 (and Chattanooga won it), the other winners have been Richmond, Va., in 2012; Park City, Utah, in 2013; and Duluth, Minn., in 2014.
Chattanooga has been the only two-time winner.
Contact staff writer Mitra Malek at mmalek@times freepress.com. Follow her on Twitter @MitraMalek.
Read more
* Final battle: Chattanooga duels Port Angeles for Outside magazine's Best Town Ever title * Greeson: Chattanooga moving along in Best Town Ever competition * Chattanooga or Port Angeles? Which will emerge as the 'Best Town Ever'? * Chattanooga moves into Best Town Ever semifinals * Chattanooga beats Boone in 'Best Town Ever' competition * Chattanooga clings to slim lead over Boone in Best Town Ever quarterfinals * Greeson opinion: Secret alliances and Twitter campaigns won't make Boone a better outdoor city than Chattanooga * BEAT BOONE: Gap narrows in vote for Best Town Ever * Chattanooga advances to final 8 in Best Town Ever contest * Chattanooga advances to quarterfinals in Outside magazine's Best Town Ever contest * Chattanooga competes for Outside magazine's 'Best Town in America' * Chattanooga back in the running for Outside magazine's Best Town in America * Chattanooga wins Facebook vote in Outside magazine's 'Best Town Ever' contest