KNOXVILLE -- When it mattered the most, the University of Tennessee at Chattanooga women's basketball team couldn't find the right buttons to push on offense.
The best season in Mocs' history came to an end Saturday at Thompson-Boling Arena with a 51-40 loss to Pittsburgh in the opening round of the NCAA tournament. UTC's season ends with a record of 29-4.
"We didn't say much to each other," sophomore post Jasmine Joyner said of the mood in the locker room after the game. "You could tell by our faces that we were disappointed. I definitely think that us underclassmen were feeling that we should have done better for our seniors, but we didn't say much."
From the beginning the Mocs struggled to score, falling behind 11-2 and 16-7 before a flurry of points got them back to within two at 16-14 with 7:31 in the first half. The Mocs' defense was stingy, as usual, and helped keep them in the game despite 9-of-30 shooting in the half.
UTC was able to draw five charging calls in the first half, and Pitt senior Brianna Kiesel picked up two early fouls while trying to get going against Mocs defensive specialist Alicia "Red" Payne.
"She's a good guard, one of the best I've ever guarded," Payne said. "I just tried to play her the best that I could, so I guess that feels good. But we still came up short.
"She's a guard that is relentless. ... You could tell that she wanted it bad. She's a senior and this is it for her."
Photo Gallery
SYNC @ 300 Third Tower Opening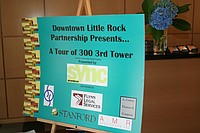 The new 300 3rd Tower held an opening reception to welcome the construction to downtown Little Rock.
Despite the poor-shooting first half, UTC trailed by only four, 25-21, giving Mocs players and fans hope.
"I don't think we necessarily were going in feeling good (at halftime), because we didn't really execute well on offense," Payne said. "But we did play good defense, holding them to only 25 points at the half. I mean, that's good defense, but we wanted to execute more on offense. That's what we went into the half thinking."
In the second half, Pitt freshman Stasha Carey took control of the game in the paint, getting Joyner into foul trouble, and the Mocs' shooting went from bad to worse.
"She was definitely more physical than me, and there was lots of miscommunication between me and my teammates on when to double and other stuff," Joyner said. "But most definitely she was more physical than me. If she didn't score a basket, she found a way to get me to foul her."
With Joyner on the bench, Carey began scoring and finished with 16 points and 13 rebounds to lead the Panthers (20-11).
"I took advantage of when they put a shorter person on me rather than a bigger post on me," Carey said. "I thought that was my time to do what I can do -- get to the basket, rebound and do what I do best is work the best."
UTC fought to stay in the game early in the second half and tied the game at 33 on two free throws by Payne with 12:05 to play, but the shots wouldn't fall and Pitt pulled away behind eight points by Carey and seven by Kiesel down the stretch. Kiesel finished with 13 points after being held to four in the first half.
"I thought the Carey kid hurt us. She took advantage of some positions defensively," UTC coach Jim Foster said. "We constantly talked to our team that there are times that the ball isn't going to go in and you have to do the intangibles those days. I thought we did a pretty good job. I thought the Carey kid really hurt us. I thought we defended everyone else very well."
UTC was just 8-for-35 in the second half and finished the game shooting just 26.2 percent from the field.
"We had open looks," Payne said. "A lot of people had great open 3s and open jump shots, and that's what we wanted. They just weren't falling today, and today was just one of those days when they just didn't fall for us."
Joyner led the Mocs with 10 points and nine rebounds, and Payne finished with nine points. But seniors Ka'Vonne Towns and Destiny Bramblett finished 3-for-15 while sopomore guard Chelsey Shumpert was held to no points on 0-of-6 shooting.
"We've played big teams before and found a way to be effective," Payne said. "They did a very good job of boxing out and rebounding. We didn't get a lot of second-chance shots that we wanted. They did a good job of boxing out and crashing the boards, and they did a good job of contesting our shots without fouling."
Pittsburgh coach Suzie McConnell-Serio praised her team's tough play, particularly the work by Carey and Kiesel, in getting the win to set up a second-round game against Tennessee, which beat Boise State 72-61 later Saturday. However, her excitement was slightly tempered by the win coming against longtime friend Foster, whom she's known since her playing days at Penn State.
"Walking up to hal court at the end of the game I said to him, 'This is bittersweet,' because I have so much respect for him," she said. "I think he is one of the best coaches in the game, and I'm so happy that he's still coaching because he just has so much to offer to his players.
"So as happy as I am for our team and our program, it was hard to look at him as I was shaking his hand."
Contact Jim Tanner at jtanner@timesfreepress.com or 423-757-6478. Follow him at twitter.com/JFTanner.