Photo Gallery
Sticky Fingerz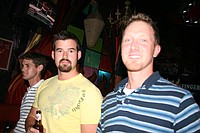 Paradise City puts on a rock show Friday night.
Ask kids in Chattanooga how they envision a new children's hospital, and they have strong feelings about what it should look like.
No to plain concrete walls, red brick or anything that remotely resembles an office building.
Yes to a whimsical structure that seems interesting both night and day. "Spaceship house," one child said. Yes to bright colors, green spaces and a "wonderland" feeling.
"Ability to see the inside from the outside," one comment reads. "It's not too scary."
When Bruce Komiske started gathering ideas for what Erlanger Health System's new children's hospital should look like, the project executive had his team turn to those with the most expertise in the subject: Children.
Armed with magazine and book clippings, a focus group of children shared their preferences and comments in poster-board collages, which were passed along to the hospital's project team -- the Atlanta-based duo of design firm HKS Inc. and construction firm McCarthy Building Cos. Inc.
"This helps them create the subtleties, the things that make the hospital special that you don't appreciate until you're a kid who is in the hospital," said Komiske.
On Thursday evening, those poster boards were propped in front of the large, 12th-floor windows of Chattanooga's downtown Liberty Tower as Erlanger hosted its "Big Reveal" of the new children's hospital campus.
Through those windows, Erlanger invited attendees of the soiree to envision an entirely new downtown campus and overhauled Third Street, filled with green lawns, retail and residential space.
"The project will transform the hospital and this district," said Bob Farrow, principal in charge of the design team, HKS, Inc.
The team unveiled a 3-D model of the multiphase project, which will add a large ambulatory center across the street from the current downtown hospital and build out the current footprint to include a new women's hospital and NICU.
Eventually, the current ambulatory wing of the children's hospital will be turned into a sleek new stroke center with a modern design reminiscent of the Hunter Art Museum.
Echoes of the children's poster-board visions could be seen in the project team's colorful renderings. The swooping, glass-faced exterior emits a multicolored glow as patients control the light colors in their rooms. The effect, says Komiske, is an "ever-changing piece of art" that faces Third Street.
Around the building is plenty of green space. A bridge over Third Street reminiscent of the Walnut Street Bridge will link the current campus with the new ambulatory building. Komiske hopes to one day have a small model steam engine shuttling children across it.
Inside the building is a lobby with wide windows and large animal sculptures. While the hospital will not be adding any beds, all of the patient rooms will be private, including the NICU, says Komiske. Instead of waiting rooms, there will be "discovery centers" with interactive learning displays designed with the help of the Creative Discovery Museum with large glass windows.
On the clinical side, T.C. Thompson Children's Hospital at Erlanger CEO Alan Kohrt says the hospital's current services will remain the same. He hopes the new space will allow the hospital to add multidisciplinary clinics for children with chronic conditions who may need a variety of doctors, and more features geared towards education.
"The hospital is only one part of a child's health care, and we want to better help their families make the transition to care back home," Kohrt said.
Though Erlanger has made big strides in its plans for the children's hospital since CEO Kevin Spiegel began publicizing plans for the project in 2011, the project is still very much in dream stage.
Thursday's reveal is just one way the hospital is trying to rev up the community for what will be a marathon fundraising effort -- "by far" the largest fundraising effort the hospital has taken on, and one of the largest-ever in the Chattanooga community, said Julie Taylor, chief development officer for Erlanger Health System Foundations.
The foundation's first goal is to raise $24 million to put towards the $35 million ambulatory center, which will be across the street from the current hospital. Raising money for that part alone is expected to take two years.
Erlanger has designated $11.5 million towards that phase of the project, and so far $6.7 million has been raised from the community -- much of it from benefit events, the Children's Miracle Network and local physicians, Taylor said.
While most people at Thursday's event wore suits and heels and sipped on glasses of wine, Taylor said the hospital is taking their vision beyond Chattanooga's established donor set -- to church groups, Boy Scouts and Girl Scout meetings and neighborhood associations.
"This is truly going to take a grassroots effort," Taylor said. "It's just not going to be built on just one big major gift."
"But it's better when the whole community has to rally around it," Komiske added. "It's a lot more work, but it's better. For everyone who contributed -- it's their hospital."
Contact staff writer Kate Belz at kbelz@timesfreepress.com or 423-757-6673.