Photo Gallery
Startup Week starts today in Chattanooga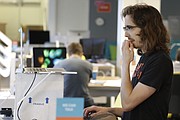 Chattanooga will get its Gig City groove on this week at Startup Week Chattanooga, a multiday "celebration of Chattanooga's entrepreneurial community."
Internet entrepreneurs - from a local woman whose online company, Feetz, sells shoes custom-made by 3-D printer to Internet personality and entrepreneur Gary Vaynerchuck - will meet up at more than 100 events around downtown - including Chattanooga's new 140-acre Innovation District that's headquartered in the 10-story Edney Building on Market and 11th streets across from Patten Towers.
The idea behind Startup Week is to highlight the city's growing startup scene and inspire entrepreneurial thinking, according to the event's website, startupweekcha.com.
Almost all the events are free, and you don't have to be a plugged-in member of the millennial generation to appreciate Startup Week, its organizers say. Startup Week's events are organized on three "tracks" - creative, social and tech - so it features nontechnical free events, including music, cocktails and yoga instruction.
"There's something for everyone," Startup Week Project Manager Stephanie Hays said. "Even if you're just a curious community member who wants to see what's happening, there's multiple ways of doing that. Check out the schedule online and check out the base camp at Miller Plaza all week."
The community-led festival has about 45 venues all around downtown, and is almost twice the size of last year's Startup Week, which had 60 events.
Some of the events already are full, including Vaynerchuck's 11:30 a.m. kick-off speech today at UTC's Roland Hayes Auditorium.
"I'm really amazed to see how it's grown," said Tia Capps, communications director for CO.LAB, The Company Lab, a nonprofit organization that helps entrepreneurs establish businesses. CO.LAB just moved from East Main Street to a new office in the first floor of the Edney Building.
Contact staff writer Tim Omarzu at tomarzu@timesfreepress.com twitter.com/meetforbusiness or 423-757-6651.