Photo Gallery
Summit focuses on investment and community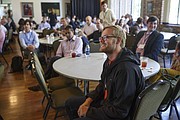 What is AngelSummit?
* A conference put on by Washington DC-based Startup Angels aimed at framing the startup investing landscape in order to facilitate conversation among community and industry leaders, and ultimately prepare more investors to fuel greater innovation in their communities.* AngelSummit US offers attendees insights and tactics for building successful, scalable startup portfolios that are just as innovative as the companies they finance, according to Startup Angels.* The first summit was in Dallas last year, followed by one in Spain. The next, AngelSummit Americas, will be in 2016. The location has not yet been disclosed.
Conversation about investing was the coin of the realm for AngelSummit US, the two-day conference in the midst of Startup Week Chattanooga.