EPB plans to soon build Chattanooga's first community-based solar generation and is looking for customers who might want to participate.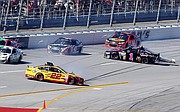 Directors of the city-owned electric utility today approved a partnership with the Tennessee Valley Authority to launch Solar Share, a pilot program to construct 1.35 megawatts of solar generation to be distributed to a number of homes from a solar farm likely to be built on one of EPB's service lots. The groundbreaking initiative will be EPB's first power generation project in its 76-year history.
"Our community is already benefiting from having the most advanced Smart Grid in the United States," EPB President Harold DePriest said today in announcing the new initiative. "Thanks to our partnership with TVA, Solar Share will give our area the opportunity to benefit from a community-based, renewable source of energy."
Details of the initiative are still being negotiated, but Neil Placer, TVA's Renewable Energy Solutions senior manager, said his team has been working with EPB to structure Solar Share in a way that engages the community.
"With EPB, we've developed an innovative approach to community solar generation that gives local people multiple ways to participate," Placer said.
Because community solar projects like Solar Share operate as a shared resource they are more cost effective than home-based deployments. Community solar projects also negate many of the financial and physical barriers individual homeowners may face such as upfront costs or having rooftop areas unsuitable for solar panels.
Individuals and businesses now have solar panels in Chattanooga and generate power that is sold back to EPB and the power grid. But the proposed EPB Solar Share initiative would be the first to generate solar power through a shared community arrangement.
When complete the project is expected to generate enough power to meet the needs of approximately 125 houses.
EPB is working to finalize the details for how customers can opt-into Solar Share. If the project draws enough community participation, the initial deployment could be the first of many community-based solar deployments.
Those who are interested in learning more are invited to call EPB at (423) 648-1372 to be added to the contact list for future updates.