Photo Gallery
Clemons brings 54 apartments to downtown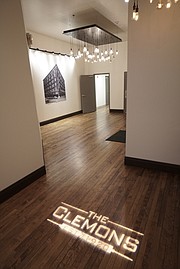 For more information
The Clemons offers one-, two- and three-bedroom units which range from 590-square-feet to 1,200-square-feet in size. Rents range from $1,075 to $1,800 a month.Visit www.theclemonschattanooga.com to view floor plans and schedule a visit, or call 423-763-1772.
The banging and buzzing of nearby construction and the sound of pouring rain provided the soundtrack Thursday morning for the official opening at The Clemons apartment building at the corner of Chestnut and Eighth streets in downtown Chattanooga.
In the 100-year-old brick building's lobby, guests stood on tiptoes to watch as the project's owners and developers - Vic Desai and Nirav Shah, two principals at ViaNova Development - cut a ceremonial red ribbon alongside County Commissioner Joe Graham and Chattanooga Mayor Andy Berke.
The Clemons project was started in the fall of 2014, recently completed without public money, and came in under its $7.5 million budget, said developers. ViaNova rehabbed the old Clemons Bros. furniture manufacturing and sales building with 54 urban loft-style apartments.
Berke thanked ViaNova Development for investing in the development, and the city, during Thursday's events.
"Chattanooga is hot right now," he said, "and what we want to do is take advantage of the scene while the world is looking at Chattanooga."
Berke's point is drawn partly out of the city's recent exposure as a great outdoor and tourist town - even "best town ever," according to Outdoor magazine - and selection as an Ironman competition site, among several other designations.
But Chattanooga is also in the midst of a significant downtown development boom, in which thousands of residential rental units are being added to what, only three years ago, was considered by some a downtown in desperate need of housing options.
The nonprofit, downtown development firm River City Co. said in 2013 the city faced enough pent-up demand for downtown housing to fill 2,500 units almost immediately, should they become available.
And River City Co. officials believe a recent study by Birmingham, Ala.-based Rock Apartment Advisers validates their claim.
The Alabama commercial real estate firm said in a release earlier this month that downtown Chattanooga apartment developments currently average 98 percent occupancy.
"That's not a surprise," said Amy Donahue, communications manager at River City Co.
Including the 54 units that officially came online with the Clemons' grand-opening Thursday, downtown Chattanooga currently has 1,325 rental units available downtown, said Donahue.
She said a healthy, thriving city with a nightlife and vibrant weekends aims to have 10 percent of its downtown workers also living in the urban core. Chattanooga right now is at about 3.2 percent, she said.
By comparison, Asheville, N.C., is at about 8.1 percent and Charleston, S.C., is at 10 percent.
So Donahue said River City officials aren't worried about potentially glutting Chattanooga's downtown housing market right now, even as nearly 1,200 new rental units - on top of an additional 1,400 student beds between Douglas Heights and new UTC housing on Vine Street - are scheduled to come online this year.
"Even with the current development that's in the pipeline, that doesn't meet pent-up demand," Donahue said. "I don't think that saturation is, in any way, an issue."
With his own money and time invested in bringing new downtown housing options to Chattanooga - and it being a success - Desai said during an open house tour of The Clemons on Thursday he isn't worried about downtown saturation, or other residential rental projects coming online.
"There's such a pent-up demand that we really welcome more supply," he said.
Desai sees the ultimate benefit for his own development in the introduction of more downtown residential rental units.
"The more residential density, the more likely big retailers are going to come, restaurants are going to open," he said.
And, in theory, that makes downtown only a more appealing place to live.
ViaNova is also leasing the ground floor of The Clemons building to commercial and retail tenants, meeting new demands from city planners for mixed-use development. Epic Optical, an existing downtown optometry office, is moving into the building, and a corner convenience store is also going to eventually open on the ground floor when construction is complete.
A remaining, 2,800-square-foot space on the corner of Chestnut and Eighth streets is still available for lease.
Desai said he and other ViaNova officials are pleased with the results of their Clemons project. It is currently at about 35 percent occupancy, and potential tenants are inquiring daily. In the past five days, three units have been filled, he said.
Desai said he looks forward to watching the nearby Gold Building undergo its transformation into a Westin hotel, bringing even more life to that corner of downtown.
Looking out westward-facing windows at The Clemons on Thursday, office workers gathered around a conference table and an unobstructed view of Lookout Mountain showed the point of the Chattanooga landmark shrouded in mist and rain.
And looking out northward from a different open house show unit window, a temporary construction trash chute sloped from an orange trash bin to an upper-story opening at the adjacent, historic Maclellan Building - which is being retrofitted now to accommodate 125 new rental units.
Contact staff writer Alex Green at agreen@timesfreepress.com or 423-757-6480.