Photo Gallery
Riverwalk adds 3 miles of dramatic scenery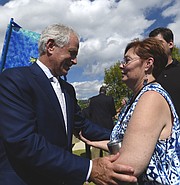 Video
Check out the Chattanooga Riverwalk extension with the guys who helped make it in this Facebook Live video.
Also read...
* Cooper: Another Riverwalk jewel * Celebrate grand-opening of new 3-mile extension of Riverwalk
Saturday schedule at a glance
South Broad Trailhead9 a.m.-noon. Refreshments, street performers, free folk/rock concert by Highbeams. Register for hourly prizes at hospitality tent. Fish mosaic activities for kids.Midday. Specials at nearby businesses (information at the hospitality tent)5-8 p.m. Refreshments, street performers, free folk/rock concert by Highbeams. Register for hourly prizes at hospitality tent.Blue Goose Hollow Trailhead8-10 a.m. Warmup tips and free water bottles from BlueCross BlueShield of Tennessee fitness pros, with formal sessions at 8, 8:30 and 9 a.m.9 a.m.-noon. Refreshments, street performers, music by folk/rock singer/songwriter Ben Durham. Fish mosaic activities for kids.5-8 p.m. Guided tours, refreshments, street performersCameron Harbor River Terrace5-8 p.m. Free concert by Rick Rushing & the Blues Strangers and folk singer and Season 4 "Voice" finalist Amber CarringtonFind out more at www.chattanoogatrend.com/topics/entry/tennessee-riverpark-addition.
As a naturalist at the Tennessee Aquarium, John Dever said, he often served as a guide on the River Gorge Explorer cruises up the Tennessee River pointing out features on the riverbank.
But Friday morning he got a chance to see the riverbank up close, as a new $16 million, three-mile section of the Tennessee Riverpark officially opened to the public.
Dever, 10-month-old Brooklyn Dever, and mom Stephanie Evans, a nurse at Erlanger hospital, were among the first to check out the major new expansion of Chattanooga's most popular walkway.
"It's great to be able to be next to the river and have this great view of the mountain," Evans said.
On Friday a crowd of about 150, including many of those who have worked for the past 30 years to make the Riverpark a reality, were on hand for the ribbon-cutting at Blue Goose Hollow, once the site of singer Bessie Smith's first home but now a large, open space with a panoramic view of the Tennessee River.
"Every community plans, but only a few execute," Chattanooga Mayor Andy Berke said. "We haven't just talked and hired consultants, we went out and made it happen."
"We still have a few more miles to go," U.S. Senator and former Chattanooga Mayor Bob Corker said, noting that there are still a few gaps in the overall Riverpark plan. "But we will finish what we started."
Several speakers noted the decades-long cooperation of political leaders at the city, county, state and federal levels, and the role nearly a dozen private foundations played in raising funds for the project.
"We got such a high return on the money we expended," state Sen. Todd Gardenhire said.
Several speakers also pointed out the role the 13-mile-long Riverpark has played in Chattanooga's renaissance, helping to bring stores and restaurants and housing downtown. More than $220 million in investment downtown has been announced since the Riverpark expansion plans were made public, Corker said.
While the ribbon-cutting was going on, workers a block away were adding more units to the Cameron Harbor project, for which the Riverpark is a front sidewalk.
Obtaining all of the property to build the pathway through what was once the industrial heart of the city took time. Corker was personally involved in convincing some of the property owners to allow the pathway to cut across their property.
In an interview after the ribbon-cutting, he explained that supporters of the expansion plan discovered that a company owned by Wall Street financier Carl Icahn was the parent firm to PSC Metals, through which Riverpark now runs.
Corker agreed to meet the legendary billionaire in his Manhattan office, he said. The meeting was long and difficult and included Icahn's views on U.S. foreign policy, said Corker, who is chairman of the U.S. Senate's Foreign Relations Committee. He said he most remembered what he called Icahn's extensive use of "colorful" language. Eventually, an agreement was made and the property acquired.
"I appealed to his better angels," Corker said.
The new addition offers dramatic changes in scenery.
It begins at the end of the existing Riverwalk, just in front of Cameron Harbor down Cameron Hill from the BlueCross BlueShield headquarters.
But after paralleling the river for a few blocks, it doglegs left and slices through what is left of Chattanooga's once-thriving industrial zone.
For decades, thousands of people worked at Wheland Foundry, Mueller Company, and later Combustion Engineering, earning Chattanooga its nickname as "the Pittsburgh of the South" (Birmingham claimed the same title).
Now the 12-foot-wide Riverwalk passes by Alstom's hulking warehouses, soon to be abandoned as the company's parent, General Electric, closes down much of its Chattanooga operations. Wheland, its successor U.S. Pipe and Steel, and Combustion are long gone, and Mueller has moved to Amnicola Highway. It would not be a surprise to see "Terminator" actor Arnold Schwarzenegger riding a motorbike out of the immense rusting shell of the empty U.S. Pipe and Steel foundry.
But supporters believe the pathway will be a key to the rebirth of the area as a mixed residential, commercial and industrial area. Construction has begun in earnest on the 100 at South Broad project, for what will be 100 single-family homes and apartments behind the old Southern Saddlery building. Ads for those houses emphasize the role of the walkway: "Hop on the riverwalk to the restaurants in the St. Elmo business district or bike to work every morning downtown," they read. "Wherever it takes you, the riverwalk can be the pleasant commute that eliminates the car from your daily life."
Sen. Corker pointed to the 141-acre Perimeter Property site that includes the old U.S. Pipe and Steel building as the cornerstone that "will be the new southern gateway to Chattanooga."
Chickamauga and Chattanooga National Military Park Superintendent Brad Bennett, who was at the Riverpark early on Friday, was quick to point out how the south end of the current addition is just a few blocks from trailheads that lead to the hundreds of miles of hiking and mountain biking paths around Lookout Mountain. His dream is to expand the trails along the side of the steep bluffs all the way down to Cloudland Canyon.
High school student Zachary Cross is convinced the new Riverpark will link the Southside and downtown. He was on his bicycle Friday morning, heading downtown from his home in St. Elmo.
"It is really interesting," he said, "going through the factory area."
Contact staff writer Steve Johnson at 423-757-6673, sjohnson@timesfree press.com, on Twitter @stevejohnsonTFP, and on Facebook, www.facebook.com/noogahealth.