Photo Gallery
Read House to get $20 million 'Great Gatsby' makeover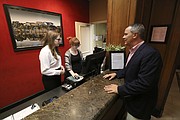 Some Read House history
› Dr. John T. Read built and opened the original Read House in 1872. Much of the original building was demolished in 1926 so the current structure could be built.› Dr. Read's son, Samuel R. Read, operated the hotel until 1943, then sold it to Albert Noe Jr., who died in 1947.› His son, Albert Noe III, converted a portion of the hotel to a motor inn in 1962.› Provident Life and Accident Insurance Company purchased the Read House in the mid-1960s and contracted with the National Hotel Company to manage it in 1968.› In 1994, it was purchased by Tech Motel Ltd.› For about a decade, it operated under the Sheraton name, and in 2014, dropped its affiliation with the hotel chain.Source: The Tennessee Historical Society
Jon Weitz doesn't shy away from the notion that a ghost haunts room 311 of the Read House, the landmark hotel in downtown Chattanooga that Weitz bought Wednesday for about $10 million, with plans to spend roughly double that amount renovating the historic structure.
"Our intent is to pay homage to the haunted room of 311," said Weitz, president and CEO of Avocet Hospitality Group, a Charleston, S.C.-based company that owns two other boutique hotels. "Everybody talks about it. And if you Google the Read House, everything that comes up is 'haunted room 311.'"
So Weitz, who plans to gut the upper floors of the 10-story hotel and rebuild all the rooms from scratch, will look at old floor plans and restore room 311 to what it would have looked like in 1926, complete with period furnishings.
"We're going to take it back - just that one room," he said of the infamous room 311. Now it looks like any other room - except for sawed-off bars outside the window that date back, legend has it, to when federal agents kept gangster Al Capone there.
The 241 other rooms in the hotel, built in 1926 at the corner of Broad Street and Ninth Street (now M.L. King Boulevard), will be renovated with updated technology, new bathrooms and new furnishings.
As for the public spaces in the hotel, Weitz said, "Think 'Great Gatsby.'"
Avocet Hospitality Group will work with local residents, historians and architects to do its best to recreate a modern version of the hotel's original grandeur in the public spaces, ballroom and restaurant, he said.
"Our main goal is to give people a unique experience," Weitz said.
Bob Doak, president and chief executive officer of the Chattanooga Convention and Visitors Bureau, said in a statement, "We're excited that Avocet Hospitality is making an incredible investment in our city by revitalizing one of our great historic properties in the heart of downtown."
GREEN ROOM MAY COME BACK
Porter's Steakhouse on the hotel's ground floor will stay in business for the time being, Weitz said, but Avocet eventually will replace it - possibly by bringing back the Green Room, the Read House's original restaurant that closed in 2004. The new Green Room would be as historically accurate as possible - down to the plates.
"We're doing all the research to figure out what china [was used in the Green Room]," he said.
Weitz also envisions bringing back a cigar store on the ground floor.
Some of the hotel's spaces will stay pretty much the same. For example, the wood-paneled lobby looks like it did when the hotel opened, according to historical photos. However, the chandeliers will have to go, since they're not historically accurate.
While room rates will go up at the Read House, Weitz said, "It's not going to cost significantly more."
Avocet Hospitality Group has kept the Read House's employees, he said. It has hired Ken Merkel, an Avocet employee since 2008, as the hotel's general manager and Jim Bambrey, the general manager of the Choo Choo Hotel, as the Read House's new assistant manager.
It should take about nine months for Avocet Hospitality Group to plan what it's going to do, Weitz said, and then another nine months to finish the first phase of renovations. It should take about two years for the renovations to be done, he said. The hotel will stay open during the construction work.
Avocet is in the process of selecting local architects and contractors to be a part of the team that will assist with what Weitz calls the hotel's rebirth and repositioning.
The Read House sold for $9.9 million, according to a filing made with the Hamilton County Register of Deeds office. The seller, Read House Investors LP, has owned the property since 1994.
HAPPY ABOUT OTHER HOTELS
This isn't Weitz's first go-round. He was involved in the renovation of The Hermitage hotel in Nashville, which is now Tennessee's only AAA Five-Diamond hotel.
Avocet Hospitality Group, which is comprised of Weitz and two silent partners, owns two Charleston-area hotels: The Vendue, an 84-room "art hotel" and Tides Folly Beach, a 132-room oceanfront hotel. Avocet also runs a Charleston-area beach property rental and real estate firm and manages St. Barth Exclusives, a luxury villa rental company on Saint-Barthélemy in the French West Indies.
Avocet Hospitality Group's partners are happy, Weitz said, that other high-end hotels are opening in downtown Chattanooga: a 150-room hotel in the Art Deco-style Chattanooga Bank Building, a Westin in the "gold building" and The Edwin, a 90-room hotel under construction by Chattanooga hotelier Mitch Patel near the Walnut Street pedestrian bridge.
"All of that is just going to re-energize the downtown core," he said.
Contact staff writer Tim Omarzu at tomarzu@timesfreepress.com or www.facebook.com/MeetsForBusiness or Twitter @meetforbusiness or 423-757-6651.