Before the fatal Nov. 21 bus crash, Hamilton County Schools did not share all the complaints filed against the driver with Durham School Services, the company said Thursday.
In an interview with the Times Free Press, Durham CEO David Duke said the company received two complaints against 24-year-old Johnthony Walker over speeding before the crash, but the company had not seen several of the complaints received and released to the media last week by Hamilton County Schools.
Durham is contracted to provide the district's busing services, and Thursday Duke announced the company is spending several million dollars on enhanced safety measures, which include installing smart cameras on all buses and a system to better track complaints against drivers.
But Duke acknowledged any changes the company makes will not bring back the six children who died in the crash.
"Trust was broken," he said, adding the company wants to ensure it never happens again.
Communication between Hamilton County Schools and Durham was a problem, Duke said.
"We can only act on what we know and what's before us," Duke said, defending the company's decision to allow Walker to continue driving the bus after the initial complaints.
Police believe Walker was speeding on Talley Road in Brainerd on Nov. 21 when he crashed the school bus, killing six Woodmore Elementary School students. Walker remains in the Hamilton County Jail, facing six charges of vehicular homicide, reckless driving and reckless endangerment. He's scheduled to appear in court Dec. 15.
On Thursday, federal crash investigators with the National Transportation Safety Board said Walker had declined to be interviewed on the advice of his lawyer.
Durham still employs Walker, pending the investigation, and is paying for his legal counsel. Duke said Walker is entitled to his due process and has not yet been found guilty in the case.
"Nobody wakes up in the morning and says, 'I want to get in an accident and hurt somebody today,'" Duke said.
Hamilton County Schools released more than 30 pages of complaints and correspondence about Walker last week, including handwritten letters from students and a parent citing the driver's speeding and recklessness. But Duke said the company did not receive several of those complaints, and just two of the six complaints it did receive from Hamilton County about Walker addressed speeding. The six email complaints were found after a search of Durham's email database by the company's IT department, Duke said.
The offices and files of Durham's management in Chattanooga were also searched and no copies of complaints were found, he said. Some communication could have been verbal, but Durham has no record of those conversations.
According to records from Hamilton County Schools, district Transportation Director Ben Coulter talked with Durham about the complaints on Nov. 16 and 18.
Hamilton County Schools Interim Superintendent Kirk Kelly said Thursday any complaints the district received were forwarded to Coulter, who shared them with Durham. He did not comment further, citing the ongoing investigation.
But Duke said that wasn't the case, later adding he did not want to blame Hamilton County Schools.
Duke said the process for filing complaints is flawed, as principals and parents are to notify Coulter with any problems, and Coulter is to notify Durham's local representatives, who then handle the situation. After addressing the problem, Duke said the company would loop back around to Coulter, who would update the person who filed the complaint.
Durham does not have a set policy about how school districts share complaints with the company, only a policy stating how to deal with complaints and driver infractions once they are received, Duke said.
"I know what I do with it once I get the complaint, but I can't control the complaint or how it gets to me," Duke said.
And Duke said it's not responsible at this time to speculate about what could have prevented the crash, or where exactly the communication process broke down.
"We don't know what didn't work," Duke said. "We know what [complaints] we didn't have."
In the meantime, Durham is launching a complaint management system that will electronically link every school and district to Durham so both groups can see any complaints filed and how they've been handled.
"[It gives] schools and school districts direct and immediate access to address concerns about our drivers with us," Duke said.
The system is state of the art for the industry and was tested Wednesday, Duke said, adding it is expected to go live in Chattanooga by the end of the week. It will be implemented nationwide with the schools Durham serves by the end of next year.
The online systems will have both local and corporate monitoring, Duke added.
Durham also plans to equip all Hamilton County Schools buses with smart cameras by Dec. 31, which activate and record both the driver and the road each time unusual driving is detected.
Thirty additional bus monitors are also being hired to work in Hamilton County. The district currently has 70 monitors who ride the bus with special needs students, Durham officials said.
Durham also plans to hire a director of safety.
In states or school districts that mandate it, Durham buses have seat belts, Duke said.
Kelly said the district will work with Durham to ensure a tragedy like this never happens again, though he noted the district's contract with Durham is up for renewal in June 2017.
"Anything that is going to be there to help is providing a step in the right direction," Kelly said.
Photo Gallery
Belew Christmas @ Wildwood Park for the Arts — 12/13/13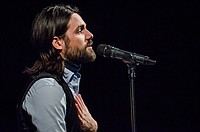 12/13 — Former The Voice contestant Cody Belew serenaded the audience with Christmas classics and tracks from his new album.
***
The first two complaints Durham received about Walker came in August, near the start of the school year. They stated he missed a stop and was late to another, Duke said. But those types of complaints are not uncommon at the beginning of the school year, he added.
No additional communication about Walker was sent to Durham until Oct. 28, when someone complained that Walker was speeding, Duke said. Durham checked the GPS on the bus and found that Walker was not speeding at the time, but the company still addressed the complaint with him and told him to watch his speed, Duke said.
Then on Nov. 2, a complaint from Woodmore Elementary School Principal Brenda Adamson-Cothran was sent to Durham stating Walker argued with students and that he was speeding in the school's loading zone, Duke said. Again, a Durham supervisor spoke to Walker about the complaints and told him to write disciplinary referrals about kids misbehaving, as the district is responsible for disciplining students, Duke said.
Soon after, school officials complained Walker was writing too many referrals about students, saying in one case he wrote 10 in one day, records show. Kelly did not elaborate on why this happened.
The last complaint Durham received about Walker was Nov. 16, five days before the fatal crash, stating that he was swerving, Duke said and school records show. Durham reviewed the footage on the bus on Nov. 18 and saw there was some swerving, which the company thinks can be tied to speed bumps on the road. Durham did not address that issue with Walker before the crash on Nov. 21.
When asked about Walker's previous crash in September, Duke said it was minor - the large bus was traveling on a narrow road and side-swiped a car. The total cost of the damage was $1,500 and the police did not cite Walker, Duke stated and police records show. After the incident, Walker was removed from the route and met with a supervisor who discussed the cause of the incident with him, Duke said. Walker then received additional on-road training and was cleared to return to the route, he said.
Termination is warranted if a driver gets in three crashes within 24 months, or if the violations or crashes warrant immediate termination, which is handled on a case-by-case basis, Duke said. Nothing in the complaints Durham received caused the company to be concerned about Walker, he continued.
Durham is currently reviewing complaints against other drivers in Hamilton County, Duke said. The company did not release any of the complaints they are reviewing.
Across the nation, student behavior on buses is a problem and safety concern, Duke said, and Hamilton County is no exception.
The day after the crash, Durham officials held meetings with the company's Hamilton County drivers, and one of the main concerns voiced was about students misbehaving on the bus. Drivers said they feel like the district does little to address the referrals they make about students, Duke said.
Hamilton County Schools records show Coulter was concerned about the students' behavior on Walker's bus.
Local school districts are responsible for student management and discipline, and school boards set policy for how this is handled, Duke said.
"They direct us," Duke said.
The bus that crashed had a camera on board, and both police and the NTSB are reviewing the footage in their investigations.
Although investigators said last week that Talley Road was not on Walker's assigned route, Duke said it was. However, Walker said he was driving the route in reverse, Duke said.
"I do not know what was in his head that day," Duke said.
Photo Gallery
Tinsel and Tutus @ Reynolds Performance Hall — 12/12/13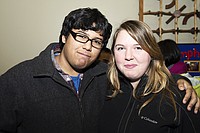 12/12 — The Conway Symphony Orchestra entertained with Christmas music, including highlights from The Nutcracker performed by the Arkansas Festival Ballet.
***
Durham also defended its hiring process Thursday.
There is a national shortage of bus drivers, Duke said. Here in Hamilton County, the company is staffed at about 105 percent - the goal is to be between 105 and 110 percent - because drivers call out of work and replacements are needed daily.
Nationally, Durham's school bus driver turnover rate is 21 percent, officials said.
Here in Hamilton County, starting pay for a driver is $13.30 an hour, and the average Hamilton County driver makes $14.33 an hour, Duke said.
"It's a decent part-time job," he added.
It's understood that some employees are retirees or have part-time jobs, about which they are required to notify Durham.
The company knew Walker worked the night shift at Amazon and accommodated his driving schedule around the Amazon job at times, though they did not have any documentation available to show the changes.
Anyone applying for a job driving with Durham goes through a background check and drug-and-alcohol screening, and their driving record is examined. It costs the company about $300 to prescreen each applicant, and nationally, just one in every 10 drivers completes the full process and is hired, Duke said.
After being approved by Durham, Hamilton County bus drivers are fingerprinted and they undergo training by Durham.
Records show Durham hired another driver in Hamilton County who was deemed "ineligible for hire" in 2013 because of prior criminal convictions.
That driver, Alexander Rodriguez, 35, was arrested in 2015 and charged with raping a 15-year-old student-passenger in a Super 8 Hotel room. He was employed by Durham at the time.
The fact that Walker passed each of the required checks isn't a concern, Duke said.
"Walker was qualified to drive and we trained him to be a qualified driver," he added.
As a result of the crash, Durham is not currently re-evaluating its hiring process, but Duke said hiring policies are reviewed every year.
Durham is paying for all funeral and medical expenses, and providing counseling to any Woodmore Elementary students who need it. Officials said there is no requirement to sign non-disclosure, non-disparagement or any other agreement as a condition of receiving the aid.
"We know we've got a commitment to the community and we want to do the right thing," Duke said.
Contact staff writer Kendi A. Rainwater at 423-757-6592 or krainwater@timesfreepress.com. Follow on Twitter @kendi_and.