Company at a glance
Name: Durham School ServicesParent company: National Express Group, based in EnglandHeadquarters: Warrenville, Ill.CEO: David DukeU.S. size: Durham and its other U.S. affiliates operates 21,500 school buses for more than 500 school districts. The company carries more than 1 million students a day on its buses in 34 states.Staff: 17,000 driversLocal presence: Durham was awarded a 4-year contract for about $45 million in 2013 to provide bus service for Hamilton County schools until 2017. Durham operates 239 routes and carries more than 20,000 students each day in Hamilton County
Biggest private school bus operators
1. First Student, based in Cincinnati, 49,000 buses2. National Express LLC, (Durham Bus Services and affiliates), based in Warrenville, Ill., 21,500 buses3. Student Transportation Inc., based in Wall, N.J., 13,310 buses4. Illinois Central School Bus Co., based in Joliet, Ill., 2,300 buses5. Cook-Illinois Corp., based in Oak Brook, Ill., 2,300 busesSource: School Bus Fleet magazine, 2016
The private company that operated the school bus that crashed and killed six elementary students in Chattanooga last week plans to add smart cameras and extra personnel on its buses and establish the first nationwide complaint management system to help limit chances of future fatal accidents.
Durham Bus Services, which provides bus transportation for nearly 20,000 Hamilton County students, is the second biggest private school bus operator in the country. The company's CEO, David Duke, said Thursday he wants his company to be No. 1 in new safety systems in the wake of last week's crash involving 37 students from Woodmore Elementary School.
"I want to make it perfectly clear that nothing is more important to us than the trust that parents put in us to deliver their kids to school each day," Duke said in an interview with The Chattanooga Times Free Press. "We are heart broken because that trust is broken here in Chattanooga. At the same time, we're intent on learning from what happened so we can prevent these type of accidents from happening in the future."
Durham is adding 30 additional bus monitors to the 70 it now has on its fleet of nearly 240 routes in Hamilton County to help more drivers manage student passengers on some routes. As part of a multi-million-dollar investment in upgrading its bus service here, Duke also said smart cameras are being added on all buses by the end of the week in Chattanooga and throughout the country by the end of 2017.
Durham also is establishing the country's first nationwide complaint management system to process any concern or problem raised about drivers and bus service in markets served by Durham.
"This gives a full data base on a cloud-based portal that administrators can type in a form and tell us when they have an issue and we can immediately take that information with full visibility for both parties (Durham and the school districts) to see what has happened and what issues have been closed," Duke said. "We're piloting this as the first in the industry and we're going to accelerate the roll out of that."
That could have been helpful in responding to some concerns that may not have been forwarded on to Durham in Chattanooga, Duke said.
Durham has already been named in two lawsuits by victims of last week's tragedy, and Duke acknowledged that his company is facing tough questions about the Chattanooga crash from many of the 500 school districts it serves across the country. The private bus company, a subsidiary of the British-based National Express Group, transports more than 1 million students a day under contract with school systems in 34 states.
Durham has maintained a satisfactory rating with federal regulators, and studies indicate the average student is eight times safer riding on a school bus than riding in a parent's car to and from school. But a tragedy such as last week's incident in which police said the Durham driver appeared to be going too fast on Talley Road is likely to take a toll on Durham's business and reputation.
Dr. Michael Friedman, assistant professor of communications at UTC, who teaches about crisis management by businesses, said Durham appears to be taking some appropriate early steps to respond to the disaster, including its payment of medical, counseling and funeral expenses for victims and the upgrades it announced Thursday.
"Any time your responsibility is to safely transport our children to and from school and you fail - even once - your reputation is going to take a hit, and I would not be surprised if Durham doesn't lose some of its contracts," Friedman said. "But you can regain trust if you consistently show that you are committed to addressing any problems, helping those hurt by the tragedy and improving the way you operate in the future."
Durham's current $45 million, 4-year contract with Hamilton County schools will be up for renewal next year. But Duke said the company is focused for now on aiding victims of the tragedy, finding out what happened and figuring out what may have to change in its wake.
In a taped response to the tragedy, Duke said as a father and grandfather he has struggled to know what to say to the victims of the fatal bus accident.
"I can't fathom the anguish of the parents and children who were involved in this horrific accident - and it involved one of my company's buses," Duke said, his voice choking with emotion. "Nothing I can say can take away the pain and the grief for these families. What I can say is that I am deeply sorry for the children that were taken from their families with so much life before them."
Duke, who works at Durham's headquarters in Warrenville, Ill., said he immediately came to Chattanooga following the fatal accident last week and has had multiple meetings with Hamilton County school officials, transportation regulators, police and Durham bus drivers.
Duke said many bus drivers in Chattanooga "were devastated by the accident" and are concerned that parents are now fearful of all bus drivers. Duke also said drivers told him unruly student behavior is a growing problem, which is why the company will add more monitors on buses and smart cameras to help provide more immediate information about what is happening on each bus.
"My responsibility now is to look for answers - answers about why this tragedy occurred and answers to make sure that this never, ever happens again," Duke said.
Friedman said many children, including his own, came home last week upset about the tragedy and are now reluctant to ride on school buses.
"Durham seems to be making a good start in response to this tragedy, but it seems like they may be putting a Band Aid on a gaping wound," Friedman said. "They may need more than just cameras, monitors or data bases. They may need better training and screening of their drivers."
Duke said Durham checks all drivers for criminal records, drug use, driving history and personal recommendations. But the Durham CEO said there is a nationwide shortage of school bus drivers and, as the economy improves and the job market gets tighter, that shortage could worsen.
Durham has had 142 crashes with injuries and three fatalities in the past 24 months across the country, according to federal records. Records show at least 36 crashes with injuries and one wreck with a fatality in Tennessee during that span, including two crashes with injuries in Hamilton County this year.
Durham has provided bus transportation in Hamilton County for the past decade. In 2013 when the company's contract was last renewed, then Superintendent. Rick Smith said Hamilton County has one of the leanest school transportation programs.
Most school systems with a comparable size to Hamilton County operate 300 to 350 buses, but Durham has about 239 routes. Another 49 routes are operated by independent contractors who are a vestige of the old county school system and are paid a daily rate based on miles driven and available seats on their buses.
"There is nowhere else in this country operating this efficiently," Smith said when the Durham contract was awarded three years ago.
Contact Dave Flessner at dflessner@timesfreepress.com or at 423-757-6340.
Photo Gallery
Belew Christmas @ Wildwood Park for the Arts — 12/13/13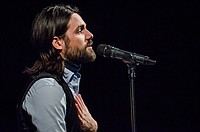 12/13 — Former The Voice contestant Cody Belew serenaded the audience with Christmas classics and tracks from his new album.