Photo Gallery
Tornado batters Ocoee community in Polk County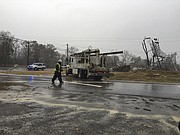 View Our Coverage of the Deadly November 2016 Storms
NASHVILLE, Tenn. (AP) - The Tennessee Emergency Management Agency says two more deaths have been confirmed, for a total of four, in severe storms that hit the southeastern part of the state.
TEMA said in a statement Thursday night that two deaths were in Polk County and two were in Meigs County. It says 11 people were injured in McMinn County and one in Hamilton County.
At least five tornadoes have been confirmed in Polk, McMinn, Marion and Coffee counties. Crews are still assessing damage in those and other counties, where more than two dozen homes were damaged.
TEMA says crews are working to restore power to more than 6,000 homes.
Seven people were killed in two states after at least 13 twisters damaged homes, splintered barns and toppled trees in parts of Alabama, Louisiana, Mississippi and Tennessee this week.