Photo Gallery
Great Smoky Mountains wildfires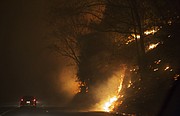 NASHVILLE, Tenn. - Authorities on Wednesday charged two juveniles in an East Tennessee wildfire that killed 14 people and destroyed or damaged more than 1,700 buildings in an iconic tourism spot at the foot of the Great Smoky Mountains.
Officials offered few other specifics about how they think the two started a fire that leveled buildings into charred scraps, carving a deadly path through the Gatlinburg area.
People scrambled in terror to try to flee on foot or drive out of the inferno that often cloaked them from all sides, shooting hot embers through the winds. Some spent days hoping for good news about their missing loved ones. Many learned they would soon be planning funerals.
The juveniles face aggravated arson charges in the fire in the Chimney Tops area of Great Smoky Mountains National Park on Nov. 23. If convicted, they could face up to 60 years in prison and up to $50,000 in fines.
That fire grew amid drought conditions and ultimately rode winds exceeding 87 miles per hour into the Gatlinburg area early last week. Authorities have not yet announced a dollar amount on the damaged caused by the wildfire.
The two are being held in the Sevier County juvenile detention center.
"Our promise is that we will do every effort to help bring closure to those who have lost so much," said Tennessee Bureau of Investigation Director Mark Gwyn.
The juveniles are from Tennessee, but not Sevier County, where the fires spread. Otherwise, officials said state law prevents releasing more information about them.
Karyssa Dalton, a 19-year-old whose grandmother Pamela Johnson remains missing in the blaze, said the two should be held accountable, even though they're young.
"I mean, what if somebody came through their town, and set their town on fire, and lost their loved ones, and lost all their homes?" Dalton said. "It's not fair."
Great Smoky Mountains National Park Chief Ranger Steve Kloster said the public was "critical" in offering investigators information through a tip line. Previously, the National Park Service said it believed the fire was human caused, and set up a tip line for people to call if they hiked that trail on Nov. 23, or knew anyone who did.
The investigation is ongoing and more charges could come. It's also possible that the case could be transferred to an adult criminal court, said local District Attorney General James Dunn.
The juveniles are entitled to a detention hearing within 72 hours in which a juvenile court judge will decide to hold them without bond, hold them with bond, or release them, Dunn said.
Dunn constantly said everything was "part of the investigation" when asked for details.
Asked if others could be charged in the fire, Dunn repeated that "everything's on the table."
"We don't know," he said.
On Wednesday, Gatlinburg residents and business owners were allowed to move back into homes and establishments permanently. They had been allowed to visit during daytime hours since last Friday.
The city is slated to open to the public on Friday morning. Though swaths of the city were decimated, the main downtown strip appears to have been spared.