Photo Gallery
Bradley County sheriff's car deals cross the line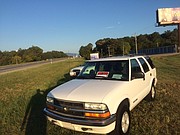 The Tennessee's Motor Vehicle Commission has opened a complaint into Bradley County Sheriff Eric Watson after a Times Free Press story last week alleged that the county's chief law enforcement officer sold cars without a dealer's license.
The Motor Vehicle Commission wrote separately to Watson and to his dealer, Best Buy Auto and Leasing, on Friday, spokesman Kevin Walters of the Tennessee Department of Commerce and Insurance confirmed late Monday.
The letters from Motor Vehicle Commission complaints program manager Jason Gilliam enclosed a copy of the Times Free Press report and said Watson was being looked at for selling cars without a dealer's license. The letter to Best Buy Auto said the commission was looking into whether its salesman, Watson, conducted offsite sales.
Watson and Best Buy have 14 days to respond in writing, Gilliam's letter states. The case will be forwarded to the legal division of the Commerce and Insurance department "for review and determination regarding further action, with or without your response," the letter states.
Watson didn't respond to a request for comment Monday evening.
This complaint process is separate from the six-months-and-counting probe by the Tennessee Bureau of Investigation into other allegations against Watson. The TBI said in the Dec. 4 story that investigation remains "active and ongoing."
The Times Free Press story of Dec. 4 detailed how Watson bought used vehicles on GovDeals.com, an online auction site where governments dispose of surplus and seized items, and then advertised a number of them locally or online on eBay or Craigslist.
Watson has been a GovDeals.com customer at least since he took office in September 2014, buying used vehicles for his patrol and court officers from towns as close as Knoxville and as far away as the Orlando area.
In August, he bought 18 vehicles from Miami-Dade, Fla., and Washington, D.C., through GovDeals. The Times Free Press verified his online bids and received copies of the titles to the vehicles under state and federal open records laws.
Soon cars with vehicle identification numbers matching those titles began showing up for sale in the area. Photos showed cars outside the Benton Police Department in Polk County, in a flea market parking lot on Waterlevel Highway and in a lot next to Watson's father's tire shop in Cleveland, among other places. The Tennessee Department of Revenue told the Times Free Press that as of Nov. 30, 11 of the 18 vehicles had been registered in Tennessee.
However, state law says anyone selling more than five cars in a year must have a dealer's license, which Watson doesn't, according to the Tennessee Department of Commerce and Insurance. He did get a salesman's license on Sept. 16, but Walters of the Commerce and Insurance department said that only allowed him to sell his dealer's cars on the dealer's lot, not his own vehicles at the curb.
State law also says private individuals bringing cars into Tennessee must register them in their home county and may have to pay Tennessee sales tax.
Personal information on car registrations, such as buyer names, is confidential. But of the 11 cars sold, seven were registered in counties other than Bradley. Others were registered in Hamilton, Polk, Blount, Shelby and Monroe counties.
Tennessee law calls the practice of selling cars with open titles "curbstoning," and it's against the law.
Penalties for "curbstoning" or violating Motor Vehicle Commission laws may include steep fines and confiscation of vehicles.
Contact staff writer Judy Walton at jwalton@timesfreepress.com or 423-757-6416.