Photo Gallery
Not all those who wander are lost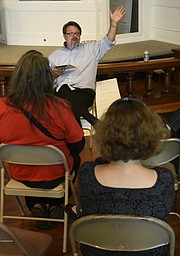 One night this fall, we were watching TV when my daughter heard a noise outside.
"Dad," she said, her face to the window. "There's a stray dog in the yard."
Sure enough. White, with brown and black spots, at least 70 pounds, maybe 80. Was it a Lab? A terrier? The dog appeared out of nowhere, and I swear, he seemed to be smiling.
(For my daughter, who's never met an animal she didn't love, this was a dream come true. "Maybe a pony will wander up next," she'd say.)
We locked our two barking dogs inside and went out. Our stray dog started wagging. Then licking. We were fast friends within minutes. That big body held a big heart.
But no collar.
And no ID.
We fed and watered him, introduced him to our dogs. He'd wag and submit, ever the gentleman. An extra dog bed went on the porch.
The next morning, he was still there. We phoned shelters, police, vets. Placed "Found Dog" signs across town. Posted on Facebook.
Nothing.
A week went by. Another.
Nothing.
"He needs a name," I said.
"Fang," my daughter said, after the Harry Potter character.
But where had Fang come from?
And why was he here?
***
The very same night Fang wandered into our yard, a woman knocked on the door at Mercy Junction Peace and Justice Center at St. Andrew's in Highland Park.
Call her Sue. Months of chemo and severe radiation treatments had left her body frail, covered in sores, with bone-deep pain. She had no family willing to take her in. Unable to work, she, too, was lost and needing shelter.
Mercy Junction's Rev. Brian Merritt and Beth Foster - they met Sue during the Occupy movement - welcomed her in, gladly turning an empty room into a home - couch, plenty of blankets, bathroom nearby - then set about giving her warmth, security, a space to heal.
But one thing was missing.
Sue just didn't know it yet.
***
Back home, we had fallen hard for Fang, but after a skirmish with our dogs, an even bigger kibble bill and one fewer chicken in our flock (Fang gummed the hen to death), we realized Fang had to go.
I called Foster; to me, she's the St. Francis of Chattanooga. She agreed to rescue Fang: neuter, heart-worm and rabies check, the whole nine.
"I'll find him a forever home," she said.
Days later, we drove Fang to Mercy Junction. Amidst tails and tears, we said goodbye.
Little did we know, it would lead to the best of hellos.
***
The next morning at Mercy Junction, Sue came downstairs.
There was Fang.
She stared.
The dog stared back.
And started wagging.
Sue went to pet him, then belly rubs, then face-licks.
Later, Foster asked a favor: Sue, could you walk Fang?
Sue hesitated. One yank or pull, and Fang, who weighs as much as she does, could be trouble.
But Foster knew what Sue soon would: Fang was a gentleman on the leash.
"The first few walks, he continually looked back at me, as if to check on me," Sue said. "I had never seen a dog do that before. It made me feel kind of special, like he cared that I was OK."
Sue even noticed a certain look on his face.
"He was smiling," she said.
Around Mercy Junction, Sue, feeling better, took on chores, with Fang by her side. He began placing his head on her shoulder. On car rides to the vet, his big tongue will fly out the window, making her laugh.
While Foster kept searching for Fang's forever home, Sue moved his dog bed into her room.
One night, Sue was sleeping. Or trying to. For her radiation-damaged body, some days are constant pain.
Suddenly, Fang got up.
He climbed from his bed into hers, and as if knowing right where her wounds were, circled his body into perfect form, then lay down, pressing his big, warm body against hers.
Magic.
"His weight pressing up against me was very soothing, as if I was getting a massage," she said.
Soon, wherever Sue went, Fang was sure to follow. This circle of hospitality - Beth welcomed Sue, who then welcomed Fang - grew, as the pair got to know neighborhood teens. Sue began cooking them meals, taking them skating, making art together. Nearby, Fang wagged.
A day or two later, the idea hit Foster.
"You adopt Fang," she told Sue. "You make him a forever home."
For Sue, the worry-questions rushed in: Am I strong enough? What if I get sick again?
Foster smiled.
"Love him as long as you can," she told Sue.
For Sue, Fang had become home. It is what dogs do best: climb up into our hearts, lie down among our hopes and fears. We don't rescue them; they rescue us.
"I will keep him as long as possible," Sue told Foster. "I am hoping it is forever."
***
If you happen to wander through Highland Park this Christmas, you might see a big dog and small woman walking together.
Every now and then, the dog will turn his head around, just to check on her.
She'll smile.
And you'll swear the dog smiles, too.
David Cook writes a Sunday column and can be reached at [email protected] or 423-757-6329. Follow him on Facebook at DavidCookTFP.