Driving a school bus through an intersection in August, Johnthony Walker hit a cement barrier as he made a right turn. In September, the 24-year-old was again driving a school bus when he side-swiped a silver Kia Soul on a narrow, two-lane road.
And on Nov. 21, Walker was driving bus No. 366 at least 20 mph over the speed limit on Talley Road in Brainerd when he lost control, police say. The bus carrying 37 Woodmore Elementary students toppled on its side, twisting around a walnut tree.
The crash killed six students and left many others with serious injuries.
After the first two crashes, Walker was given additional training and passed a behind-the-wheel evaluation before returning to his route, according to his personnel records obtained by the Times Free Press.
Three written complaints - one for failing to check for sleeping kids on his afternoon route, two more for being late to work - also were placed in Walker's personnel file before the fatal crash, records show.
But Durham School Services CEO David Duke said there was nothing alarming in Walker's personnel file or record with the company that merited termination before the Nov. 21 crash. Termination is typically handled on a case-by-case basis, he added.
"We would terminate after [a crash] if it was a severe enough accident and felt the individual wasn't capable of driving a bus," Duke told the Times Free Press last month in an exclusive interview. "And we [didn't] have that fact pattern."
Minor incidents happen when people drive big buses, Duke said. He said the complaints in Walker's file also aren't alarming; it's common for drivers to run a little late at the beginning of the school year while they're getting familiar with their routes.
Walker's file shows he didn't immediately report the first crash in August to Durham, as required by company police.
Walker went through about two hours of training after the crash. Handwritten notes from his driving evaluation state, "Drive good. Use his mirrors a lot."
Following the September crash, Walker got more training and another evaluation. A note from this evaluation states, "Drove calm. Makes good turns."
Students, parents and staff at Woodmore complained about Walker's reckless driving at least a month before the fatal crash. Hamilton County Schools Transportation Supervisor Ben Coulter was alerted about many of the complaints by the school's principal, school district records show.
Duke and Hamilton County both said Coulter forwarded two speeding complaints from the principal to the bus company, but there are no speeding complaints in the nearly 100 pages of Walker's records provided by Durham.
Duke said Hamilton County Schools did not provide all of the complaints it received about Walker to Durham, and that the company couldn't act on what it didn't know about.
After receiving one complaint about speeding, Durham officials checked the GPS on the bus and found Walker was not speeding, but still addressed the complaint with him, Duke said. There is no record of this conversation in Walker's file.
***
Photo Gallery
Tinsel and Tutus @ Reynolds Performance Hall — 12/12/13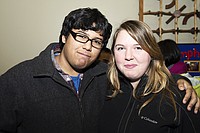 12/12 — The Conway Symphony Orchestra entertained with Christmas music, including highlights from The Nutcracker performed by the Arkansas Festival Ballet.
Walker's personnel file shows he passed background checks and fingerprinting, and obtained the proper license to drive a school bus.
Walker was qualified for the job, Duke previously told the Times Free Press.
"He was a young man that wanted to come to work and wanted to do something," Duke added.
Durham hired the Brainerd High School graduate in May at a starting wage of $13.30 an hour.
When the Durham application asked why he was interested in the job, Walker wrote: "need a job." Asked about himself, he said he was "serious when need be."
Walker listed "standing by morals, honesty and integrity" as values a bus driver should have. And asked how he felt about some people's view of bus driving being a meaningless job, Walker responded: "(It sucks people would feel that way) - It's Blasphemy."
Walker is facing charges of vehicular homicide, reckless driving and reckless endangerment in connection with the crash and remains in the Hamilton County Jail.
Durham is paying for Walker's attorney, and Duke said Walker will stay on the payroll pending the results of a federal investigation into the crash.
Six state civil lawsuits have been filed against Durham and Walker in Hamilton County courts, and a federal class action lawsuit was filed this week in U.S. District Court against Durham, Hamilton County Schools and Coulter.
The federal lawsuit alleges Durham, Hamilton County Schools and Coulter had prior knowledge that Walker was hurting children and putting them in danger, but failed to intervene. The lawsuit also claims the Tennessee Government Tort Liability Act, which can limit payouts, does not apply in this case, meaning the plaintiffs could receive more in damages.
Contact staff writer Kendi A. Rainwater at 423-757-6592 or krainwater@timesfreepress.com. Follow on Twitter @kendi_and.