Photo Gallery
Belew Christmas @ Wildwood Park for the Arts — 12/13/13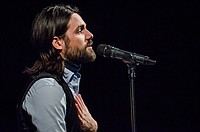 12/13 — Former The Voice contestant Cody Belew serenaded the audience with Christmas classics and tracks from his new album.
The Hamilton County school board likely will vote to extend its contract with Durham School Services for another year after discussion at Wednesday's board meeting revealed it would be nigh impossible to hire a new contractor for the coming school year.
Following the deadly November crash of a Durham-operated bus that killed six Woodmore Elementary students, some questioned whether the district would continue using Durham after its contract expires in 2017, but it may be too late to change course.
Lee McDade, assistant superintendent of student services, said choosing another bus service would require a months-long process and a request for proposals, all of which would be difficult to finish in time for the next school year.
Durham signed a four-year contract with Hamilton County Schools in 2013 and the company is willing to accept a much shorter one-year contract in the wake of the crash.
In the meantime, McDade said the company has made dramatic strides in student safety since the crash.
"They have done several safety initiatives since the tragedy," he told school board members. "They've performed additional behind-the-wheel evaluations for all drivers. Their speed reports are monitored daily."
Complicating the question of dropping Durham is the fact that only a handful of companies could handle the needs of a system as large as Hamilton County's, which has nearly 20,000 students riding buses.
Board member Rhonda Thurman, District 1, highlighted that fact, saying it may be time to review how the district handles student transportation overall by considering a greater reliance on independent contractors.
The Durham contract wasn't the only major item on the agenda for Wednesday's meeting - the school board also had a conference call with Coleman Lew and Associates, the search firm hired to find a new superintendent.
This conference call represented the first time the board has spoken with the firm as a group since the previous superintendent, Rick Smith, resigned nearly nine months ago.
Kenneth Carrick Jr., president and managing director of the firm, spoke at length with the board and asked three questions: what is working well in Hamilton County, what is not, and what challenges will be faced by applicants for the job.
The responses to those questions were hugely varied, but some of the elected members who took office most recently were the most vocal, offering unflinching critiques of the problems faced by the district.
"We have a number of lawsuits that we're in currently," said Tiffanie Robinson board member for District 4.
She went on to list issues with test scores and underperforming schools as well as the problem of public perception surrounding the district's budget.
"There are a lot of fiscal and political issues that the person in this position would have to deal with," she said.
Joe Wingate, District 7, said the massive "recruitment of industry" to the area offered plenty of opportunities for partnerships between the business sector and the school system, but he was similarly critical of the district's position moving into 2017.
"We have been, sadly, very reactive for a long time. We spend a majority of our time putting out fires rather than preventing those fires," he said. "Right now there is a perception, whether it's deserved or not, that our school system is not serving its students well."
In his mind, one of the district's priorities for the school system moving forward should be an emphasis on cultivating and recruiting leaders throughout the county.
"We struggle with that mightily at every level," he said.
Finally, the school board turned to the question of whether to extend a custodial contract with ABM, which some board members said has given poor service. They pointed to instances of unclean facilities and shortage of supplies such as toilet paper as consistent problems.
Not unlike the Durham contract, the ABM agreement is enormously complex and would require a months-long process to change gears, making it difficult to switch before the next school year.
Wingate asked whose responsibility it was to bring up the contract in time to consider any needed changes.
McDade answered, saying approximately $1 million was saved on both the ABM and Durham contracts in 2013, but they should have been revisited earlier this year.
"We're seeing the results of that saving a million dollars," he said. "The ABM one should have been brought up much earlier and I'll take the heat for that."
Contact staff writer Emmett Gienapp at egienapp@timesfreepress.com or 423-757-6731. Follow on Twitter @emmettgienapp.