Photo Gallery
lady mocs hoops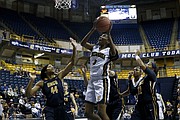 The University of Tennessee at Chattanooga women's basketball team started well and ended well.
And Saturday against UNC Greensboro, that was enough for a 72-61 Southern Conference win in front of 2,871 at McKenzie Arena.
UTC trailed the visiting Spartans 48-47 after three quarters, and the game was tied midway through the fourth, but the Mocs used a 10-0 run to outscore UNCG 16-5 over the final 4:50.
The Mocs (13-5, 4-0) claimed their 52nd consecutive conference victory. Their next three games are on the road, with trips to Mercer, Samford and East Tennessee State before hosting Furman on Feb. 4.
Queen Alford led the Mocs with 20 points, making 10 of her 11 free throws. Jasmine Joyner added 18 points, 14 rebounds, four assists, two steals and two blocks, while Aryanna Gilbert had her best game of the season, scoring 14 points, blocking four shots and handing out three assists.
Gilbert missed five games with an injury.
"It felt pretty good to be able to help the team again, and be out there playing with them again," Gilbert said. "Before the game, the coaches told me if a number of players were guarding me to go straight to the block, and I did that."
Sister Keiana Gilbert scored 12 points, while Alicia Payne had six assists.
The Mocs shot 50 percent from the field and had assists on 18 of their 26 made baskets. They out-rebounded UNCG 42-24, with Moses Johnson adding seven rebounds off the bench.
They shot 57 percent in the first quarter on their way to a 22-10 lead. The lead grew to 16 points after a Joyner layup with 6:58 to play in the second quarter, but the Spartans switched to more of a matchup zone on defense and briefly stymied the Mocs. On the offensive end, UNCG started to drive, with guard Lucy Mason being the facilitator.
The Spartans cut the lead to 31-23 by halftime and continued to surge after the break.
"We knew this team was going to play hard and aggressive," Joyner said. "They've got a good player (Mason), but they have a number of other players that come off the bench that are good."
The Mocs pulled away in the final period from the pesky Spartans (8-11, 0-4) by making six of their seven shots (all assisted) and 13 of their 16 free throws. By comparison, UNCG was 6-of-18 from the floor.
"This was a good game, but it's also a good game to learn from," Joyner said. "We have to tighten up our defense and box out. We were casual at times. We have to play hard for 40 minutes."
Mason scored 26 points, making 10 of 25 shots but missing all seven of her 3-point attempts. Shanese Harris added 12 points on 6-of-10 shooting.
Contact Gene Henley at ghenley@timesfreepress.com. Follow him at twitter.com/genehenleytfp.