Photo Gallery
lady mocs hoops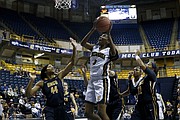 The University of Tennessee at Chattanooga women's basketball team started well and ended well.
And Saturday against UNC Greensboro, that was enough for a 72-61 Southern Conference win in front of 2,871 at McKenzie Arena.
UTC trailed the visiting Spartans 48-47 after three quarters, and the game was tied midway through the fourth, but the Mocs used a 10-0 run to outscore UNCG 16-5 over the final 4:50.
The Mocs (13-5, 4-0) claimed their 52nd consecutive conference victory. Their next three games are on the road, with trips to Mercer, Samford and East Tennessee State before hosting Furman on Feb. 4.
Queen Alford led the Mocs with 20 points, making 10 of her 11 free throws. Jasmine Joyner added 18 points, 14 rebounds, four assists, two steals and two blocks, while Aryanna Gilbert had her best game of the season, scoring 14 points, blocking four shots and handing out three assists.
Gilbert