Photo Gallery
Red Carpet for Research Gala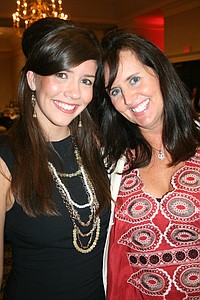 The Children's Tumor Foundation held a true "red carpet" event to support their research efforts. Held at Chenal Country Club, the evening included live music, an auction and a fashion show by local designer Jamileh Kamran and her students.
When Public Art Chattanooga decided to add a splash of color to the monolithic gray hulk of the AT&T building on M.L. King Boulevard, nationally renowned artist Meg Saligman was the obvious choice to head the project.
The 50-year-old, Philadelphia-based muralist specializes in gathering community input to guide the creation of grand-scale artworks that transform public spaces. Her work has won recognition from national institutions such as the National Endowment for the Arts, Public Art Review and the Mid-Atlantic Arts Foundation.
After six months of designing, six more of actively painting and with constant input from Chattanooga, Saligman and her team have transformed 42,000 square feet of vertical canvas into "M.L. King Mural: We Will Not Be Satisfied Until , " the largest mural in the Southeast and one of the five largest in the country.
Leading up to the mural's official dedication on Monday at the Bessie Smith Cultural Center, Saligman discussed her love of public arts, what working in Chattanooga taught her and why she's no longer bothered by heights.
Q: Why did you become involved in public art?
A: I love working with people. I love being outside. I'm not the type of person who works solitarily in the studio. That's originally why I went into it, and afterwards, I realized that through engaging the public and working within communities, there was potential for transformation and deep meaning.
Q: How has being involved in large scale public art projects changed how you perceive yourself?
A: I think it has made me more compassionate. I have more depth. I'm a better artist. I always learn something from the sites where I am. It could be a technique of creating the art. It could be a word of wisdom from a community member. It could be ways of working together.
Q: What did you learn from the time you spent working on the mural here?
A: It brought me to think very deeply about how we develop spaces urban spaces within cities. Are we reinventing or reclaiming neighborhoods, or is it a combination of both? People talked a lot to us about this. When M.L.K. Boulevard was the Big Nine, it was counted as a vibrant place, a place of business, a place of strong families and neighborhoods and fun and music. Then, as the center city was being redeveloped, it became a period of great decline.
Why did that decline happen? How do they redevelop the street now into the future? Is that history going to be wiped out? Is there a way that both a reclaiming and reinventing can exist in that block?
I had never thought before how important this is to our inner cities, to our identity, to generations of our country. It brought that issue very much to the forefront, in my mind. I'd like to speak about it again in my artwork.
Q: Your work has taken you all over the world, often for prolonged projects. Do you have to be a bit of a nomad to be a muralist on this scale?
A: Yes. You have to have a little bit of a nomadic soul. You definitely have to have a curiosity and a love for people and different cultures.
The hardest part is being separated from family. The second hardest part is that these are big projects with many supplies, people, machinery and equipment. Getting that all orchestrated as a roving team is difficult but very worth it.
We couldn't do what we do in one place. The artwork is what we find in far off places. Sometimes, the far off place is in our own city. Sometimes, the far off place is in our country. Sometimes, it's in another country.
Q: How much direction were you given when starting the MLK mural? How much creative freedom were you given?
A: [Public Art] very much let us find the content. We very much were brought themes of race, themes of the old and the new and how those are balanced within a city block. I think if we were in another part of Chattanooga, we would hear a very different story. That's what this block in this part of the city brought us.
I consider our team to be a vessel with a vision. We are a container that holds the community. Our work really does look like the community where it is. This isn't an abstract expressionist piece. You might be able to tell what city this came from if we didn't tell you it was from Chattanooga, Tenn. It should feel like it has the flavor of Chattanooga, if we did our job well. That flavor will be inherent in our process. The theme we honed in on was brought to us in the community meetings that we had on the block and throughout the city.
Q: This mural is the largest in the Southeast and one of the five largest in the U.S. Did that size change your approach?
A: One thing that was different in this mural that we've never used before was a paint sprayer. Twenty five years of doing this, and we'd never used one before. There was no other way to paint this wall. That's how we happened on it. We loved the paint sprayer.
We also had a lot of square feet to cover in a proportionately small amount of time and budget. That changed the way we approached the design and the painting. But it was very important to us to paint all four sides of that building so we could really transform it.
Q: So much of your work involves being suspended far above the ground. Were you a daredevil as a kid?
A: No, not at all. I was scared to death on my first mural and never even really liked heights. Actually, the first day I went up on pipe scaffolding, and I got stuck up there like a cat. I just froze until the end of the day, and they came and had to coax me down. But if I don't go up there, I don't get murals painted, so I got over it pretty quickly - within days, probably. Now, I love heights.
Q: Is it a point of pride for you to have created something on such a grand scale?
A: Oh, sure. We are proud of the scale. It's what we do. We're kind of specialists in large ones. Two of the other largest ones are mine as well. It's something we have a unique expertise and gift in.
Q: How does it feel to have the mural finished?
A: It feels great. But the beautiful thing about our job is how many people have jobs where you can step back and say, "This is what I did." It's such a huge, massive record of hard work.
To think of us fighting and power washing each inch with paint and sprayer - in the beginning, it was kind of unimaginable. Now, when we walk around the block and see it up there, it's a wonderful, fulfilling thing. And people have been so nice to us in giving us feedback, shouting "thank you" from the cars. The public response to us on site has been warm and wonderful.
Contact Casey Phillips at cphillips@timesfreepress.com or 423-757-6205. Follow him on Twitter at @PhillipsCTFP.