Photo Gallery
'Nightmare for our city'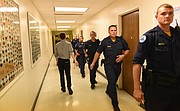 NASHVILLE - Nearly a year after the July 16, 2015, attack in Chattanooga, a Pentagon spokesman says the Department of Defense's arming policy has been revised and is in the "final stages of review" before publication.
U.S. Army Maj. Jamie Davis told the Times Free Press via email on Saturday the DoD "has revised its arming policy to further specify commanders' authority to include use of privately owned and government weapons both on and off installations.
He said the new policy should be published within a "couple of months."
Some changes already had been made after Mohammad Youssef Abdulazeez shot four Marine reservists and a Navy sailor and wounded a Marine recruiter.
FBI Director James Comey said in December that Abdulazeez "was inspired by a foreign terrorist organization's propaganda."
Ed Reinhold, special agent in charge of the Knoxville office, said last week that Abdulazeez had viewed online videos and teachings from a member of al-Qaida and had discussed " committing jihad." But Reinhold said "he had not taken any affirmative action toward it."
The issue of arming military personnel went national after the Chattanooga attack. Gun owners in Tennessee and other states took up positions outside recruiting centers until being asked by the U.S. military to leave.
Congress, meanwhile, demanded the Pentagon alter its longstanding policies on servicemen at U.S.-located facilities going armed.
U.S. Rep. Scott DesJarlais, R-Tenn., introduced a bill last year that passed as part of a military spending bill. Some lawmakers said progress was slow but Davis said the delay is nearly over.
"The policy will implement the intent of Congress and give commanders the authority to arm DoD personnel at off-installation facilities when deemed necessary," Davis said. This follows a policy adopted last July authorized commanders to arm personnel "to protect DoD personnel and property, including recruiting facilities and other off installation facilities."
Secretary of Defense Ash Carter has already initiated "three lines of effort in response to the attacks," including improving physical and procedural security, improving mass warning and alert notification capabilities, and "augmenting security."
The federal 2016 budget included $80.3 million to make facilities nationwide safer from attack. Another $100 million all told is slated for fiscal 2017 and 2018 to make physical security improvements on more than 6,000 facilities, DoD says.
DoD is introducing a mass warning and notification capability to broadcast threats quickly and broadly, notifying DoD personnel within a 20-mile radius of a threat within minutes.
Moreover, DoD is developing an agreement in which local 911 emergency service operators across the U.S. will notify U.S. Northern Command about any major incidents involving DoD members or assets.
Contact Andy Sher at asher@timesfreepress.com or 615-255-0550. Follow on twitter at AndySher1.