Photo Gallery
Bass Pro Shops brings new life for East Ridge exit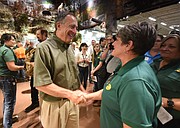 East Ridge doesn't have to dream with crossed fingers any longer about reaching the finish line of the Bass Pro Shops marathon.
It's done. The 84,700-square-foot Outpost store is open, and taking customers by the literal school bus load.
Just after 6 p.m. Wednesday, throngs of shoppers flooded the front doors as Bass Pro Shops officials urged patience.
Some shoppers had been there since noon, on a day when temperatures reached into the mid-90s, and the wet heat radiated off the open surface of the asphalt parking lot.
Shoppers came from Chattanooga, Rossville, Ringgold and, of course, right there in East Ridge.
Two years ago on June 9, Bass Pro Shops announced plans to build the store in East Ridge, a major investment in a city that had so often missed out on the big one - and a decision which passed on potential sites in Chattanooga, where developers and leaders had sought a Bass Pro Shops store for years.
Located off Camp Jordan Parkway at Exit 1 on Interstate 75, the new East Ridge store is just across a hill and the Tennessee-Georgia line from a roughly 1-year-old Cabela's store. And it's only a few Interstate exits south of Hamilton Place and Gunbarrel Road.
The proximity of such major competition reinforced, for some, fears that it was too good to be true.
Mayor Brent Lambert, a strong proponent of the project since day one, said he felt like a kid on Christmas all day Wednesday. He only worked part of the day - after not sleeping much the night before.
Supporters of the Bass Pro Shops project have at times over the last two years found their backs against the wall, as the city found itself committing more money than originally planned to the project.
To date, the city has committed roughly $11 million to the development, including money for Camp Jordan Parkway improvements, construction of a new fire hall, acquisition of land from TDOT and site work on what was once low- lying forest near cranky Chickamauga Creek.
The city at one time borrowed money from its reserves to help finance work at the site, and city leaders took heat for it. Bass Pro Shops was originally scheduled to open in June, putting it on track to rake in customers over the July 4 holiday.
The entire project depended heavily on local incentives for the city and developers through the now-sunset Border Region Retail Tourism Development District.
"There were times when, frankly, I found it hard to sleep at night," said Lambert on Wednesday.
But Lambert found it hard to quash a smile for long, standing in the completed lobby of the store, with Bass Pro Shops CEO John Morris giving a speech to associates nearby.
The grand opening of the store was a statement about the city itself, he said.
"I think this does show that the city of East Ridge can get serious about projects and make them happen," Lambert said. "It does move us to a different level. It is a new day in the city of East Ridge."
Lambert was among a handful who addressed a sweaty audience of impatient shoppers outside the store prior to the opening. He was joined by former University of Tennessee head football coach and one-time Heisman Trophy runner-up Johnny Majors, as well as host of "Jimmy Houston Outdoors," pro fisherman Jimmy Houston, among others.
Morris spoke outside and bragged on the addition of the East Ridge store to the Missouri-based outdoor brand's portfolio. This is No. 79 for the retailer.
And Morris knew why folks were standing in the heat to visit his newest store.
"Anybody here like to hunt and fish?" he asked.
He was met with cheers and applause. And a shout of "Open the door!" from someone, somewhere in the crowd.
The grand opening festival culminated with Morris cutting a ribbon with a hunting knife.
The Neanover family, up from Lafayette, Ga., patiently waited their turn in line outside as shoppers filtered in. They showed up around 5 p.m.
The family of three all came to shop, said husband and dad Rick Neanover, who personally came "looking for some Whopper Poppers," a style of top-water bass fishing lure.
Tina Green also waited with the crowd as it filtered through the front doors, dealing with the heat because "this kid thinks he has to go to Bass Pro to shop," she said, placing a hand on the head of Trey Green, her son.
Trey likes deep sea fishing.
Roy Chapman, meanwhile, after riding his carbon-body bicycle up from Rossville and hanging out at the store since 2 p.m., checked out around 6:45 p.m. with a grey Bass Pro Shops cap to show for his day.
"I've just been ecstatic," he said of the store's arrival.
Jarron Ritchie, manager of East Ridge Bass Pro Shops, has overseen the hiring of 150 associates and the last few months of work at the store. He arrived Wednesday at 4:30 a.m. to do media walk-through tours and stayed through the grand opening and evening of shopping.
As shoppers crashed like waves against a set of turnstiles at the entrance nearby, Jarron said Wednesday he felt "relief, and kind of surreal to be honest with you."
The night before, he didn't sleep.
"Not a wink," he said.
John Healy, one of the principals at Wolftever Development, the Chattanooga firm which built and owns the Bass Pro Shops site and building, also spoke of the relief of seeing the doors finally open Wednesday.
But for him and fellow Wolftever Development partners Matt and Ethan Wood (of MPL Construction Co.), this was only the first big domino to fall in the greater scheme of development at Exit 1.
Their greater Jordan Crossing development - designed to be merely anchored by Bass Pro Shops - is still looking to add its second tenant, though Zaxby's has already committed to moving in and Healy said Wednesday there are more deals in the works.
But it does help to have these Bass Pro doors open, Healy said.
"It just generates the traffic," he said. "We're just happy and thankful that this day is here."
Bass Pro Shops donated 50 cents of every dollar spent Wednesday night to local conservation efforts.
Today, doors open at 8 a.m., and the first 200 customers 18 and over will receive a Bass Pro Shops gift card worth somewhere between $5 and $100.
The rest of the weekend, doors will open at 9 a.m. (normal business hours) and Friday, the first 200 customers will receive a Columbia PFG cap.
Saturday, the first 200 customers will receive Cotton Cordell lures and Sunday, the first 200 will receive a Bass Pro Shops Tervis tumbler.
For more information about Bass Pro Shops, visit www.basspro.com.
Contact staff writer Alex Green at agreen@timesfreepress.com or 423-757-6480.