Wrylin Holmquist is only 5 months old, but she's already calm and easygoing, like her dad.
She looks just like a man she'll never know.
Her father, Marine Sgt. Carson Holmquist, was killed on July 16, 2015, when a gunman opened fire on the U.S. Naval and Marine Reserve Center in Chattanooga.
In the year since, Jasmine moved across the country with their 3-year-old son, took a new job, settled into a new house, went through a pregnancy, and gave birth to a daughter who will never feel her father's touch.
"So it's been, pretty much, hell," Jasmine said.
There are small moments of light, snippets of joy - when her son Wyatt says, "I love you," and she hears Carson in his voice. And when she cradles Wrylin.
But it's been hard.
***
Carson and Jasmine grew up 20 miles apart in Wisconsin and met in high school. They dated throughout his 21-month deployment to Japan, and five months after he got back in 2012, they married.
The wedding was just the two of them, in a courthouse in Jacksonville, N.C., where they settled. They adopted a yellow Lab right before they found out they were pregnant with Wyatt.
Carson was often deployed. Once, he arrived home after about 10 months in Afghanistan, and the first thing he wanted to do was put Wyatt to bed.
Then, wide awake from the time change, he worked on his pickup truck all night long, eager to install the new parts he'd had delivered to the house while he was gone.
A mechanic, he loved trucks, the noise and the power.
"He changed trucks more than he changed his underwear," Jasmine said. "I knew it was getting close to the end of a deployment because I'd get all these truck parts."
Carson always had liked to drive big trucks - usually a Dodge - but on his last truck, he bought a Chevy that was a better fit for the family.
"We were talking about other babies, and we were like, 'We need a family truck, and not buy it for the motor or the noise,'" Jasmine said.
She's the planner, and Carson was the laid-back one. They balanced well; he was her constant support. He never let anyone walk over her.
"He was always my backbone," she said.
Photo Gallery
College Theater Festival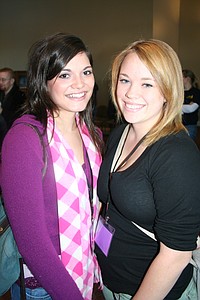 Held on the UCA Campus, this event invited acting groups from 8 area colleges and universities.
***
Carson was out of town for training when Jasmine first found out she was pregnant with Wrylin.
She told him as soon as he got back - it was the weekend before July 16.
"Oh, he was so excited," she said. "Super, super excited. He always wanted a girl."
She paused.
"Obviously, he didn't get to find out [the gender]."
They talked about baby names that weekend. Carson loved Riley. Jasmine favored Wren.
On the 16th, Jasmine saw news about the Chattanooga attack, but she didn't realize at the time it was at Carson's workplace. Later that evening, she found out he had been killed. She still has a hard time talking about that moment.
"Right after, I was in shock, like, 'Oh my gosh, how am I going to raise two kids by myself?'" she said.
Jasmine knew she didn't want to stay in Chattanooga, so she moved back to Wisconsin, closer to her mother. She found out the baby was a girl in October, on Carson's birthday, the day he should have turned 26.
She combined Riley with Wren and decided to name their daughter Wrylin.
Wrylin Carson Holmquist.
Jasmine was induced three-and-half weeks early and Wrylin was born in February.
"It was very, very emotional, the whole pregnancy," she said. "The delivery was even more so. Emotional. It was a roller coaster."
***
Carson used to wear cowboy boots and shorts, and now, that's all Wyatt wants to wear.
The toddler frequently asks for his dad.
"That's an every-day battle," Jasmine said. "He just wants Daddy back. So he's like, 'Mom, why don't you just bring him back?'"
He's also adjusting to being a big brother, and he's fiercely protective of Wrylin.
Jasmine's working as a nurse, and she's not sure exactly what the future holds, whether they'll stay in Wisconsin permanently or move somewhere else.
She's won't be in Chattanooga for the anniversary memorials. It'd be too much.
These days, she takes comfort whenever she sees a bald eagle - at the funeral, a bald eagle followed Jasmine from the funeral home to the cemetery miles away, staying with the procession the whole way.
But she finds the most peace through Wyatt and Wrylin.
"Whenever I hold [Wrylin], I don't know if it is Carson or what, but I feel like a huge weight is lifted off my chest," she said. "I feel so much peace. I feel so at ease. I just feel like it's him."
Contact staff writer Shelly Bradbury at 423-757-6525 or sbradbury@timesfreepress.com with tips or story ideas. Follow on Twitter @ShellyBradbury.