Deborah Boen was at lunch with friends in Arkansas when her daughter-in-law called to say there'd been a shooting in Chattanooga at the place where her son, David Wyatt, worked.
Boen rushed home and turned on the television.
For hours, she sat glued to the screen as images of police cars, FBI agents and the U.S. Naval and Marine Reserve Center flashed by.
When a news helicopter showed an image of two dead men on the pavement, Boen paused the TV and tried to zoom in, searching for any sign the man was her son - a face, a hand, something.
"It was just awful knowing that Marines had died and not knowing which ones," she said.
Hours ticked by.
Then President Barack Obama addressed the nation on TV. In his speech, he said the families of the men who died were being contacted.
Boen was relieved.
No one was at their house.
"We all thought everything was OK," she said. "We just assumed if he was saying that, it would have been right then."
Sitting on her couch, she had a clear view of the driveway. A half-hour after Obama's speech, a car pulled in.
"And we all just looked at each other in horror," she said.
Her husband walked outside. Boen peeked through the window, and she saw her husband's face. He was crying.
"And that's how I knew," Boen said.
It's been a year to the day since two Marines sat down in Boen's living room and read a prepared statement. They were kind, but couldn't answer any questions. They left after about an hour.
That night, Boen packed for a trip to Chattanooga. She picked out photos of David for the funeral home, tried to imagine all the things they might need during the next few days. Early the next morning, she and her husband drove nine hours to Chattanooga.
She answered so many phone calls during the drive: from an Arkansas congressman, from a senator, from others offering condolences. She frequently talked with her son's wife, Lorri Wyatt. Boen called hotels in Chattanooga to try to book a room, but every place she called was full.
She doesn't remember much from that awful trip.
She does remember every moment of Nov. 7, 1979 - the day her son was born.
"All the hopes and dreams you have on that day," she said. Sitting in her living room, she watched an American flag wave in her yard. A neighbor put it there after the attack, and he still comes by to tend it now and then.
David was an easy child to raise, Boen said. He was kindhearted, never rebellious.
Growing up, he loved being outside and was a Boy Scout for years, even becoming an Eagle Scout. As an adult, he was sensitive, professional, dedicated to his job and his country. And he loved to joke around.
Boen and her husband spent nearly two weeks in Chattanooga. When they finally returned home to Arkansas, they grieved quietly, privately, completely exhausted. Cards came pouring in from all over the nation. Obama sent a letter of condolence.
Photo Gallery
Officers recall deadly July 16 attack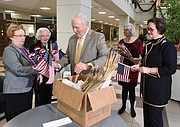 Boen saves each letter, photo and article so she can give them to David's two children.
"I'm keeping all the cards and newspaper articles," she said. "All the letters we received from the government officials. I'm keeping everything and making notebooks for them."
She made the trip back to Chattanooga for today's events, this bittersweet day of memorials. She's thankful the city still cares, that her son hasn't been forgotten. But the grief is heavy.
"There have been no good days," she said. "Absolutely none. And has it got easier? No, not at all. If anything, it's gotten worse. Because the longer the time goes by, the more we miss him."
One week after David died, the military returned his body to Tennessee after performing the autopsy. When the plane landed in Nashville, Boen and the family stood on the airport tarmac under a sky that threatened rain, waiting.
Just as they brought David's casket down from the plane, the skies opened up and poured rain. Boen let the drops soak her skin until someone from the funeral home sheltered her with an umbrella.
Boen's grandson spoke up.
"The angels are crying," he said.
Contact staff writer Shelly Bradbury at 423-757-6525 or sbradbury@timesfreepress.com with tips or story ideas. Follow @ShellyBradbury.