Photo Gallery
Match play heats up U.S. Junior Am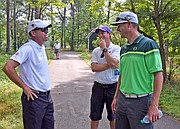 They were everywhere at The Honors Course earlier this week, 130 strong, more prevalent than trouble following a wayward tee shot for the 156 young golfers who qualified for this week's U.S. Junior Amateur Championship.
But do we speak of sinister sand traps? Worrisome water hazards? Those dastardly lovegrass monsters that gobble up ill-struck Titleists, Srixons and Callaway Warbird balls?
No, we're talking about all those college golf coaches roaming the course from dawn to dusk, careful not to speak per NCAA recruiting rules but determined to be seen by every gifted ball striker they might offer some sort of scholarship.
Or as Baylor University's Mike McGraw said Wednesday on his way out of town: "It's almost as much about being seen as seeing these great players. With so many other coaches here, you can't afford not to be here."
Especially when it's The Honors Course, a beauty and a beast capable of bringing out the best and worst in future collegians the world over.
"It's incredible," said Rutgers coach Rob Shutte, who stopped by four junior events last week and was headed to two more this week after leaving the Honors. "You've got all the best juniors - or at least most of them - all in one place. And in a setting like this, you can really put these kids under a microscope, see how they respond to pressure, because they're not going to face greater pressure than this."
Shutte meant both the course and the competition. A little like the line from the Frank Sinatra classic, "New York, New York," if a 16- or 17-year-old kid can make it at The Honors, he can make it anywhere.
"One of the three toughest courses I've ever played," said John Pak, a Florida State commitment who reached last year's Junior Am quarterfinals and won his round of 64 match Wednesday. "It definitely helps the coaches see what you can do."
McGraw, who has been either a head coach or an assistant for three NCAA title teams at Oklahoma State and Alabama, agrees.
"An easy course doesn't do much to separate the good or great player from the average one," he said. "If a kid can play well on this course, he can play well anywhere."
Added Shutte: "The way college golf is going, more and more great courses are popping up on schedules. An event like this really helps you see how they'll handle those challenges."
The United States Golf Association announced a major change Wednesday that may make it more challenging for college coaches to evaluate potential signees at future Junior Ams. The USGA raised the age for competing in its boys' and girls' Junior Ams from 17 to 18. It also lowered handicaps for female competitors from 18.4 to 9.4 and from 6.4 to 4.4 on the boys' side.
Count University of Tennessee at Chattanooga coach Mark Guhne among those who believe the age limit change could have a profound impact in recruiting, especially for those schools (such as UTC) who count on seeing so many potential players in one spot.
"It's going to knock out younger kids that we could get a look at on championship courses," he said. "They'll get bumped out by older, more experienced players. Don't get me wrong. I think it's a good rule change. I've always thought 18-year-old kids should get to compete for this championship. But it will make it harder to evaluate some younger players."
Yet Guhne also admits it's long been difficult for the Mocs to successfully recruit from this elite field.
"Tuition's really hard on us," he said. "Most of these kids are out of state, and for us a kid from Dalton counts the same out-of-state tuition as a kid from Scotland."
Of course, Guhne also said of UTC's foreign players: "The one difference between a kid from Dalton and Scotland is that the kid from Scotland may not see any difference in Chattanooga and a big-name school."
There were only three players from the state of Tennessee in the field when the tournament began Monday with stroke play, and Knoxville's Davis Shore, who has committed to Alabama, was the only one to make the round of 64. Seeded 34th, he won his first match, 1 up, against No. 31 seed Wells Padgett of Wichita, Kan., on Wednesday
"We've got to find kids who are under the radar, who are willing to work hard," Guhne said. "And we've done a pretty good job of that over the years."
The golfers in this year's field will tell you all the coaches do a good job of making sure the players know they're interested in them.
"Reaching the quarterfinals last year, I had 20 coaches following me," Pak said. "They couldn't talk to me, but you can call them. I started communicating with Florida State pretty quickly."
Andrew Kozan, who has committed to Auburn, recalls seeing 35 coaches sitting on a hillside watching him in the Future Masters.
"They can't talk to you," he said, "but they'll send you questionnaires."
Florida commitment Manuel Girona of Spain said the entire recruiting scene "is so fun I wish I could do it again. I won't. I'm happy with Florida. But I've had a great time."
The Honors Course figures to keep Guhne in the mix for a great recruiting haul somewhere down the road.
"I remember telling someone I was coming to The Honors this week," Girona said. "They looked at me and sighed, 'Aw, man.' It's such a dreamy course.'"
Said Guhne: "I take all our recruits here. This place is so great. And we get to play it some. All the courses we play in Chattanooga are great. We're so fortunate to have the amazing courses we do. But The Honors is special. It's one of those courses everyone in golf has heard about but not many people get to see or play."
Which might be another reason 130 college coaches made their way to Ooltewah this week to see how well 156 of the best junior golfers in the world could play The Honors under pressure. Or maybe they just wanted to see the course as much as they wanted to be seen by those players.
Contact Mark Wiedmer at mwiedmer@timesfreepress.com.