Photo Gallery
U.S. Junior Am down to final eight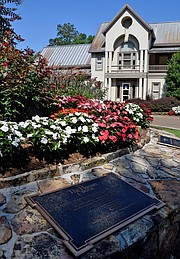 The field of 156 that teed off four days ago in the U.S. Junior Amateur golf tournament has been whittled to eight after the second day of match play Thursday at The Honors Course.
The marquee matchup among the round-of-16 matches was between two golfers who took aim at the course record Monday. Korean Won Jun Lee ended up edging Texan Cole Hammer 1 up to advance to today's quarterfinal round.
Quarterfinals are set to begin this morning at 7:45. Semifinals are scheduled for 1:15 p.m. The 36-hole championship match will take place Saturday.
Lee, who attends prep school in Tampa, Fla., was the first to send a buzz through the crowd during Monday's stroke play when he came to the ninth hole - his finishing hole that day - with a chance to tie the course record of 7-under-par 65. However, he left a relatively short putt 3 inches short.
The last putt he stroked Thursday - on No. 18 - also came up 3 inches short. But this time he was OK with it.
"I was just trying to get it close to the hole so I could two-putt and win the match," Lee said.
About 30 minutes after Lee finished his opening round, Hammer managed to tie the course record. But his name was erased from the record book about another 30 minutes later when fellow Houstonian Travis Vick finished off a 64.
After winning their round-of-64 matches in the morning, Lee and Hammer each won two holes on the front side and were all-square through 10 holes. Lee then took a two-hole lead with birdies on Nos. 11 and 12, and he explained later that his second shots were crucial in both instances.
Lee increased his lead on the next hole with a par. Hammer not only missed about an 8-foot birdie putt but also missed the comebacker. Before going to the next hole, he went back and stroked the 8-footer again, and it agonizingly went in.
"I just hit too hard," Hammer said. "I thought it was a little slower than it was."
The two swapped winning birdie putts the next two holes, putting Lee back to 3 up, but Hammer won the next two holes. He had a sand shot on No. 18 that had to run nearly the full length of the green, and he got it near the pin, but Lee's lag putt sealed it.
"He's a really great opponent," Lee said. "I knew this match was going to be close."
Said Hammer: "I'm so proud of myself for making it to 18 with a chance. I'm just disappointed that I didn't get it done."
The most interesting development in the morning round was future Southeastern Conference golfers Eugene Hong and Davis Shore of Knoxville battling for 23 holes before the Florida-bound Hong won.
Hong then beat Austin Coggin, from Vestavia Hills, Ala., 5 and 4 in the round of 16. The difference?
"I wasn't trailing by four after four holes," said Hong, who did face that dilemma against his good friend Shore but got things turned around by winning Nos. 5, 6 and 7.
Hong admitted to being tired after the extra-holes match. He got 45 minutes of rest before playing Coggin.
"I thought it was going to be 15 or 20 minutes," Hong said. "After playing that long, I kind of needed that much time."
Course-record-holder Vick, the stroke-play medalist and top-seeded player for match play, saw his hopes of winning the tournament come to an end with a 2-and-1 loss to Australian Fred Lee in the afternoon. Vick had won 6 and 5 over Teddy Zinsner, from Alexandria, Va., in the morning.
The other quarerfinalists are Wei Wei Gao (Philippines); Brandon Gillis (Nashua, N.H.); Noah Goodwin (Corinth, Texas); Min Woo Lee (Australia); and John Pak (Scotch Plains, N.J.).
Contact Kelley Smiddie at ksmiddie@timesfreepress.com or 423-757-6653. Follow him at Twitter.com@KelleySmiddie.