Photo Gallery
U.S. Junior Am down to final eight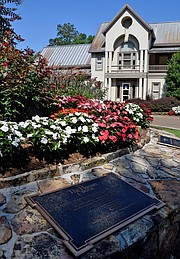 With 31 sweltering, wearying golf holes completed, a spot in today's U.S. Junior Amateur quarterfinals secured, Noah Goodwin headed for The Honors Course's driving range and practice green late Thursday afternoon.
"Noah, where are you going?" his father, Jeff, asked. It was less than an hour after the thermometer read 99 degrees at 5 p.m.
"I just need to work on a couple of shots," his 16-year-old son replied.
"But your legs," said Jeff, understandably concerned about his son's physical condition after nearly 10 hours of worrisome heat and the withering pressure of match-play golf.
"Just 20 or 30 minutes," Noah said. "Just a few shots."
That sort of work ethic is how they've all gotten to this point, these eight strong, talented souls who will return to the Honors early, early this morning to attempt to win quarterfinal matches that would place them in this afternoon's semifinals.
Win there, of course, and two of them will reach Saturday's final, where 36 holes are scheduled to claim this particular United States Golf Association championship, though more or less might be needed to claim one of those golf titles that lasts a lifetime.
"I don't know that it always changes your life," 1985 winner, Golf Channel analyst and Honors member Charlie Rymer said a couple of months ago. "But it changes how you view yourself as a golfer. You're a national champion. No one can ever take that away from you."
Goodwin's dream to win this tournament a year ago was taken from him when Georgia Tech signee Andy Ogletree collected five birdies in the first nine holes of their round-of-16 battle.
"That's the beauty and ugliness of match play," Jeff Goodwin said. "Sometimes the other guy just plays better. Sometimes it's a tough draw. Noah lost in the U.S. Amateur last year after 21 holes to Jake Knapp, who's now a pro."
Yet the Corinth, Texas, native Goodwin has overcome those disappointments so well that he currently stands No. 36 in the World Amateur Golf Ranking. He has the same swing coach (Cameron McCormick) as two-time Junior Am champion and 2015 Masters and U.S. Open champ Jordan Spieth. He totaled eight birdies in his opening round of stroke play. He threw at least half a dozen birdies at both his round-of-32 victim and his round-of-16 foe Thursday.
"If it wasn't a driver or wedge, I wasn't very good out there today," Noah said after Thursday's good work. "But I had seven or eight wedges into the green today, and I've been hitting my wedges great."
And once on those wicked Honors greens, Goodwin has become great at turning every tight match into a, um, good win.
"I love these greens," he said. "The faster they get, the more I like it."
Like so many of these final eight, including the non-brothers Lee (Fred and Min Woo from Australia, Won Jun from the Republic of Korea) and Eugene Hong - who outlasted Knoxville's Davis Shore in 23 holes Thursday morning and routed Austin Coggin 5 and 4 in the afternoon - what Goodwin might do best is grind, taking what he can without becoming too greedy for his own good.
"It's about patience," he said earlier in the week.
On Thursday Noah added, "It's a mental grind."
But it's more than the grind. Earlier this year, Jeff Goodwin, who's a professor of kinesiology at the University of North Texas, told Purpose2Play about his son becoming a first-degree black belt in taekwondo at the tender age of 7.
When he was told he couldn't earn a second-degree belt until he became 13, Noah turned to golf.
"He started taking taekwondo when he was 4," his father said in the article. "Noah has always been a goal-oriented kid."
The temperature's goal today is once more to flirt with 100 degrees. To better understand how debilitating that heat can be, Noah's 46-year-old father said, "I feel about 82 right now."
Yet Noah seems more than ready for another long, hot summer's day on the course, which should surely excite the golf coaches at Southern Methodist, where he is expected to enroll in 2018.
"I know I'm going to have a long day tomorrow," he said Thursday. "And hopefully a long day the day after that."
And should a short, late-afternoon practice session accomplish its intended goals, young Goodwin just might have at least a yearlong stay as Junior Am champ.
Contact Mark Wiedmer at mwiedmer@timesfreepress.com