Photo Gallery
Scrappy Moore male athlete finalists ultra-accomplished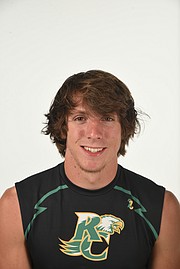 The finalists for this year's Scrappy Moore Male Athlete of the Year already own plenty of hardware for their high school athletic accomplishments, but each would like to add one more piece.
The finalists are Bradley Central's Cole Copeland, Trion's Gabe Howell, East Ridge's Traneil Moore, Baylor's Ryan Parker, Calhoun's Kaelan Riley and Rhea County's Chase Sholl.
The winner will be announced at the annual Times Free Press Best of Preps banquet Thursday evening. Doors open at 5:30, and the guest speaker is former Tennessee All American and current Kansas City Chiefs All-Pro defensive back Eric Berry.
Copeland was a Mr. Football semifinalist as a junior after throwing for 2,489 yards and 26 touchdowns and rushing for 864 yards and 14 TDs in 2015.