Photo Gallery
Crowd @ Grumpy's - 04.16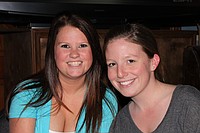 If you go
What: MAMAs (Mothers Against Malicious Acts) support group meetingWhere: Carver CenterWhen: 1-3 p.m. todayWhy: To provide a support network for single moms with sonsFor more information or to contact the group go to [email protected] or to Kanika Jahmila on Facebook.
A local women's group is launching a new program it hopes will help provide support to single mothers of sons, a move aimed at keeping boys off the streets and out of gangs.
"We talk about how it takes a village to raise a child, the community should be that village," said Kanika Wellington. "But I feel like right now our village is broken."
Wellington, head of T-Mobile's Women's Leadership Network, and other women in the group formed a network called MAMAs, Mothers Against Malicious Acts. They host their first meeting at 1 p.m. today at Carver Center. The Women's Leadership Network is part of an outreach group at T-Mobile focused on community service.
"It's going to take these type of organizations to connect the dots for single parents who don't know where to look," Wellington said.
In Hamilton County, 41 percent of births are to single moms. Many of them work to provide for their children but struggle to be present and have the energy to give children guidance at home, Wellington said.
The absence of fathers and father figures negatively impacts homes across the county, according to national statistics.
The U.S. Centers for Disease Control and Prevention reports that 85 percent of all children with behavioral disorders come from fatherless homes. Seventy percent of juveniles in state-operated institutions come from fatherless homes, according to the U.S. Department of Justice.
The Women's Leadership Network strives to pull resources together to stop the effects of fatherless families in Chattanooga.
Within the first six months of the year, Chattanooga has had 15 homicides and more than 60 shootings. Police have said several shootings were gang related. And some single mothers have said they suspect their sons join gangs looking for male role models.
"This city needs healing. Not just in Chattanooga, but nationwide, violence is impacting the lives of our loved ones," said Olivia Bradley, a member of the Women's Leadership Network.
This afternoon, the group plans to pack Carver Center with pastors including the Rev. Terrance Howard and pastor Ron King. The women called on representatives from Big Brothers Big Sisters, local performing artists, Eastdale Neighborhood Association President Demetrus Coonrod and other volunteers ready to support single mothers by providing them with encouragement and mentors for their sons.
The messages are geared toward gang prevention, decision-making skills, brand identity, self-improvement and compassion.
"I want a breakthrough to happen for someone [today]," Wellington said. "I want to connect a mother and young man to people who can help change their lives."
Wellington grew up in a single-parent home. She lost a brother, a friend and an uncle to gangs and drugs and wonders if their deaths could have been avoided if they had a better family structure or more community support.
She operates a Facebook page called Savory Soul Salon that provides words of encouragement for women. She also started a MAMA Facebook page that includes photos of sons who have been killed.
Rachel Lewis with the women's network said she grew up in Chattanooga and remembers a time when shootings didn't happen so frequently. She wants the city to return to an era of less violence.
"Too many young people are dying," she said.
Many women have heard the phrase that it takes a man to raise a son, but when the father is not around, many single mothers don't know were to turn, Wellington said.
"They think they have to do it alone," she said. "But they don't have to do it alone. That's what the community is for."
Contact staff writer Yolanda Putman at [email protected] or 423-757-6431.