Photo Gallery
Haunted House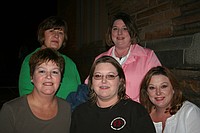 The annual EMOBA Haunted House is busy scaring people for 2 weeks out of the year...
The 24-year-old Muslim man who carried out the July 16 terrorist attack in Chattanooga was radicalized for at least a year before he opened fire on two military sites and killed five U.S. service members, an FBI agent told the Times Free Press today.
The FBI believes people who knew Mohammad Youssef Abdulazeez knew he was becoming radicalized before the attack, but failed to report Abdulazeez to authorities, Special Agent Ed Reinhold said.
Abdulazeez was radicalized online before he took a July 2014 trip to the Middle East to visit family and discussed committing jihad before he carried out the attack in Chattanooga, Reinhold said.
"He had discussed committing jihad; he had not taken any affirmative action toward it," Reinhold said.
Reinhold declined to say where those discussions took place, or with whom. He said the FBI was not aware of the discussions before the attack, and added that Abdulazeez did not espouse his beliefs or intentions online.
Abdulazeez definitely planned the attack and intended to kill as many people as he could, Reinhold said, but the planning was relatively short-term.
"I know he wanted to commit jihad and commit jihad here in the United States, but I don't think the specific target was necessarily picked out too far in advance. There was some planning involved, but not years-worth."
Reinhold declined to say whether the FBI intends to pursue charges against the people who failed to report Abdulazeez's radicalization.
He also would not say whether anyone is currently under surveillance in Chattanooga in connection to last year's attack, but emphasized there is no threat of an imminent follow-up attack and that the investigation is active and ongoing.
"We have to be much more cautious with the information we release, in the event that we're able to show others were involved, we don't want that information released because it could create problems when it comes to potential prosecutions," he said. "I'm not saying we're looking at any prosecutions, I'm just saying we have to be careful with any evidence we collect in the event that it does lead to somebody or something else."
Reinhold confirmed that Abdulazeez followed a radical member of al-Qaida online, Anwar al-Awlaki, and watched the man's videos.
"He followed him and listened to his teachings, and that is how we believe he was radicalized," Reinhold said.
Investigators recovered a significant amount of digital evidence.
Reinhold also confirmed that Abdulazeez bought his guns legally, several months before the attack. Abdulazeez used a semi-automatic shotgun, an SKS assault rifle and a handgun during the assault.
He bought the weapons both online and in person, Reinhold said. He also bought from both individuals and gun shops.
The Abdulazeez family declined to comment today.
Photo Gallery
July 16 shooting: Five months later