Photo Gallery
Marathon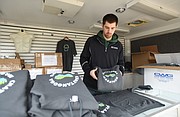 An up-and-down weather week is expected to give way to sunshine and mild temperatures for the inaugural Erlanger Chattanooga Marathon, which organizers say will be more than just a race.

"It's going to be a phenomenal production," Chattanooga Sports Committee President Tim Morgan said. "It isn't just for the athlete. It's also trying to attract people who love music, love technology and general entertainment."

Plenty of runners are taking notice, though.

Organizers ordered 3,500 medals for finishers across the full marathon, half marathon, marathon relay, 5K and kids run, and the total number of registrants was creeping toward that benchmark Thursday, Morgan said. The half marathon sold out early this week.

It's an encouraging sign for an event that local leaders hope will come to embody the city's growing reputation for success hosting large-scale events in its downtown core such as Ironman, Head of the Hooch and the USA Cycling national championships.

The difference in this weekend's event is it's coming together as a collaboration of local expertise.

"If we had the local resources and we had the effort to follow through with what we're trying to create, then guess what?" Morgan said. "Let's get the tools out of the shed here locally and produce an event we can make successful as a community."

The full marathon race course is designed to take runners through the city's neighborhoods. It avoids the Tennessee Riverwalk altogether, with the starting line on Broad Street near the Tennessee Aquarium and the finish line between Finley Stadium and the First Tennessee Pavilion.

In between, runners, 33 percent of whom are coming from out-of-town, will weave through St. Elmo, the North Shore and the neighborhoods along Bailey and Holtzclaw avenues.

A festive atmosphere will await them at the finish line.

"The First Tennessee Pavilion, that'll be the epicenter of activity," Morgan said. "This isn't the same old Ross's Landing setup. Everything is concentrated near Finley."

Nine bands, most of them local, will perform throughout the weekend, starting Saturday as racers in the half and full marathons pick up their race packets throughout the day.

Running clubs and vendors, from commercial options like Zaxby's, Coca-Cola and Michelob Ultra to local food trucks, will be stationed at the pavilion.

Free parking will be available around Finley Stadium, but those who can't make it to the race can receive alerts on the progress of individual competitors through the event's website, chattanooga marathon.com.

Mayor Andy Berke, in a recent interview, recalled a conversation with an Ironman executive in 2014 about the city's ability to host large-scale events. The official, Berke said, complimented Chattanooga's merits as a host city for large events and recommended that the city cater to first-class events.

"We've taken that to heart," Berke said. "This is a way for us to control our own brand and build that over the next several years."

"The goal isn't to stop at 3,500 [participants]," Morgan added. "The long-term vision is to get those numbers up to where, annually, it's between 10,000 and 12,000 people."

Contact staff writer David Cobb at dcobb@timesfree press.com or 423-757-6249.
SCHEDULE OF EVENTS
TODAY› 7-8:30 a.m.: Registration and packet pick-up for Classic 150 5K› 9-10 a.m.: Classic 150 5K from First Tennessee Pavilion, 1-hour time limit› 9 a.m.-7 p.m.: Expo/packet pickup/registration, if available at the First Tennessee Pavilion› 10 a.m.: Classic 150 5K awards› 11 a.m.: Kids Race (1-Mile Fun Run) from the First Tennessee Pavilion› 11 a.m.-5 p.m.: Live EntertainmentSUNDAY› 6- 7 a.m.: Emergency packet pickup, First Tennessee Pavilion› 6-7:30 a.m.: Bag drop at race finish› 6-7:30 a.m.: Bussing from finish line to race start› 6:30-8 a.m.: Morning clothes drop at race start› 8 a.m.: Marathon, Marathon Relay, Half Marathon Start at Broad and Aquarium› 9 a.m.-1 p.m.: Live entertainment› 9 a.m.-2 p.m.: Expo, First Tennessee Pavilion› 9 a.m.-3 p.m.: Post-race party/food/awards› 11 a.m.: Half marathon awards› 1 p.m.: Marathon awards
TRAFFIC IMPACT
TODAYClassic 150 5K RaceRace Time: 9-10 a.m.Start/Finish location: Finley Stadium— Main Street from Reggie White Boulevard to Market Street will be closed.— Main Street from Market Street to Madison Street will be closed to eastbound traffic.— West 13th Street between Cowart Street and Carter Street will be closed.— Carter Street from West 13th Street to Main Street will be closed to northbound traffic.Parking will be prohibited along the route from 1 a.m.-12 p.m.— Broad Street and Market Street traffic will be stopped for runners on Main StreetKid's Fun RunRace Time: 11 a.m.-12 p.m.Start/Finish location: Finley Stadium— Chestnut Street from 20th Street to West 13th Street will be closed.— West 13th Street from Chestnut Street to Carter Street will be closed.— Northbound Carter Street from West 13th Street to Main Street will be closed.Parking will be prohibited along the route from 1 a.m.-12 p.m.— Main Street traffic will be stopped for runners on Carter Street and Chestnut StreetSUNDAYThe Erlanger Chattanooga Marathon and Half Marathon, Presented by BlueCross BlueShield of TennesseeRace Start: 8 a.m.Start location: Broad Street at Aquarium WayFinish location: Finley StadiumSet Up: TODAY— Broad Street from Aquarium Way to West 13th Street will be closed from 12 p.m. today until 12 p.m. Sunday.Parking will be prohibited in this 200 block of Broad Street from 8 a.m. today until 12 p.m. Sunday.Race Day: SundayTraffic lane and road closures will begin at 3 a.m. and reopen after the last runner though (4 p.m. at the latest)— Aquarium Way from Chestnut Street to Market Street will be closed 3 a.m.-12 p.m. Sunday.— Riverfront Parkway from Lindsay Street to Molly Lane will be closed to westbound traffic.— West 13th Street from Carter Street to Broad Street will be closed to eastbound traffic.— Carter Street from Main Street to West 13th Street will be closed to northbound traffic.— The Battery Place exit ramp from Riverside Drive to Mabel Street will be closed.— The Barton Avenue ramp from Frazier Avenue will be closed.— St. Elmo Avenue between Tennessee Avenue and West 38th Street will closed.— The I-24 westbound exit ramp to Market Street will be closed.— The southbound Market Street on ramp to eastbound I-24 will be closed.For the race start, there will be a full closure of Broad St. from Aquarium Way to Martin Luther King Blvd. from 7:30-9 a.m. SundayRunners are to be expected on City streets from Riverfront Pkwy to N. Orchard Knob Ave. and from the Riverview neighborhood to St. Elmo. Drive with Caution. Traffic cones will close one travel lane on many of the roads along the route. Yield to runners when crossing a closed travel lane.Chattanooga Police will stop traffic at intersections for runners to pass.High Impact Intersections:Market Street at Main StreetMarket Street at W 20th StreetTennessee Avenue at W 40th StreetSt. Elmo Avenue at W 47th St. (4-way stop will be in place)St. Elmo Avenue at W 42nd (4-way stop will be in place)St. Elmo Avenue at Broad StreetRiverfront Parkway at Lindsay StreetBailey Avenue at N. Holtzclaw AvenueParking will be prohibited along much of the Marathon route Sunday from 1a.m.-3 p.m.All roads and lanes will be re-opened no later than 4:00 pm, with most opening before.Source: chattanoogamarathon.com
MUSIC LINEUP
TODAY› 11 a.m.: Danimal Pinson› 12 p.m.: Ryan Oyer Band› 1 p.m.: Courtney Reid› 2 p.m.: Davey Smith and the Pearl Snap Preachers› 3 p.m.: Dr. B & The Ease› 4 p.m.: The Power PlayersSUNDAY› 9 a.m.: Christie Burns & Co.› 10 a.m.: Lon Eldridge› Noon: Zach Ovington TrioSource: chattanoogamarathon.com