Photo Gallery
Rick Smith stays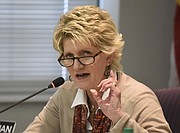 Hamilton County Schools Superintendent Rick Smith said Tuesday he previously chose to seek a buyout from his contract with the Hamilton County Board of Education when he felt he'd become a distraction in the day to day operations of the district.
"This became less about the Ooltewah scenario [in December when a high school basketball player allegedly was raped with a pool cue on an unapproved tournament trip to Gatlinburg] and more about Rick Smith," he said Tuesday afternoon.
Notwithstanding the board's 5-4 vote not to award him the $269,000 buyout on Monday afternoon, he's still that distraction.
Undoubtedly, Smith doesn't want to be that distraction, but now not only is the Ooltewah situation hanging over his head, but he must deal with board members who knew he preferred to be bought out, teacher morale that one board member said was the worst he'd seen in 43 years, and low test scores - and a new allegation by board Chairman Dr. Jonathan Welch of his misrepresenting those scores.
Yet, the superintendent on Tuesday said he saw no reason to leave before his contract expires in 2019.
Essentially, he will be a three-and-a-half-year lame duck.
School board attorney Scott Bennett said Monday Smith or the school board could reopen negotiations on his contract at any time, but the superintendent said he does not plan to renegotiate.
We would urge the superintendent to reconsider his decision of staying through 2019 and, at a maximum, to give the board notice of staying through the 2016-2017 school year, long enough for the body to find a new superintendent.
After all, Smith, according to Times Free Press archives, could leave today with accrued vacation time worth more than $234,000, sick time of about $6,800 and a pension of $95,000 a year. They are numbers most of the 99 percent would kill for.
His exit also would make it easier for the district to make a clean break with the present, turn the page and move forward to remedy some of the chronic problems identified by the Chattanooga 2.0 education study.
Smith said no one probably expected him to still be there. Indeed, area business leaders invested in the education initiative already were looking ahead, and interim superintendent candidates had been lined up.
"I don't blame them for moving past me," he said. "I encouraged them to move on."
Smith said his handling of the Ooltewah situation "was all we were talking about" and some of the talk "had turned negative. We had kind of kicked ourselves in neutral, and we couldn't move."
That's what prompted the buyout agreement, and, in turn, Monday's vote. Several school board members said they agonized over what to do about it, some even saying they prayed for guidance on the way to the special called meeting.
And it was apparent members did not know how the vote would go before the question of the buyout was called.
When it was called, a curious scene unfolded.
Members of the board who wanted Smith to stay on the job voted for him to go. Members who wanted him to go - or said their constituents wanted him to go - voted for him to stay. And, despite what members said their constituents wanted, only one member made a move to fire him.
Got it?
Member Donna Horn, who had said the school "system is broken," voted against the buyout (and thus to retain Smith). Member Karitsa Mosley, who said she wanted to support a buyout from a business sense, voted against it. Member Steve Highlander, who made the low morale comment, voted against it. Member Joe Galloway, who said Smith had "done a fantastic job," voted for the buyout. Member George Ricks, who defended Smith for having to work with a "skeleton staff," voted for the buyout.
School board member Rhonda Thurman, who voted against the buyout, said not knowing the outcome, not having the deal made "behind the scenes" without her inclusion, was "refreshing."
"It's not the taxpayers' fault," she said, referring to the possibility of them having to foot the bill for a potential buyout. If somebody is paid, she said, they should have to do the work for it.
Smith now says he'll do that work, but we hope he will reconsider because, with the distractions, his tenure is effectively over.
Despite the post-vote impassioned pleas by Galloway of "sticking with the guy" and by Ricks' to "hug and make up and move forward," it will be difficult, if not impossible, for Smith to remain viable when half of the board would as soon he not be there, when their constituents say they want him gone, with poor teacher morale and as the Ooltewah case moves through the courts.