Photo Gallery
Rick Smith stays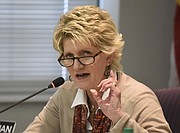 Hamilton County Schools Superintendent Rick Smith said Tuesday he previously chose to seek a buyout from his contract with the Hamilton County Board of Education when he felt he'd become a distraction in the day to day operations of the district.
"This became less about the Ooltewah scenario [in December when a high school basketball player allegedly was raped with a pool cue on an unapproved tournament trip to Gatlinburg] and more about Rick Smith," he said Tuesday afternoon.
Notwithstanding the board's 5-4 vote not to award him the $269,000 buyout on Monday afternoon, he's still that distraction.
Undoubtedly, Smith doesn't want to be that distraction, but now not only is the Ooltewah situation hanging over his head, but he must deal with board members who knew he preferred to be bought out, teacher morale that one board member said was the worst he'd seen in 43 years, and low test scores - and a new allegation by board Chairman Dr.