Photo Gallery
Public housing residents seek leadership training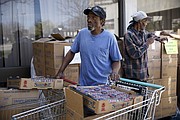 Get trained
Anyone interested in attending the trainin, may register online at www.getradartoday.com/RADAR-Regionals, or contact Racquel Williams at 919-802-7439, or email admin@getradartoday.com.
Chattanooga Housing Authority resident councils are scheduled to elect resident leaders soon.
Mary Walker Towers April 13Dogwood April 14Emma Wheeler Homes April 21
A former public housing resident and welfare mom turned author and motivational speaker is coming to Chattanooga to tell public housing residents they have more power than they think.
Racquel Williams, who holds a master's degree in public administration and is board chairwoman of the Housing Authority of the County of Wake in North Carolina, will lead a day-long resident training session on April 8 at the Sim Center, 701 East M.L. King Blvd.
D.A. Ward, a member of the Chattanooga Housing Authority's Resident Advisory Board, said the training comes just days before residents in Mary Walker Towers, Dogwood and Emma Wheeler Homes are scheduled to host their resident council elections.
The housing authority's three resident councils, but more than 2,300 residents living in nine public housing sites, according to public housing officials.
Ward says if the councils are suppose to represent the residents to CHA, having only three councils leaves residents underrepresented.
CHA Resident Services Director Carol Johnson said lack of commitment and participation by residents limits the number of councils.
But Ward believes more residents would participate if they knew the power they have through the U.S. Department of Housing and Urban Development. Residents are discouraged and complacent because they don't know what they don't know. That's why they should attend the training, he said.
Ward also started a nonprofit called Our C.A.R.E.S. Inc. to advocate for public housing and low-income residents.
He asked Williams to do leadership training in Chattanooga after seeing how public housing resident leaders operated in other cities and reading about Williams on the Internet.
Williams, who founded the RADAR (Realistic Approaches to Developing Active Residents) Regional Bootcamp, promises to explain the powers vested in resident councils by federal law and go over the officers' roles and responsibilities. She also will show residents how to manage budgets and explain allowable and unallowable activities allocated through TPA (tenant participation activities) funds.
"We're not trying to reinvent the wheel," said Williams. "We want to come in and supplement and add value to existing structures that are doing case management and helping with job skills."
Williams, a former public housing resident and single mom of four boys, said she saw herself abandoned and her life worthless. On a desperate night when she considered killing herself and her children, she asked God to show her how to break the cycle and get out of poverty. She vowed that if she did it, she would help others. She left public housing after five years in 2003.
Since then she's written three books, earned her master's degree in public administration and founded the One Million Moms Off Welfare by 2025 movement. She has helped to reorganize more than 60 resident councils across the country, she said.
Bennie Haynes and Robert Beach, the president and vice president of Boynton Resident Council, both plan to attend the training.
They both volunteer to distribute food from the Chattanooga Food Bank to residents in the high-rise buildings and say they want more training on how to be resident leaders.
They've been asking the Chattanooga Housing Authority if residents get two keys, instead of one, to elderly high-rise apartments so seniors and people with disabilities who accidentally lock themselves out of their rooms don't have to wait outside the rooms over night.
Haynes said he called 911 this month when a tenant accidentally locked himself out while cooking. When no one responded from the emergency lock-out number, tenants called 911 for someone to break in the door. The resident was concerned about starting a fire because he had left the stove on. If the tenant or a resident leader had a spare key, the man could have gotten back in his apartment without disturbance.
"We're here and we want training on how we can do more to help," said Beach.
Ward also says residents should be able to control funds from the vending and laundry machines in the elderly high rise buildings. He said residents once used the money to pay for their own projects and offer meals during resident meetings, but now they no longer have access to it. Yet Ward said resident councils across the country have access to such funds and use them to improve quality of life for tenants.
And Ward said residents should have a say in the future of the deteriorating East Lake and College Hill Courts sites.
Naveed Minhas, CHA vice president of development, has estimated that tenants in the 900 units of housing will have to relocate within five to seven years. The housing authority signed a contract with EJP Consulting LLC to discuss the future of the two sites, but local residents have not been included in the conversation.
Said Haynes, "We want to make CHA more accountable for helping residents get things done through the resident councils."
Contact staff writer Yolanda Putman at yputman@timesfreepress.com or 757-6431.