Photo Gallery
Erlanger-area development ignites Lincoln Park worries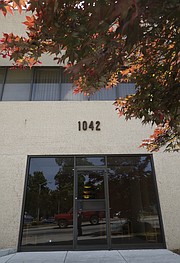 The Lincoln Park Neighborhood Association is worried about a proposed multistory development across the street from Erlanger Health Systems.
Developer Belle Investment Co., of Knoxville, wants to transform a collection of existing offices and vacant buildings at the corner of East Third Street and Central Avenue into a building with an estimated 220 residential units and ground-floor commercial space and parking. The company says the project is a $45 million-$50 million investment.
The Chattanooga City Council has deferred a pending rezoning request on the matter twice since April 19 to give community representatives a chance to speak with the developer.
Lincoln Park Neighborhood Association secretary Tiffany Rankins said in a phone interview that it "kind of blew me away" when she learned of a last-minute change to allow the developer to build up to eight stories - two more than previously discussed - on the property.
"We are worried this will overpower the community," Rankins said. "Erlanger is enough."
The flexibility to include more stories potentially allows the facility to offer overnight stays for Erlanger patients who might require medical monitoring, but without the expense of an extended hospital stay, said Travis Fuller, president of Belle Investment Co.
The City Council approved the change 9-0 during the rezoning request's first reading on May 10. No one voiced opposition during the public hearing.
Rankins also was critical of council Chairman Moses Freeman, who represents the Lincoln Park and Fortwood neighborhoods, which are adjacent to the proposed development.
"We are supposed to have gatekeepers, but he has no accountability to the neighborhood," Rankins said, citing a lack of communication from Freeman.
Freeman says otherwise.
"I insisted that Belle Investments and the Fortwood and Lincoln Park neighborhood associations begin a dialogue," Freeman said, citing email correspondence between the parties that took place in April. "That came about at my request."
When Rankins opposed the final reading of the rezoning request at a May 17 public hearing, the City Council agreed to postpone the matter until May 31.
During that May 17 meeting, Rankins said a number of concerns remained unresolved, including the potential gentrification of the neighborhood and higher rents, citing a Belle Investment Co. email that states it will build "market rate apartments that should service the surrounding area."
"To us that means not affordable," Rankins said.
The company's website says it only develops "high-quality, Class A apartments that command premium pricing."
Belle Investment President Travis Fuller told the council that neighboring Erlanger Health Systems and the University of Tennessee at Chattanooga approved of the project.
Contact staff writer Paul Leach at 423-757-6481 or [email protected] freepress.com. Follow on Twitter @pleach_tfp.