Photo Gallery
Privatization looms at Fall Creek Falls once again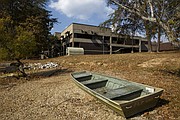 If you go
What: Public meeting about the future of Fall Creek Falls InnWhen: Saturday at 1 p.m. [CST]Where: Fair Association Building, 288 Spring Street, Spencer, Tenn.Who: Van Buren County mayor Greg Wilson. State officials have been invited.
Fall Creek Falls Inn occupancy rate
2015-16: 34.7 percent2014-15: 34.4 percent2013-14: 32.6 percent——2010: 44.5 percent
SPENCER, Tenn. - Waitresses glided through the dining room at the Falls Creek Falls restaurant during Wednesday's lunch hour, carrying pitchers of sweet tea and stopping at tables to ask patrons if they needed anything.
The Southern-style buffet and views of fall foliage across Falls Creek Lake seemed to satisfy the lunch crowd, but the servers extended the courtesy anyway.
But when Van Buren County Mayor Greg Wilson asked the same of the servers, their smiles turned solemn.
Fear is on the rise once again at Fall Creek Falls over the possibility of privatization and its potential ramifications for residents of the nearby rural communities who depend on state jobs at the inn and restaurant for their livelihoods.
"I'm close to retiring, and I need my job," said Kathy Deweese, a waitress. "That's not only me, that's several of us in here that are close to retirement."
An attempt to privatize state park hospitality services was halted last year because of the poor conditions of state park facilities. Now the state is planning to give it another shot at Fall Creek Falls.
Brock Hill, Tennessee Department of Environment and Conservation deputy commissioner, confirmed this week that the state is poised to spend roughly $20 million to tear down the 45-year-old inn and rebuild it to modern standards to be run by private management. The inn also houses the restaurant and a conference center.
Hill called Fall Creek Falls "a treasure" of the community. It's Tennessee's most popular state park, with more than 1 million annual visitors, and is an economic driver for Bledsoe and Van Buren counties - both considered economically distressed by the state.
That's why the state wants to invest in the park's future with a new facility, Hill said.
"The inn itself was built in 1971," he said. "There has been very little care or maintenance-type money spent on it through the years. It has become rundown as a result of that. What we want to do is bring the inn back to its former glory and provide it a better opportunity to be successful and for the community that it serves to be successful, as well as tourism in Tennessee as a whole."
Statistics show the inn's occupancy has dropped about 10 percent over the last six years, even as park attendance has climbed. Contracting with a private-sector partner bent on profitability would be a better use of taxpayer money, Hill said.
But for Deweese and many of her co-workers - there are about 60 full-time employees at the inn - the proposal raises questions.
Van Buren County is 94th out of the state's 95 counties in population, and the state park is a short commute for hospitality workers who might otherwise have to commute close to an hour to Crossville or Cookeville for jobs with fewer benefits.
Where would they work during construction of a new facility? Is there any guarantee that the private company leading the new inn would hire the former state employees back? If they did, would the pay, benefits and hours be comparable?
"I'm another one who needs a job," said Julie Neely, a server. "My husband is battling cancer right now and is unable to work. We need the insurance, and the job."
"I just took custody of my grandchild," added Tamara Waters, a server at the restaurant for nearly five years. "You know what's really sad about that if it does happen? I came here to have a state job. I left Cracker Barrel after 16 years and came here to have better benefits. That would be awful, to say the least."
It's these people that Wilson has become an advocate for. After opposing privatization last year, he said Wednesday that, "the sleeping bear has awoken again, and meaner this time."
"I see no financial advantage at all for Van Buren County or the surrounding counties," he said of the plan to demolish, rebuild and privatize the inn.
Wilson is organizing a 1 p.m. [2 p.m. EST] meeting Saturday at the Fair Association Building in Spencer, Tenn., to discuss the matter. He said he is putting Hill and Gov. Bill Haslam on the meeting agenda, "because they technically haven't told me they won't be there."
Hill said TDEC would try and have a representative attend the meeting. He said the department is addressing employees' concerns by working with the state's human resources department to find other opportunities.
Wilson, not convinced, called Hill "a cold-hearted man."
While Wilson agrees the 45-year-old building "needs a facelift," he thinks there are solutions that could protect state jobs and the hotel tax revenue for Van Buren County that would be lost during the estimated two-year construction process.
Build the new facility elsewhere in the park, keep the current inn open in the meantime and then transfer the employees to the new facility, he suggested.
Last year's effort by Haslam to privatize the hospitality operations at 11 state parks resulted in TDEC asking for $55 million to upgrade park facilities after Hill said vendors "were shocked, to some degree," at the condition of the facilities.
Legislators approved a budget in April that included $30.4 million for "state parks hospitality operations" at Fall Creek Falls and Montgomery Bell State Park.
The budget says the funds will support "the demolition of older facilities, the construction of a new inn, cabin and villa renovations, restaurant renovations, and golf course pro shop maintenance at Fall Creek Falls State Park."
However, Tennessee State Employees Association Executive Director Randy Stamps said legislators approved the budget without fully realizing the state's intention to attempt privatization.
The issue of privatization has been a divisive topic during Haslam's time in office. Under Haslam, the state has also sought to privatize facilities management in state buildings, with the administration estimating the state could save $36 million annually through outsourcing. Higher education leaders have disputed that estimate.
"We always believe that state employees are the best able to provide state services, and a state park is a state service," said Stamps, a former state representative and the former political director of the Tennessee Republican Party. "It's intended to be a resource for the state. It's not intended to be a profit center, necessarily. It's supposed to be a resource where people can go and enjoy the outdoors. That's the purpose of a state park."
Stamps said it's "time to take a pause" and make sure privatization efforts are actually saving the state money.
He said the state employees association plans to ask for a legislative hearing about the state park hospitality services proposal before the plan proceeds.
"Fall Creek Falls is our diamond of the park system, and they're wanting to give it away," he said. "We feel like that is a policy decision, not something that one commissioner gets to decide to do."
Figures provided by TDEC earlier in the year show that Fall Creek Falls operated at a deficit of between $2.2 million and $2.6 million each year between 2013 and 2015. The shortfalls largely came in the park's general operations, however. The figures show that the park's hospitality operations, which include the inn, restaurant, cabins and golf course, made money in 2013 and 2015, though not as much as state officials would like.
An individual breakdown of the recent fiscal performance of the restaurant, inn, golf course and cabins was not immediately available Thursday.
State figures show the occupancy rate at the inn was 44.5 percent in 2010 before falling to 32.6 percent in the 2013-14 fiscal year. It rose to 34.7 percent during the 2015-16 fiscal year.
Annual attendance at the park was under 1 million in 2008-09 and increased to 1.4 million in 2015-16.
State Sen. Janice Bowling, R-Tullahoma, contested Hill's assertion that demolition, reconstruction and privatization is the only route.
"If this is going in there to help get us to a point that the inn will last for years and years down the road, great," said Bowling, who represents Van Buren County. "Do we need to tear down this building to accomplish that goal? I haven't seen any study that says so."
Bowling said there is also a philosophical question about the function of state parks.
"I've always thought they are there for us to maintain touch with nature, the historical part of the state and to see the beauty, the falls and the woods and be in that God-created, beautiful location. It should be available to all Tennesseans.
"If we're going to create a situation where there has to be a profit for this privatized business, what are the rates going to be? Are middle-class Tennesseans going to be able to go there?"
Hill said the state looked at renovating the inn but determined it would cost nearly as much to renovate as it would to rebuild.
"What we would rebuild would be much more in keeping with the changes that have occurred in the last 45 years in the hospitality industry," Hill said. "We see this as a fantastic upgrade, and I'm a little surprised that the county mayor over there would be concerned about this, because most communities in Tennessee would be tickled to death to have us coming in, renovating their park and spending about $20 million on their facility."
This would just be the state's latest investment in a series of moves to improve Fall Creek Falls, he said.
State Rep. Cameron Sexton, R-Crossville, who represents Van Buren County, sided with Hill, saying Cumberland Mountain State Park in Crossville would love to have that funding to build a new facility.
"You have to look at the long-term perspective, which is that Van Buren County needs a vibrant Fall Creek Falls, so we have to maintain that park and make sure that it's to a level that is producing economic development for that area.
"If you're talking about the inn, it needs to be redone. Absolutely. All you have to do is look at the declining occupancy rate over the last few years, and at some point you're going to get to the point where your revenue doesn't cover what's needed to maintain it."
Sexton suggested that detractors of the proposal may be premature in their mourning over the potential job loss, considering the state has yet to submit a request for proposals.
A timeline for the submission of an RFP has not been decided, said Hill, who also mentioned that the construction process could add dozens of temporary jobs.
Wilson disputed also that claim, saying a construction contractor would bring its own employees.
"It's easy to support something in Nashville when you're sitting in a 10th-floor office and not thinking about what's happening here," Wilson said.
"And, I think the people in my county would look differently at me if I didn't stand up for the people in my county that will lose their jobs."
Contact staff writer David Cobb at dcobb@timesfreepress.com or 423-757-6249.