Photo Gallery
Garden Gourmet Chef Series @ River Market — 09/14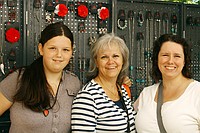 09/14 — The Chef Series presented a tasting event in which all chefs used ingredients from the Little Rock Farmers Market. Chefs represented different central Arkansas restaurants.
LIVE

NASHVILLE - Incumbent state Sen. Todd Gardenhire, R-Chattanooga, won re-election late Tuesday in his contest with Democrat Khristy Wilkinson in Tennessee's Senate 10 race.
Unofficial voting results showed Gardenhire winning with 39,277 votes to Wilkinson's 31,019 votes.
"Most of the precincts are in and I've got such a large margin in Bradley County it'd be hard to overcome anything," Gardenhire said earlier in the evening of results for the district that encompasses portions of Hamilton and Bradley counties.
Returns showed Gardenhire narrowly lost Hamilton County but built up a substantial lead from heavily Republican Bradley County.
"I think the voters in both counties realize I was sincere in my efforts to improve things and sincere in my efforts to do the right thing," Gardenhire said. "Even though with Todd Gardenhire what you see is what you get. I feel pretty good. I was the No. 1 target from the Tennessee Democrat Party."
Democrats had seen Gardenhire as vulnerable after he twice voted against Republican Gov. Bill Haslam's failed Insure Tennessee Medicaid expansion for the working poor.
But that and other votes evidently were to the liking of Republicans who turned out in large numbers to support Republican Donald Trump, who easily won Tennessee in the presidential contest with Democrat Hillary Clinton.
Wilkinson, a former University of Tennessee at Chattanooga adjunct professor, had not been the Democratic nominee that party insiders had counted on. But the self-professed "Berniecrat" unexpectedly beat Nick Wilkinson, a economic development deputy for Chattanooga Mayor Andy Berke, in the three-person Aug. 4 Democratic primary.
Contact Andy Sher at asher@timesfreepress.com or 615-255-0550. Follow on Twitter @AndySher1.