Photo Gallery
Arkansas Symphony Orchestra @ Robinson Center Music Hall — 09/22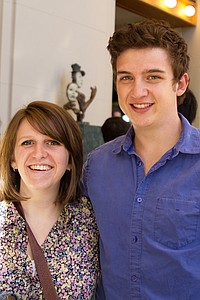 09/22 — The Arkansas Symphony Orchestra kicked off its 2013-14 season with Tchaikovsky & Rite of Spring, with Philip Mann conducting and Martina Filjak on piano.
Continuing coverage
* Wildfires continue across region with no rain imminent; some residents evacuated * Southern fires rage with 41.6 million now living in drought
Here's the latest update on the wildfires causing evacuations in Tennessee.
UPDATE:
A Chattanooga man has been arrested after he admitted to setting three separate fires in the Smith Mountain and Blue Sewanee Mountain areas causing a brush fire that consumed over 300 acres.
Andrew Scott Lewis has been charged with three counts of setting fire to personal property and one count of vandalism over $250,000 following the investigation which began on Nov. 6 accorsing to a release from the Sequatchie County Sherriff's Office.
On Friday the fire had already been burning for six days, threatening several homes and casting a heavy haze of smoke over the area.
Detectives received a tip about a potential suspect who had started the fires and Sgt. Randy Phillips of the Dunlap Police Department later spotted Lewis' vehicle.
Lewis was brought in for questioning and the a detective with the Sheriff's office said Lewis admitted to starting the fires during that interview.
PREVIOUS STORY
Details of an arson arrest will be revealed at this afternoon's wildfire briefing in Soddy-Daisy, officials say.
An email from the Tennessee Forestry Division of the Department of Agriculture gave no details on the arrest, but said more information will be provided at the 3 p.m. briefing.
The release said Tennessee Forestry officials will gather with leadership from the Florida Forest Service and Hamilton County Mayor Jim Coppinger across the street from Ivy Academy on Dayton Pike for updates on multiple fires burning in the Southeast.
Officials have said they believe several fires were set but this is the first arrest announced.
Photo Gallery
Wildfires continue with no rain imminent