Photo Gallery
Diminutive McKenzie comes up big again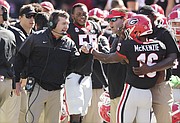 ATHENS, Ga. - Two touches. Two touchdowns.
Isaiah McKenzie scored on a 55-yard run and an 82-yard punt return the first two times he touched the ball during Saturday's 35-21 win over Louisiana-Lafayette, proving once again this 5-foot-8, 175-pounder has a place among the big boys of college football.
"They never measure the heart by height," Bulldogs first-year coach Kirby Smart said. "They don't do it by weight, either. Now, over time, I think he can wear down and get injured if you use him too much, but he's got courage. He's tough, and he's not afraid to stick it up in there.
"We