Photo Gallery
Diminutive McKenzie comes up big again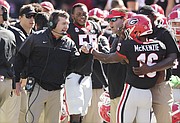 ATHENS, Ga. - Two touches. Two touchdowns.
Isaiah McKenzie scored on a 55-yard run and an 82-yard punt return the first two times he touched the ball during Saturday's 35-21 win over Louisiana-Lafayette, proving once again this 5-foot-8, 175-pounder has a place among the big boys of college football.
"They never measure the heart by height," Bulldogs first-year coach Kirby Smart said. "They don't do it by weight, either. Now, over time, I think he can wear down and get injured if you use him too much, but he's got courage. He's tough, and he's not afraid to stick it up in there.
"We trust Isaiah a lot."
After Reggie Davis returned the opening kickoff from his end zone out to Georgia's 45-yard line, quarterback Jacob Eason tossed it to McKenzie on an end-around. McKenzie quickly broke into the open field and was off to the races. The 55-yard score matched Nick Chubb's touchdown in the opener against North Carolina as the longest run by the Bulldogs this season, and it was the first time Georgia had scored on its first play from scrimmage since the 2014 blowout of Charleston Southern.
McKenzie's previous long run of 49 yards took place against Troy two seasons ago.
"I was told that was going to be the first play of the game, so I knew I had to make something happen," McKenzie said. "When I got the pitch, I saw where (tight end) Jeb (Blazevich) had made a good block to the outside. It was up to me to hit the hole and run fast."
Said Smart: "I certainly have my nerves about tossing it to him the first play of the game, but obviously it was a great call. We didn't know what they would be in. We quick-snapped it, and they had more up there than we could block, but they just missed it."
Louisiana-Lafayette's first possession ended in a Deandre Baker interception of Anthony Jennings, and ULL's second possession ended in a 43-yard Steven Coutts punt to the Georgia 18. McKenzie eluded a couple of arm tackles before heading right and finding open field, as well as a lot of teammates waiting for a convoy.
"On that return, we called 'wall right,' and I had to make a few guys miss," he said. "They did a great job of holding blocks so I could get to the end zone."
It was the fifth punt-return touchdown of McKenzie's Bulldogs career, setting a Georgia record, and the sixth special-teams score, which also is a new school standard. The only players in Southeastern Conference history with more than five punt returns for touchdowns are Alabama's Javier Arenas (seven, 2006-09) and Kentucky's Derek Abney (six, 2000-03).
In the third quarter, McKenzie hauled in a 26-yard reception from Eason at the ULL 3-yard line, setting up Chubb's 1-yard touchdown run moments later that made it 28-7. McKenzie's five total touches Saturday yielded 164 yards.
"I wanted three scores but couldn't get it," he said, smiling. "When I fell, I thought I was going to be in the end zone, but somebody else had to score."
Contact David Paschall at dpaschall@timesfreepress.com or 423-757-6524.