Photo Gallery
Fatal school bus crash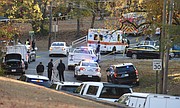 Event details
The Hamilton County PTA Council is sponsoring an event Nov. 30 from 4 to 5pm at the Hamilton County Department of Education central office off of Bonny Oaks Drive. The community is welcome to come drop-off donations for the families at Woodmore Elementary impacted by the crash.
The day following a tragic bus crash that claimed the lives of at least five Woodmore Elementary School students, the community is rallying to support the students and their families.
Hamilton County Schools remain open today, and a swell of counselors are at Woodmore Elementary, and the two schools it feeds into, Dalewood Middle School and Brainerd High School.
"Those that want to come to school we are here to reach out and help," Hamilton County Schools Interim Superintendent Kirk Kelly said.
It's important that students and their families have access to their schools today and tomorrow, said school board member Tiffanie Robinson.
"For a number of our kids in this community their school is their family," Robinson said.
Hamilton County Schools are also remaining open tomorrow, and will continue to provide counseling services. Hot meals are also being delivered to Woodmore, Dalewood and Brainerd.
"I cannot think of a better place for our students to be than at school and surrounded by people that love them" Robinson said. "And the schools are open to not just kids, but also for their families and anyone in the community that needs a place to grieve."
For those wanting to contribute to the family, a fund has been set up at the Community Foundation of Greater Chattanooga and can we found at https://cfgc.caritas247.com/Donate.aspx?dcid=WMF.
To donate to the Woodmore Fund, visit www.hcde.org/woodmore.
Checks paybale to "The Woodmore Fund" can be dropped off or mailed to the Community Foundation of Greater Chattanooga at 1270 Market Street, Chattanooga, TN 37402 or the United Way of Greater Chattanooga at 630 Market Street, Chattanooga, TN 37402.
You can also text "Woodmore" to 91999 or call 2-1-1 (423-265-8000).
A prayer vigil is also being held tonight at 5:30 p.m. and Woodmore Elementary.