Photo Gallery
Editorial Cartoons December 2013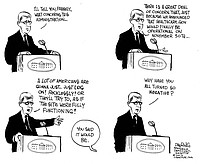 Here's the latest version of this story with new information: UPDATE: School bus driver charged in crash that killed Woodmore Elementary students
UPDATE: Bus driver Johnthony Walker, 24, has been arrested and charged with five counts of vehicular homicide, reckless endangerment and reckless driving, according to Chattanooga Police Chief Fred Fletcher during a news conference this evening at 11:30 p.m. Standing near the site of the Woodmore Elementary bus crash on Talley Road, Fletcher said five children died on the scene.
Fletcher said he could not say if any fatalities occurred at Erlanger hospital, and added that the driver may face additional charges in coming days.
No other vehicles were involved in the crash and the Chattanooga Fire Department was involved in extricating victims who were trapped on the bus.
The Hamilton County Department of Education confirmed there were 37 Woodmore Elementary students on board the bus. Their grades range from kindergarten to fifth.
Of the students involved in the crash there were five confirmed fatalities, six critically injured, six admitted to hospitals but not critically injured and 20 treated and released by local hospitals.
The Hamilton County District Attorney's office reported one additional fatality at a local hospital.
Families of the students who died on the scene have been notified, Fletcher said, but not all families of the children on the bus have been reunited with their families at this point. Emergency officials are working to reunite all families, Fletcher said.
Interim Hamilton County Schools Superintendent Kirk Kelly is at the hospital with grieving families.
Traffic investigators are still processing the scene and the National Transportation Safety Board has launched an investigation into the crash.
If anyone gave a student a ride to a hospital from the bus please contact the Chattanooga Police Department, Fletcher asked.
---
Previous story:
Six children have been confirmed killed in the Woodmore Elementary School bus crash, and several students remain in critical condition, according to the Hamilton County District Attorney's office.
The bus crashed into a tree off of Talley Road about 3:20 p.m. this afternoon. Five children were killed in the crash and one died at the hospital, officials report.
Chattanooga Police Chief Fred Fletcher called the site of the crash a crime scene during a press conference tonight, and said authorities are currently investigating what caused the crash.
"One contributing factor may be speed," he said.
The bus was carrying 35 students and 23 were taken to a local hospital, according to authorities.
It took emergency crews more than two hours to get all of the students off the bus, which was toppled on its side.
Two bloodied students laid on stretchers in a front yard nearly an hour after the crash receiving attention from first responders.
Others who weren't rushed to the hospital walked away clutching their parents' hands, looking dazed with cuts on their faces.
Chattanooga Police Chief Fred Fletcher called the crash "every public safety professional's worst nightmare."
"Our hearts go out, as well as the heart's of all the people around me, to the family, the neighborhood, the school and all the people involved in this," Fletcher said, with city and county officials at his side. "We assure you we're doing everything we can to help everybody be as safe as they can, get the care they need and get the support they need."
Schools will be open tomorrow and extra personnel will be on staff to help children deal with this tragic situation, said Hamilton County school officials.
Children's Hospital at Erlanger is treating patients and working with the families. Parents of Woodmore students were running up the street toward the hospital.
An announcement was made over the hospital public address system that the hospital was in a code triage.
Gov. Bill Haslam commented on today's crash:
"We've had a tragic event involving a school bus down in Hamilton County. We're going to do everything we can to assist in any way. It's a sad situation anytime there's a school bus with children involved, which there is in this case. We will do everything we can to assist in what I think is going to be a very sad situation."
Following the crash the portion of Talley Road immediately north of its intersection with Brainerd Road was closed to traffic.
Devastating news coming out of Chattanooga. Thoughts and prayers with students and families of Woodmore Elementary School.

— Butch Jones (@UTCoachJones) November 22, 2016
My heart goes out to the families of the children that were killed & injured in the school bus crash in Chattanooga this evening. TT

— Colonel THP (@THP_Colonel) November 21, 2016
NTSB launching Go Team to investigate school bus crash in Chattanooga, TN. Team to deploy a.m. of Tuesday, 22 Nov.

— NTSB_Newsroom (@NTSB_Newsroom) November 22, 2016
Please pray for the families of those affected by this horrible accident

— Andy Berke (@AndyBerke) November 21, 2016