Photo Gallery
Tinsel and Tutus @ Reynolds Performance Hall — 12/12/13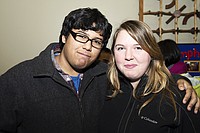 12/12 — The Conway Symphony Orchestra entertained with Christmas music, including highlights from The Nutcracker performed by the Arkansas Festival Ballet.
In the wake of Monday's tragic bus crash, lines to donate blood were long at Chattanooga's Blood Assurance locations, and lines were growing at other locations across the region.
The biggest demand is for type O-negative blood, Blood Assurance spokeswoman Mindy Quinn said Tuesday morning.
"We are fast-passing O-negative donors as we want to get them through first, as well as people who have scheduled appointments and people coming in to give platelets," Quinn said.
"We are working with donors as they walk through the door to determine what their blood type is," Quinn said. "If they're not O-negative we are asking them to schedule an appointment to come back another day."
Blood Assurance has openings for appointments "today, Friday, Saturday and all of next week," she said. "The need for blood is not going to end."
Blood Assurance has an online donor portal at blood assurance.org for scheduling appointments, or prospective donors can call 800-962-0628.
"Call ahead, schedule ahead," Quinn said.
"Everyone wants to come out and help and we are very, very appreciative and we will need all blood types, but right now we are trying to fast-track O-negative," she reminded donors.
Even under normal conditions, Blood Assurance needs 540 blood donors every day to meet regular demand in the 51 counties it serves in Tennessee, Georgia, Alabama, North Carolina and Virginia. According to officials, there are 16 locations and 13 bloodmobiles assigned to the region for collecting blood.
To donate blood, donors must be at least 18 years old and weigh at least 110 pounds, according to Blood Assurance guidelines.
Donors must answer a few health questions, test at a specific level of iron in their blood and their blood pressure, heart rate and temperature must meet certain criteria.