Photo Gallery
Tinsel and Tutus @ Reynolds Performance Hall — 12/12/13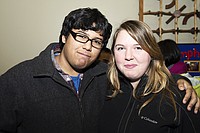 12/12 — The Conway Symphony Orchestra entertained with Christmas music, including highlights from The Nutcracker performed by the Arkansas Festival Ballet.
Celebrities, politicians and others share their thoughts on Monday's tragedy:
* Donald J. Trump: (via Twitter) "Bus crash in Tennessee so sad & so terrible. Condolences to all family members and loved ones. These beautiful children will be remembered!"
* Gov. Bill Haslam: "Thoughts, prayers to victims of tragic school bus crash in Chattanooga & their families. A very sad situation. Will do all we can to assist."
* Chattanooga Mayor Andy Berke: "There are no words to comfort the broken heart of a mother or father. As I pray for families affected by tragedy, I ask you to do the same."
* Hamilton County Mayor Jim Coppinger: "This is a heartbreaking day for Hamilton County. Our thoughts and prayers are with the children who were on the Woodmore Elementary School this afternoon, their families are also in our prayers tonight. The students of Woodmore Elementary are also in our thoughts and prayers this evening. I'd like to ask all Hamilton County residents to say a prayer tonight for all involved in today's tragedy."
* Hamilton County Sheriff Jim Hammond: "We are deeply saddened for the family and loved ones who lost these precious little ones today. As the agency responsible for the School Resource Officer program in Hamilton County, my staff and I are deeply saddened by the loss of these young children. There are several families in our County that will not have their loved ones come home tonight and we as a community will feel the sadness and hurt from this event for a very long time to come. I am very proud of the Chattanooga Firefighters, Police officers, and Hamilton County EMS personnel who helped to rescue the injured. I am also very proud of the members of the HCSO who worked along side our city first responders."
* Rep. Chuck Fleischmann: "My thoughts are with the young victims of the #WoodmoreElementary school bus crash in @ChattanoogaUSA. I am absolutely heartbroken over this tragedy and I will pray for the children and their families."
* Rep. JoAnne Favors: "We ask for prayers for the victims, their loved ones, and all the residents of our tight-knit community. I know that we will respond as we always do when terrible things happen in Chattanooga: with love, compassion and caring."
* Sen. Bob Corker: "Heartbreaking school bus crash in Chattanooga. My thoughts and prayers are with the children, families and first responders."
* Tennessee Secretary of State Tre Hargett: "Please pray for those families impacted by the elementary school bus crash in #Chattanooga . #noogastrong."
* Dalton Police Department: "We're saddened tonight by the bus crash in Chattanooga. Praying for the families and teachers of those lost and those still fighting."
* The McCallie School: "The McCallie community is praying for the students, parents & teachers at Woodmore Elementary following today's tragic bus accident."
* Usher Raymond: "I am heart broken by the #Chattanooga bus crash that took place yesterday. Please keep my hometown and all the families in your prayers."
* Clare Bowen: "Prayers for Chattanooga."
* Samuel L. Jackson: "Sending up Prayers for the families of the children in the Chattanooga bus tragedy."
* Chattanooga Lookouts: "Our thoughts and prayers are with the children and families of Woodmore and everyone affected by the tragic crash in our community today."
* Chattanooga Football Club: "At Chattanooga Football Club, we are part of this community and those who live within it. When our town succeeds, we cheer. In turn, when events like yesterday's bus accident occur, we mourn. Today, our prayers go out to the Woodmore Elementary community, the emergency crews who worked tirelessly to rescue so many, and for our city that we may come together as one and support the families of Woodmore Elementary."
* Butch Jones, Vols football coach: "Devastating news coming out of Chattanooga. Thoughts and prayers with students and families of Woodmore Elementary School."
* Terrell Owens: "My heart & condolences goes out to the students & their families along with the 6 children that died in Chattanooga bus crash. God Bless."
* Nashville Predators: "Sending our thoughts and prayers out to those involved in the terrible crash in Chattanooga this afternoon. #Smashville is thinking of you."
Photo Gallery
Fatal school bus crash