To Donate
To donate to the fund for the families affected by the crash, visit www.connect.chattanooga.gov/woodmore-donation/
Photo Gallery
Belew Christmas @ Wildwood Park for the Arts — 12/13/13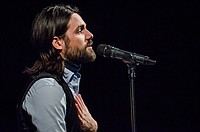 12/13 — Former The Voice contestant Cody Belew serenaded the audience with Christmas classics and tracks from his new album.
A sixth elementary school student died Wednesday evening from injuries sustained in Monday's tragic school bus crash.
Chattanooga police confirmed the death of 8-year-old Keonte Wilson - a sobering development after a day of revelations about the crash and its aftermath, including the fact that parents had previously complained to Hamilton County Schools personnel about the Woodmore Elementary School bus driver involved.
The school system has not released any complaints, but parents said they warned district employees that the driver, 24-year-old Johnthony Walker, drove too fast and was reckless.
Talley Road, where the crash occurred, was not on the designated route for the school bus, according to investigators.
Just two days after the crash, a parent of an 8-year-old boy riding the bus filed a lawsuit against Walker and Durham School Services, the company contracted by Hamilton County Schools to provide bus services.
Walker was driving fast on Talley Road, a winding two-lane street in Brainerd, when he lost control of the bus, striking a telephone pole and a tree. His blood tested negative for drugs and alcohol, according to police Wednesday.
The bus, filled with 37 children, toppled on its side, twisting around a tree. Six Woodmore Elementary students died following the crash and several students remain in critical condition.
It took emergency officials more than two hours to remove all the trapped children from the bus. Thirty-one children were taken to hospitals for treatment, officials said.
Witness interviews and a preliminary review by the National Transportation Safety Board of the audio recording from the bus did not confirm claims some parents have made that the driver yelled threats to the children before the crash, police said.
Walker was arrested late Monday and charged with five counts of vehicular homicide, reckless driving and reckless endangerment. He will be charged with a sixth count of vehicular homicide as a result of Wilson's death, according to police.
Along with his job driving the Woodmore school bus, Walker also worked the night shift at Amazon, the NTSB confirmed. He worked a couple of shifts a week, clocking in at 6 p.m. and leaving 12 hours later.
Fatigue is one of the factors the NTSB will consider during its investigation.
"Fatigue can be just as deadly in transportation as alcohol and drug impairment, and fatigued drivers and operators regularly cause accidents," the agency's website states.
Walker was negligent and careless in his driving, causing the crash, according to the lawsuit filed Wednesday by Kimberly Boling on behalf of her 8-year-old son.
Durham is also liable, the lawsuit states, as it employed Walker and also failed to have the correct policies and procedures in place to ensure that all bus drivers were properly trained, supervised, investigated and disciplined.
The lawsuit states that, as a result of the crash, the 8-year-old boy may be permanently injured. He also sustained "pain and suffering, has suffered in body and mind, has incurred and will incur considerable medical and other expenses as a result of this accident." The boy's mother claims she also will incur considerable medical and other expenses due to the traumatic events.
The lawsuit, filed in Hamilton County Circuit Court, asks a jury to determine the amount of damages the family should be awarded. Herbert Thornbury, a local attorney, filed the lawsuit on behalf of the family.
Records show Durham has been named in 21 lawsuits in Hamilton County Circuit Court since 2010. Just over half of those suits ended in minor settlements, records show.
The minimum state requirements to drive a school bus dictate that the driver must possess a commercial driver's license is received after passing a written exam and a driving demonstration, according to Lt. Bill Miller, a spokesman for the Tennessee Highway Patrol.
School bus drivers also must obtain a "passenger" endorsement allowing them to drive a vehicle designed to transport 16 or more passengers and a "school bus" endorsement that allows them to transport school children.
"As long as you have those two endorsements along with the [commercial driver's license] then you are qualified to operate a school bus," Miller said.
The Tennessee Department of Safety and Homeland Security requires drivers to attend a yearly in-service session. The session consists of a four-hour class and ends with a short written examination.
In addition to the minimum state guidelines, school districts have the liberty to demand more stringent requirements of their bus drivers.
"It's really limitless on what the school districts can do to add to the minimum state requirements," Miller said.
Hamilton County Board of Education policy does require drivers to have a physical examination.
An online job posting for school bus drivers with Durham School Services, the company Hamilton County Schools contracts with for busing services, claims there is "no experience required" and offers to provide "CDL training."
The advertisement offers $13.30 an hour and reads, "the search for the right drivers is paramount to our success because the best drivers = the safest kids."
Durham's website said drivers go through a "stringent selection criteria," including an interview, background check and drug testing.
But records show Durham hired another driver in Hamilton County who was deemed "ineligible for hire" in 2013 because of prior criminal convictions.
That driver, Alexander Rodriguez, 35, was arrested in 2015 and charged with raping a 15-year-old student-passenger in a Super 8 Hotel room. He was employed by Durham at the time.
Durham has not released Walker's personnel file and has continually declined to comment on his history with the company or this week's fatal crash.
Durham CEO David Duke released a video on YouTube Wednesday, saying he is saddened by the crash and his company is fully cooperating with the investigations. The company is paying for the victims' funerals and some medical expenses.
The Times Free Press previously reported that Walker also crashed a bus in September and was not given a citation by police. The crash was supposed to be reported to the school district's transportation manager, according to Hamilton County Board of Education policy. The county Department of Education has a director of transportation services who works closely with Durham.
Hamilton County Schools has not responded to several records requests from the Times Free Press, including a report from the September crash, Walker's personnel records and complaints against drivers.
Tennessee Gov. Bill Haslam visited Woodmore Elementary on Wednesday morning and met privately with some teachers, students and their families who were gathered inside the school, which kept its doors open despite schools across the district being closed for Thanksgiving break.
During a news conference before a small memorial service at the school's flagpole, where an American flag flew at half-staff, Haslam said this week has been another set of hard days for the community.
"You're not supposed to have classrooms with empty desks," he noted sadly. "Unfortunately, this community has had more than its share of tragedies."
Haslam thanked the school's staff and neighbors for the outpouring of support for the victims' families and for the support shown for first responders and medical personnel at Erlanger hospital, where a number of the surviving children from the bus crash are still being treated.
"We basically had a chance to talk about some of the students who were in the bus and those who lost their lives and those who didn't," Haslam said of his time spent inside the school.
Haslam also continued his support for more study of school bus safety belts and bus safety in general.
"I think it's time for us to step back - all of us, local school boards and the state - and look at the whole school bus process, how we hire drivers, how we ensure safety," he said.
After leaving the school, Haslam stopped by Erlanger to visit with some of the child victims and their families, he said later in the day.
The United Way and the Community Foundation's fund to raise money for the families of the children affected by the accident already has brought in more than $80,000, and fund administrators hope to boost that number in coming days.
Three Chattanooga police officers who were the first on the scene of the crash returned to the Talley Road site Wednesday to pay their respects. They carried balloons and a trio of stuffed animals to place along with dozens of mementos left by other supporters.
The officers placed their offerings gently with the others and bowed their heads as they knelt near the spot where the bus had come to rest just two days earlier.
Staff writer Ben Benton contributed to this story.
Contact staff writer Kendi A. Rainwater at 423-757-6592 or krainwater@timesfreepress.com. Follow on Twitter @kendi_and.
Contact staff writer Emmett Gienapp at 423-757-6731 or egienapp@timesfreepress.com.
Photo Gallery
Tinsel and Tutus @ Reynolds Performance Hall — 12/12/13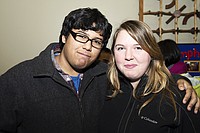 12/12 — The Conway Symphony Orchestra entertained with Christmas music, including highlights from The Nutcracker performed by the Arkansas Festival Ballet.