Photo Gallery
Belew Christmas @ Wildwood Park for the Arts — 12/13/13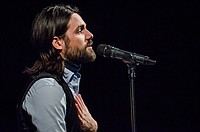 12/13 — Former The Voice contestant Cody Belew serenaded the audience with Christmas classics and tracks from his new album.
Keonte Wilson spent his days fixing, building and playing.
The rambunctious 8-year-old was always into something, said his grandfather, Henry Ballard Jr. Keonte rode his bike, played with his siblings and was excited every morning when it was time to go to school, Ballard said.
He went by "Tae Tae," a nickname his dad gave him. He was the youngest of four siblings, the baby of the family. His older brothers looked out for him, Ballard said.
Keonte held on in the hospital for two days after he was injured in Monday's bus crash. He died Wednesday.
"He tried to fight back, but he just couldn't," Ballard said.
Before Keonte died, Ballard leaned close to the hospital bed and tried to say goodbye. He doesn't know if Keonte heard him, amid all the tubes and machines and beeps.
"I said to him, 'Granddaddy is here,'" Ballard said. "He didn't blink his eyes or nothing. It was sad. It was so sad."
On the afternoon of the crash, Woodmore Elementary fifth-grade teacher Tanya Victor was helping load students onto the buses when she saw Keonte. She'd never interacted much with him, but on this day, she complimented him on his shirt and bragged about how handsome he looked to another teacher. He lit up, she said.
"He ended his school day in a good mood, with the brightest smile I'd ever seen on him," she said. "I will never forget the details of those moments. I'll never forget the shirt he was wearing. I'll never forget him."
Ballard said his whole family is reeling from Keonte's death.
"His life was cut short," he said. "Maybe God had a plan. I don't know. But I'm telling you, it just really hurts."