Photo Gallery
Belew Christmas @ Wildwood Park for the Arts — 12/13/13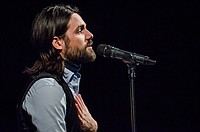 12/13 — Former The Voice contestant Cody Belew serenaded the audience with Christmas classics and tracks from his new album.
Misti Nash lied the first time her son asked about his sister.
Zechariah Nash, 8, lay in a hospital bed with a broken arm, punctured lung, and bleeding in his stomach. Just a few months apart in age, he and sister Zoie Nash, 9, shared a special sibling bond. If you saw one, you saw the other.
Both rode bus No. 366 home from Woodmore Elementary the day it careened off the road and smashed into a tree.
Zoie didn't survive.
The first time Zechariah asked, Nash told him Zoie was asleep in another room. But when he asked again, she couldn't lie anymore.
"I told him she got her wings, she was in heaven," Nash said. "And he understood. He cried."
Zoie, a dedicated softball player, voracious eater and goofy friend, was gone.
She was a cheerful, laid-back girl who cared deeply for others, Nash said. But she transformed on the softball field into an athlete with laser focus.
"She was in a different zone," Nash said. "There wasn't nothing - it was all about getting a strike or hitting the ball and getting a home run."
Her coach, Larry Hunt, said Zoie begged to be a pitcher and had just learned to pitch. She could play anywhere on the field, he said.
"No matter whether we were winning or losing, she kept a smile on her face," he said. "She never talked back. Whatever you asked her to do, she did it."
She wore No. 1 on her jersey, he added.
"She said, 'Coach Larry, I want No. 1 because I'm going to be the best player,'" he said. "And she was my No. 1."
A fourth-grader, Zoie brought home A's and B's, Nash said. She loved to get her hair and nails done, but she could also be a tomboy. She was Nash's only daughter among five sons.
"They were very protective of her," said her uncle, Antwon McClain.
And even though Zoie was tall and thin, she could eat, Nash said. Really eat. She loved taco salad.
Sitting in the hospital a few doors down from Zechariah's room two days after the accident, Nash laughed at times, as she remembered Zoie, and also choked up.
She didn't see Zoie the day she died - her brother got her ready for school - and that's been eating at Nash. She last saw Zoie the night before, when the 9-year-old rubbed her back and put her to sleep, as she often did.
Zoie's body was found under the bus, she said. She wonders if Zoie would have suffered brain damage had she lived. Wonders what her quality of life might have been. Wonders if God called her home as a mercy.
"I had to come to terms with that," she said. "But then I also have to realize: I lost a child, but I still have my other child. [God] could have took both my children. So for him to leave me one child, I'm blessed and thankful and happy about that. And I can see Zoie through him."