Dry as dust
› Month-to-date precipitation: 0.06 inches› Normal month-to-date precipitation: 4.22 inches› Year-to-date precipitation: 25.11 inches› Normal year-to-date precipitation: 46.80 inchesSource: National Weather Service
A few sprinkles on Nov. 19 technically ended a near-record streak of 29 days without rain in Chattanooga, and they were followed up by a whopping 0.05 inches of rain on the 23rd.
But neither day's rainfall did much to quench the water-starved tri-state area.
This week looks like it will be different. Finally.
A long-awaited substantial rainfall is expected to grace the Scenic City starting tonight and continuing into Wednesday. WRCB-TV meteorologist Nick Austin said Sunday some areas could get up to 3 inches of rain.
The rain won't bring an end to the area's substantial drought, but it should be a start, and it's expected to help forestry crews that have been battling stubborn wildfires for weeks.
"It'll help extinguish wildfires because it's going to be widespread across the whole region," Austin said. "That's really why it's going to be beneficial. It's not going to erase the drought, though. We'll need more rain for that."
Austin said he expects the first round to come late tonight. The system heading this way is developing slowly, with strong winds that are helping transport more moisture from the Gulf of Mexico, he said.
Tennessee assistant district forester Jim Dale said the winds that will precede the rain are his one qualm about the otherwise welcome weather front for the wildland firefighters still working around the area.
"That rain will be a welcome sight," Dale said. "We're concerned that [tonight] we're looking at sustained wind gusts of 35-40 miles per hour ahead of the rain. There's always an opportunity with winds like that to rekindle something near the line or something that's burning under the line.
"But a nice, good, soaking rain for two or three days would pretty well put us in good shape for a while."
On Sunday, 40 wildfires in Tennessee were considered active, and Dale said some forestry crews worked through the Thanksgiving holiday to keep them contained.
A second wave of "steady rain" is expected Tuesday night and into Wednesday, Austin said. That wave could bring roughly around an inch.
"The overall energy with these two systems," he said, "it's going to be stronger than the last couple of times when we only got a tenth of an inch or less."
Contact staff writer David Cobb at dcobb@timesfreepress.com or 423-757-6249.
Photo Gallery
Arkansas Symphony Orchestra @ Robinson Center Music Hall — 09/22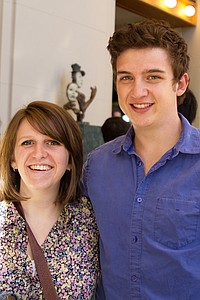 09/22 — The Arkansas Symphony Orchestra kicked off its 2013-14 season with Tchaikovsky & Rite of Spring, with Philip Mann conducting and Martina Filjak on piano.