Photo Gallery
Past MakeWork Grant Recipients — Where are They Now?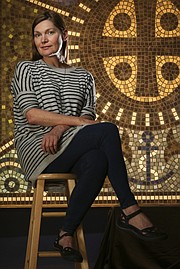 In 2008, as the Great Recession cast a pall on the country, many of Chattanooga's artists were thriving.
CreateHere formed in 2007 as a project of the Lyndhurst Foundation, with the goal of supporting the Chattanooga area's creative community through a five-year initiative. In 2009, it officially became a nonprofit organization.
Among its arts-stimulating programs was MakeWork, which awarded annual grants to different artists within a 50-mile radius of Chattanooga. Each grant recipient could receive up to $15,000 for his or her project, until the project's final year in 2013 when six artists, all past MakeWork grant winners, were each awarded $25,000.
Ultimately, MakeWork awarded a total of $1 million to 101 artists - from playwrights to poets to artisanal coffee roasters.
So the questions is: Did MakeWork's creative impact leave a lasting impression on the Scenic City? To find out, Chatterspoke with a few past recipients to find out where they are today.
_______________________
Andrew Gage, coffee roaster
2011 grant recipient
Claim to fame: Co-owner of Velo Coffee Roasters
I received a MakeWork grant to aid in my professional development as a roaster - specifically in the area of developing my palate. Through the grant, I was able to attend a cupping [a systematic tasting of coffee for the purpose of evaluation] workshop hosted by a specialty coffee importer in Seattle, Washington. The workshop laid down the crucial groundwork necessary for the system that I now use and continue to develop for Velo's QC program. The grant also allowed me to purchase a refractometer, a crucial piece of equipment I still use to evaluate brewed coffee.
How did the grant impact your career?
I was awarded the grant while Velo was still in its infancy. While I had worked under other roasters before starting Velo, the level of training, travel and an expensive piece of equipment was all but inaccessible at the time. That is to say, the timing of the grant couldn't have been more perfect as I was trying to really stretch myself professionally in an effort to make a go of my own coffee roasting company.
What are you working on today?
My current work is devoted to understanding the science of coffee roasting. My work in the future is slowly looking toward the farm and the sourcing side of things. While I've always sourced coffee for Velo, we are developing more opportunities for us to find special coffees at the farm level.
_______________________
Kate Forbes, actress and audio book narrator
2011 grant recipient
Awards: Theater World Award for Outstanding Broadway Debut 1995; Calloway Award given by Actors Equity Association for excellence in Classical Theater 2009; several Audie Awards for narration
I received a MakeWork grant for producing and recording an audio book of Appalachian folktales called Handed Down. I used local musicians (my father, Walter Forbes, and Fletcher Bright), a mix of local voice talent and some from my time in New York. [I] recorded and mastered at local studio Sound Resources (where I record all my audio books!) and, yes, [used] a wonderful local graphic designer.
How did the grant impact your career?
The MakeWork grant presented a good learning experience for me. I very much enjoyed producing, paying my actors even a little [and] producing something I was proud of. It was a first supported step in the long road to working as a freelance actor outside of New York City.
What is your next project?
I have two small but juicy film roles shooting in September, and just finished an audio book. I'm auditioning for film and TV, and looking for ways to use my voice-over work regionally, for commercial work. The hardest part about a career as an actor is the repeated panic that sets in between jobs!
_______________________
Rondell Crier, visual artist, social change advocate
2011 and 2013 grant recipient
Notable achievements: A decade-long career (2002-2013) with New Orleans' Youth Artists/ Young Aspirations (YAYA), a creative and educational enrichment program for underserved youth; and founder (2014) of Studio Everything, a youth-oriented arts and empowerment studio located in East Chattanooga.
I received my first MakeWork grant to fund a studio space, and rented a space from a fellow local sculptor, Isaac Duncan. I approached Isaac to help around the studio in trade to learn how to weld. This quickly proved to be one of the best decisions I made here in Chattanooga. That decision led to the MakeWork opportunity, which led to many more.
The second MakeWork grant was for past grantees only, but the grant amount was much more. I had been thinking how to respond to the grant opportunity, which had a community/social focus. As the deadline approached, I was approached by local artist Olga de Klein, who asked if I was interested in developing a program that could focus on juvenile offenders for the MakeWork grant. I thought she and I could develop a program model that could investigate how art can play a role in juvenile crime intervention. We have completed over 100 workshops and have become a part of the detention center culture.
How did the grant impact your career?
The most impactful aspect of the first MakeWork grant was the monthly meetings. They allowed someone like myself (a studio hermit) to get out and meet others who were working successfully in the city on their own projects. Prior to meeting Isaac, I only knew a small handful of people in Chattanooga's art scene, and after the MakeWork grant, I knew many more, and they knew me.
What are you working on today?
Besides the detention center workshops, I run another social art project called Studio Everything. These programs, I consider social artworks, and I treat them like artworks in progress.
_______________________
Kevin Bate, painter
2012 and 2013 grant recipient
Notable achievements: Faces mural on Frazier Avenue (2011), Martin Luther King Jr. mural on M.L. King Boulevard (2012); creator and curator of McCallie Walls Mural Project (2013); Fallen Five mural on McCallie Avenue (2016); among many more.
I received my first MakeWork grant for studio development. It wasn't so much for a project, but for studio building. What did I need to be a pro? The grant helped me buy scaffolding and a digital projector.
The second grant started the McCallie mural project. I used it to pay the first half dozen mural artists and for all the materials.
How did the grant impact your career?
That first grant literally took me from a person who had done a couple commission paintings to, OK, I'm an artist now. It's time to step away from day job and do this. I could still be working to [afford] the tools I needed, but with the grant - bam. I had all the gear. It snowballed from there.
Once we had the first batch [of McCallie Walls Mural Project paintings] up, it was easy to show people what we were doing - that there is a difference between graffiti and murals, that it was not about tagging, but about art. After those six murals, the next summer we did another six, and then we got a big grant from Community Foundation [of Greater Chattanooga].
What are you working on today?
Right now I'm working on a budget for a project that involves the importance of art schools, whether that is dance, music or visual arts. I have one word: Usher. But right now, that's all I'm allowed to say.
_______________________
Sybil Baker, writer
Notable achievements: Four published books: Immigration Essays, Winston-Salem: C&R Press (January 2017); Into This World, Indianapolis: Engine Books (May 2012); Talismans, Chattanooga: C&R Press (December 2010); The Life Plan, Sacramento: Casperian Books (March 2009).
2012 and 2013 grant recipient
I received my first MakeWork grant to add photos and music as supplements to a novel [I wrote] that takes place in Chattanooga. [My second MakeWork grant was] to interview and write about Chattanooga's unheard voices and publish the collection through a series of chapbooks with C&R Press.
How did the grant impact your career?
This grant enabled me to expand the project into a book of essays that is much larger in scope than originally envisioned. The book, Immigration Essays, took much longer to write than planned, but is forthcoming from C&R Press. Also, I was awarded an Individual Artist Fellowship from Tennesseans for the Arts based on two essays from the forthcoming collection.
What are you working on today?
I am working on the final proofreading of Immigration Essays and will be using the MakeWork grant money to help with events and giveaways in the area. I am also in the copy-editing stages of a novel which will be published later in 2017.