Photo Gallery
Vols re-rally past Georgia on game-ending Hail Mary pass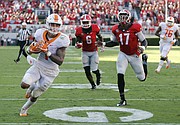 ATHENS, Ga. - For nearly eight agonizingly brutal seasons, ever since Phillip Fulmer's last year as coach, one phrase summed up University of Tennessee football. As the Volunteers seemingly invented ways to lose games, "only Tennessee" became the best way to describe what would transpire late in games.
Whether it was having too many men on the field on the final play at LSU, a last-second field goal by North Carolina after it appeared the Music City Bowl had ended or allowing Florida to convert fourth-and-14 with a touchdown pass in the closing seconds last year, Vol Nation had come to expect that only Tennessee could repeatedly break their hearts, snatching losses from the jaws of hard-fought victories.
Until this season. Suddenly, that phrase, "only Tennessee," is taking on a whole new meaning as the Vols continue to find ways to overcome any deficit, regardless of time remaining, and reward an emotionally fragile fan base that has stuck with them through it all with exhausting, heart-stopping wins.
Even while much of the sea of red inside Sanford Stadium was still celebrating what looked like a certain miraculous win for Georgia after Riley Ridley somehow got behind two Vols defenders to haul in a 47-yard scoring pass from freshman phenom quarterback Jacob Eason with just 10 seconds remaining, an odd thing happened.
Instead of accepting its fate of suffering yet another heartbreaking loss, Tennessee found a way. It began with a little help from the Bulldogs, who were hit with a 15-yard excessive-celebration penalty that backed up their ensuing kickoff. Evan Berry returned the kick to Georgia's 48, and another Bulldogs penalty moved the ball 5 yards closer.
Then, in a season in which the Vols already rallied late for unlikely home wins over Appalachian State and Florida, UT quarterback Josh Dobbs unleashed a high-arching pass that came down in Jauan Jennings' arms in the end zone as time expired.
And just like that, Sanford Stadium was silent as fans in both red and orange tried to process what they had just witnessed. The Vols had overcome a double-digit deficit for the fourth time in five games to remain unbeaten.
"The calmness of our sideline," UT coach Butch Jones said afterward, "when you go back and think about it, was surreal. No panic. Nobody was down. I looked the kids in the eye and said we're going to find a way to make a play. We were kind of torn with doing a lateral-type play, but I wanted to put the ball in the end zone and let our guys go up and try to get the football.
"I saw the ball, tight spiral, good lift. I thought we had a chance. From my vantage point I could see him come down with the ball. All I could see then was a mad rush to the field. That's probably the best throw Josh has made in his career. Jennings relies on his instincts to go up and get the football. He's one of the most competitive players I've seen in my career, and he wasn't going to be denied."
It was the second straight week that Jennings put the Vols ahead for good in an emotional win that puts them squarely in the driver's seat to potentially win the SEC East for the first time in nine years. The Murfreesboro product, who was the state basketball tournament MVP in high school and had not played receiver until he came to Tennessee, used that hoops background to create space between defenders, go up and grab the ball the same as he would a rebound.
"I saw it and went up and grabbed it and brought it in," Jennings said. "I see myself as a great competitor. It doesn't matter if it's football, baseball or shooting paper balls at the trash can. I want to win.
"At first I thought about throwing the ball up in the stands, a little something for (the fans). I was through with the ball. I just wanted to celebrate a great win with my teammates."
Still trying to absorb all he had just seen, an ending that had brought him to his knees in tears, Coach Jones reminded the media of a point he had made earlier this week, on the heels of that rally past Florida.
"There's something about this team," said Jones, noting his team's 11th straight win is the fifth-longest streak in program history. "They're resilient. You don't win a game like that if you don't have character, and I'll continue to say it.
"I told them at halftime that the thing we can't give you is the will to win. The heart and desire. I said, 'You're going to show me how bad you want it in the second half.' They went out and created one of those moments in time you'll remember forever."
Contact Stephen Hargis at shargis@timesfreepress.com or 423-757-6293. Follow him on Twitter @StephenHargis
Photo Gallery
Finish a punch in the gut for Bulldogs