Photo Gallery
History of Chattanooga under glass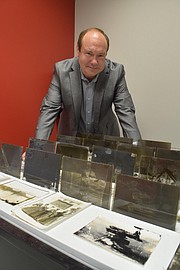 History can be elusive.
It can be trapped inside a box of letters, buried in a book, or sealed in the memory of a senior citizen.
"[And sometimes] opportunities to preserve history are hiding in plain sight," says Sam Hall, curator of the DeepZoomChattanooga.com website, a popular digital repository for old photographs of the Scenic City.
For decades, schoolchildren have piled into the first floor of the Chattanooga Times Free Press building at 400 E. 11th St. to begin their newspaper tours. Their first stop has always been a small "museum" filled with newspaper artifacts.
There is a Linotype machine, an old hand-operated press and a glass display case filled with photography gear. Inside the display is an array of glass negatives from the late 19th and early 20th centuries.