Photo Gallery
History of Chattanooga under glass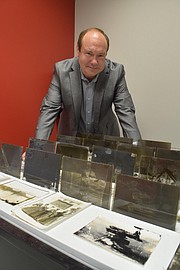 History can be elusive.
It can be trapped inside a box of letters, buried in a book, or sealed in the memory of a senior citizen.
"[And sometimes] opportunities to preserve history are hiding in plain sight," says Sam Hall, curator of the DeepZoomChattanooga.com website, a popular digital repository for old photographs of the Scenic City.
For decades, schoolchildren have piled into the first floor of the Chattanooga Times Free Press building at 400 E. 11th St. to begin their newspaper tours. Their first stop has always been a small "museum" filled with newspaper artifacts.
There is a Linotype machine, an old hand-operated press and a glass display case filled with photography gear. Inside the display is an array of glass negatives from the late 19th and early 20th centuries. The plates, like history itself, are at once durable and fragile.
It took a trained eye to know that these glass plates were historically significant and should be digitized and shared.
Hall reports that a local history enthusiast, Justin W. Strickland, spotted the 20 glass plates while attending a Chamber of Commerce function at the newspaper earlier this year. Strickland immediately posted an item on a Facebook page frequented by local historians, and Hall quickly moved to check out the find.
Hall has been on a mission to collect old glass plates - which are rich in photographic details - and display them on DeepZoomChattanooga.com. The website uses 21st century imaging software to allow browsers to dive deeply into the content of these photographs. Large-format, black-and-white negatives actually contain more visual information than photos taken with most of today's digital cameras, Hall explains.
Some of Hall's glass plate discoveries date to the Civil War occupation of Chattanooga by Union Army soldiers in the 1860s. Newer plates from the 1940s show the construction of the Chickamauga Dam.
The plates at the Times Free Press, on the other hand, appear to be from around the turn of the 20th century. There are scenes from the 1896 Jacksonville, Fla., floods and several shots of Camp Thomas in North Georgia, a property used for military training around the time of the Spanish-American War in 1898.
Other plates depict random slices of life.
There is one particularly arresting photo of some leisure campers that shows them changing cylinders on a hand-cranked Edison phonograph Hall determined was manufactured after 1902.
Another photo features two men standing outside the Southern Express building in downtown Chattanooga, which Hall describes as an early Federal Express-type business using trains, instead of airplanes and trucks, to deliver packages.
Perhaps the most curious photo in the bunch shows a woman in a lace dress sitting on a park bench and holding hands with another woman dressed in a man's suit.
"I think it's a comedic pose," Hall says.
Other photos include people posing on Umbrella Rock on Lookout Mountain, a group of well-dressed children feeding chickens, a cavalry unit at a Civil War reunion and a baby in a stroller.
Individually, they are merely random images. Viewed together, they transport one to a time 120 years ago when analog photography was as potent a force as digital communication is today.
Some of the Times Free Press glass plate images are viewable today by clicking here.
Imagine someone checking out your 2016 Instagram account in the year 2116 and you'll begin to get the picture.
Contact staff writer Mark Kennedy at mkennedy@timesfreepress.com or 423-757-6645.